How to apply for accommodation
Discover how to apply for accommodation at Sussex and find a place you can call home.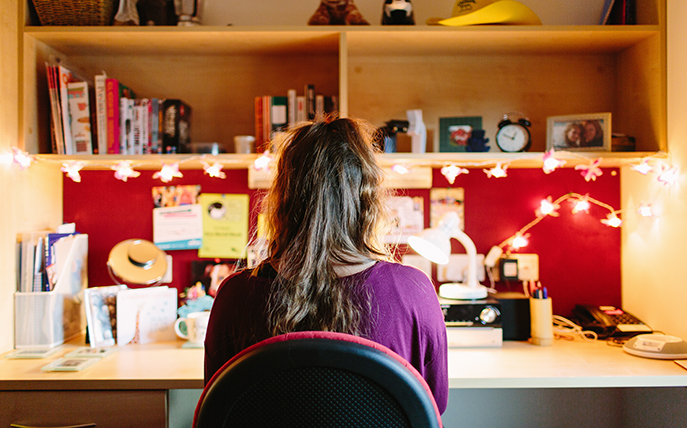 Before you apply
You need to check if you are guaranteed University-managed accommodation with Sussex before you apply.
Receive online housing application

If you applied through UCAS, you will receive a housing application link from February onwards.

If you're doing a Masters or PhD, you can apply for accommodation using our postgraduate application system from February.

If you applied through an agent, you need to ask the agent to begin the process on your behalf.

Look at housing options

Find out about our on- and off-campus residences and other options. You can also go on a housing tour at an Open Day.

Our accommodation is generally mixed gender, and international and UK students live together. However, let us know on your housing application if you want to:

live with mature students
apply for a quiet area
live in single-gender accommodation.

We do our best to house you according to your preferences, but all accommodation is subject to availability.

If you have a child who will live with you, you will need to find suitable accommodation in the private-rented sector.

Let us know if you will under 18 on Arrivals Weekend. If you are, you will be housed only in certain residences on-campus with 24-hour security.

Tell us if you have health or special requirements

Tell us on your housing application if you have health requirements and give as much notice as possible. We have some wheelchair accessible rooms, and rooms and facilities if you need care support or have a hearing/visual impairment.

We try to fulfil reasonable adjustment requests, subject to availability. When you apply, tell us your preferred residence and why living in this residence supports your needs.

If you are considering making (or have recently made) a gender transition, you can include this in your application if you wish. We can give you support resources and consider any suitable adjustments.

Choose your housing

You must list at least seven housing options in order of preference when you apply. We will try to allocate you one of your top choices but we can't guarantee you a particular choice.

If you want to look for a different room after you move in, use our swap list (available one week after arrivals weekend).

Submit your online housing application

If you apply for an undergraduate course

To be guaranteed University-managed accommodation (September), you must submit your housing application by:

30 June if you are a full-time, first-year undergraduate student applying through UCAS

If you apply for a Masters or PhD

To be guaranteed University-managed accommodation (September), you must submit your housing application by:

1 August if you are a full-time Masters student from outside the UK
1 August if you are a full-time, first-year PhD student studying for a full academic year.

Check if you're guaranteed University-managed accommodation at Sussex

International Masters students

If you're an international Masters student, you will also need to pay your tuition fee deposit before we can allocate your accommodation.

You are required to pay this deposit before we can issue your Confirmation of Acceptance for Studies (CAS), so it is recommended to pay it as soon as possible – find details on how to pay.

Don't worry if you haven't paid your tuition fee deposit by 1 August, you'll still be guaranteed accommodation provided you applied in time.

However, we obviously encourage you to pay your tuition fee deposit as soon as possible, as we won't be able to allocate your accommodation until you do.

Find out where you'll live

You'll get an email with your housing offer, start date, residence guide and accommodation agreement between July and September. You must accept your housing offer within three days of it being sent, otherwise your offer may be cancelled.

You must disclose if you have a criminal conviction to the University before you can accept your offer.

Read your residence guide to find out what's included in your housing and what you should bring.

You can buy bedding and other items from our online shop and if you bring a TV, you must buy a TV licence.

Move in

You move in on arrivals weekend in September (this date will be in your housing offer email).

If you will get here after arrivals weekend, contact the Housing Services team so that we don't re-allocate your room. You can't move into your room before arrivals weekend and we don't accept luggage sent in advance.

When you move in, your Residential Life Connector will arrange a welcome meeting and can help with any problems.

Insurance

Your rent includes basic insurance but you can extend your cover with insurance provider Endsleigh.
Allocation
Check if you're guaranteed University-managed accommodation at Sussex
All allocations are subject to availability and some options, like our en-suite rooms and Brighthelm, can be oversubscribed.
We first sort guaranteed accommodation applications by your first choice, and then take into account special requirements and allocate the rest. We don't allocate on a 'first-come first-served' basis.
If we have a waiting list for housing, we can only offer you the next available room. This could be in any residence (on or off campus) and we can't give you any other housing offer. Room swaps can be arranged after term starts.
If you are a postgraduate student and you plan to undertake fieldwork away from the university in the summer, we recommend you check your course commitments over the academic year, including any placements, to ensure the accommodation is suitable for you.
Download our Housing Guide [PDF 3.3MB].
You might also be interested in: