Summer accommodation
Whether you're a Sussex student or a group of tourists on holiday looking to stay near the seaside, our self-catered accommodation in Brighton is affordable, comfortable and convenient.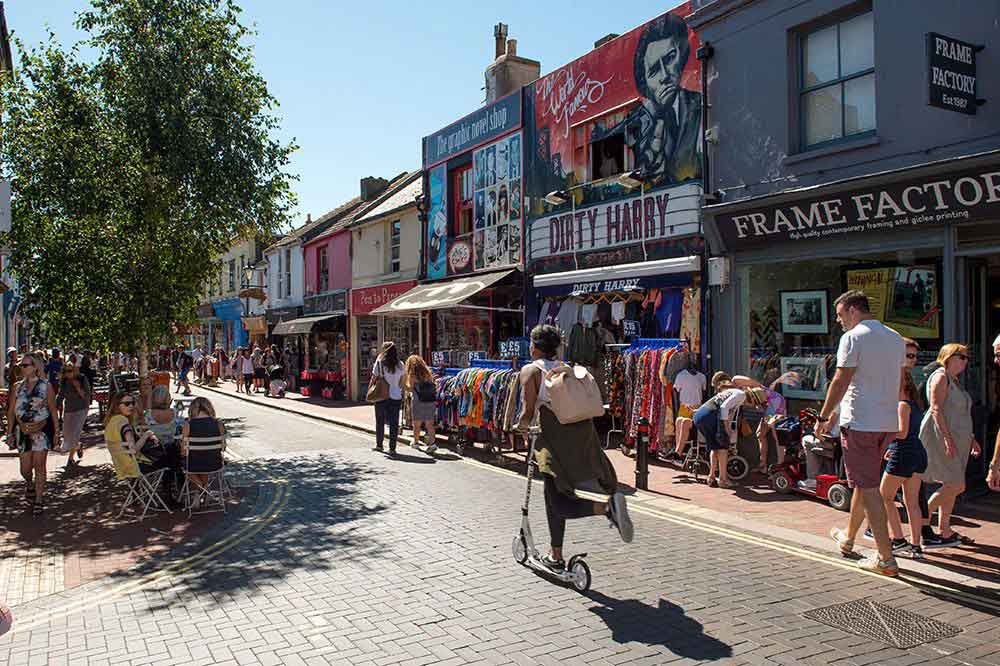 Booking your accommodation
Staying in student halls during the holidays gives you a cost-effective and convenient option for visiting Brighton and the surrounding area.
Current students
If you're studying at Sussex, find out how to book holiday accommodation with us.
Booking opens from June 2020.
Individuals and groups
Whether you want to visit Brighton for a weekend or a few weeks, you can book a room from 27 June until the beginning of September.
We are not taking bookings for Brighton Pride as the 2020 event has been cancelled.
Large groups
If you are planning a trip for a group of 20 people or more, email summerbookings@sussex.ac.uk so we can understand your requirements.
Educational visitors
If you're studying on a course, you can get a reduced rate for staying in Sussex housing. You don't have to be a Sussex student to apply for this.
We aim to open bookings for 2020 as soon as possible.
Who can't stay
We're unable to take bookings which include:
children under eight with a family
children under 11 as part of an organised group
pets.
How to book
You have to apply to stay in our accommodation. We will then get back to you with a room offer and payment instructions, depending on availability.
Costs
Room prices are per person, per night. Bedding and self-catering equipment is included.
| Visitor type | Northfield and East Slope (ensuite rooms) | Stanmer Court and Lewes Court (ensuite rooms) | East Slope (shared bathrooms) | Norwich House (shared bathrooms) |
| --- | --- | --- | --- | --- |
| Educational visitors | £33 | £32 | £30 | £24 |
| Non-educational visitors | £40 | £39 | £38 | £29 |
Find out more about Northfield, East Slope, Stanmer Court, Lewes Court and Norwich House.
Minimum stay
Your stay must be a minimum of:
five nights if you are making a group booking (six or more people)
seven nights if you are booking for fewer than six people.
If you want to stay for fewer nights, email summerbookings@sussex.ac.uk with your plans. We may be able to customise your booking.
We have limited spaces in our en-suite residences, so bookings are subject to availability.
Weekend rate
We have a separate weekend rate for events such as Brighton Pride.
The minimum booking is two nights.
Find out about Pride bookings and apply for a room.
Travel
The University of Sussex campus is in Falmer, on the edge of Brighton. Find out how to get here.
Your options for getting to and from campus include:
a 24-hour bus service serving Brighton, Hove and Lewes
trains from Falmer Station, with links to Brighton, London and Gatwick Airport
hire bikes with cycle lanes along Lewes Road.
Parking
You can pay for parking by phone for up to three hours. Parking vouchers can also be bought via our online shop. Buy vouchers before you arrive and present the receipt at the Housing Office reception to collect your parking vouchers.
Parking on campus is free on weekends. Find out more about visitor parking hours and restrictions.
There is no parking available at Stanmer Court.
Facilities
single rooms with shared bathrooms
single, ensuite rooms (limited availability)
accommodation with access to a shared kitchen
cafes, bars, shops, as well as laundrettes and a cash machine on campus
24-hour key collection service.
Food
Choose the eating option that works you for.
You can:
cook for yourself – the kitchen in your flat comes fully equipped and ready to go
dine at one of our cafes and bars – or head into Brighton's bustling restaurant scene
pre-order a catering package, including Bed & Breakfast, Meal Cards and full meal plans – ideal for groups visiting campus.
Wifi
You can get wireless internet in most of our rooms. This is a free campus-wide service but it's not covered by your rent.
Campus development
We're undertaking a major programme of campus development, with new buildings planned and being constructed for student accommodation, learning and social activities.
Although our contractors keep disruption to a minimum, noise and dust can affect flats in surrounding buildings from time to time. For example, construction works are scheduled to continue alongside Brighthelm, Swanborough and some areas of East Slope.
Pending planning permission for our proposed West Slope development, we will also be demolishing a number of student residences in summer 2020 and this demolition work may cause some noise and dust. There will also be some maintenance work taking place on campus.
Contact us before booking if you have any queries about these works.
Visiting Brighton
Brighton is an exciting holiday destination with a range of tourist attractions. There is a vibrant night life, a range of restaurants and cafes, and events and festivals throughout the summer. Find out more about Brighton & Hove.
Our campus is surrounded by the beautiful South Downs National Park. Many of our buildings are listed and were designed by the architect Sir Basil Spence in the 1960s. Find out more about the Sussex campus.
Life in Brighton – a glimpse of the city by the sea
Terms and conditions
Read our terms and conditions for booking holiday accommodation.
Get more details about facilities and transport options by downloading our:
Download handbook
If you want more information on an individual residence, you can download our Guide to University-managed accommodation [PDF 1.1MB].
---
You might also be interested in: