Professor Chris Bird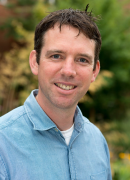 Cognitive neuroscience of memory, especially the role of the hippocampus in supporting contextual information, memory and neurodegenerative disease
My lab carries out research into episodic memory – our memory for events – and the brain regions that support these different memory processes. We use a mixture of behavioural studies, fMRI studies of healthy adults and neuropsychological studies of adults with memory problems caused by neurological damage (such as damage caused by Alzheimer's disease). Since our memories are complex, dynamic and contextually rich, we employ research methods such as virtual reality and video to investigate memory.
The PhD project will involve testing a novel model of memory which views memory as a dynamic interplay between stored knowledge about specific events, general knowledge (schemas) and visual imagery. You will carry out fMRI studies of memory for events, where the degree of background knowledge about the events is manipulated and the end of the event must be inferred. You may also investigate conditions where event memory can be enhanced in patients with Alzheimer's disease.
This project would suit students with an interest in cognitive and behavioural neuroscience who are seeking fMRI experience. This project may also suit students with a background in mathematics or physics who are interested in modelling complex systems.
Find out more details about the lab.

Key references
Berens SC, Horst JS, Bird CM (2018) Cross-Situational Learning Is Supported by Propose-but-Verify Hypothesis Testing. Current Biology 28: 1–5
Keidel JL, Oedekoven CSH, Tut AC, Bird CM (2017) Multiscale Integration of Contextual Information During a Naturalistic Task. Cereb Cortex doi: 10.1093/cercor/bhx218
Bird CM et al. (2015) Consolidation of complex events via reinstatement in posterior cingulate cortex. J. Neuroscience 35:14426-34
Bird CM, Burgess N (2008) The hippocampus and memory: insights from spatial processing. Nature Reviews Neuroscience 9: 182-94.
You might also be interested in: