Course Leader: Jas Badesha
What does the Sussex ITE partnership offer?
You can apply directly to the University to study for the Postgraduate Certificate in Education (PGCE) specialising in Psychology. Alternatively, many schools work in partnership with the University to offer School Direct places which also lead to a Psychology PGCE award. Either route will prepare you, as a trainee teacher, to teach Psychology across the two age ranges: 14-16 and 16-19, preparing pupils for GCSE and Advanced level qualifications.
This course can also be undertaken part-time over two years by suitable candidates.
Depending on prior academic study or experience, candidates can also opt to yake a second subject, such as Personal, Social and Health Education (PSHE), Biology, Citizenship, Health and Social Care, or Sociology. Regardless of specialisation or route, all successful trainees will be recommended for Qualified Teacher Status (QTS).
Why is Psychology teacher education distinctive at Sussex?
Our Psychology Initial Teacher Education course offers an exciting opportunity for you to develop as an enthusiastic, engaged and creative teacher committed to sharing and nurturing understanding of what shapes human behaviour, thought and actions. Our partnership believes that introducing young people to psychology provides them with a valuable and insightful way of seeing our world and the ways in which individuals operate and integrate.
By dealing with data, evidence and research methods, pupils are challenged to engage in the process of enquiry, analysis and debate. As a school subject, Psychology is growing in popularity and offers schools and pupils a rich, exciting and challenging addition to the school curriculum.
Our teacher education in Psychology provides carefully structured, professional learning opportunities which will enable you to critically and effectively progress in planning, teaching and assessing successful Psychology teaching and learning in schools. Together, university teacher educators and excellent classroom practitioners share their enthusiasm and professional knowledge to give you opportunities to focus on how best to engage, enthuse and enlighten your pupils in their understandings of human behaviour. Innovative learning strategies, roleplay, stimulus and 'real-world' teaching are all designed to provide you with the skills to bring Psychology to life in the secondary classroom.
Building on successful and engaging practice in Psychology teaching in schools, you are encouraged to take an active role in your own professional learning by developing secure knowledge of different curricula whilst recognising how your pupils make sense of human behaviour at GCSE and A level and develop skills in research and analysis. University and school-based sessions draw on local and national expertise, offering perspectives and strategies on a range of different teaching issues, from key Psychology topics: memory, personality and communication, to engaging pupils in the sensitive, controversial and emotive nature of subjects like deviance and ethics.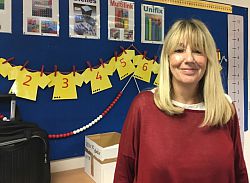 READ: Patsy McCarthy describes her first week of teaching psychology in 'Psychology Review 2018' [PDF 146.70KB]
Teaching, learning and assessment
You will learn to be a Psychology teacher through a combination of taught sessions at the University and school-led professional development and classroom practice. You will start your course with a 2-3 week induction at the University in September, which is followed by a programme of lectures, seminars and workshops every Friday. These involve presentations, group work, role play, classroom modelling and peer teaching for which you will explore ideas and approaches and reflect on your own experiences. All trainees are given opportunities to teach other subjects, such as PSHE, Sociology, or Health and Social Care. Where possible, we will match your qualifications, knowledge and experience with specific placement opportunities.
Over the course of the acdemic year, you will undertake two periods of professional practice in two different schools (these may vary slightly in length, but will equate to a minimum of 120 working days in total). You will be supported in your professional placements by a specialist who will act as a mentor, offering you tutorial support and developing a programme of practice-based professional studies for you. Your progress will be assessed through observations, feedback and discussion. To this end, you will create and maintain a portfolio of evidence demonstrating how you have met the various Teacher's Standards.
You will engage with the theoretical foundations of classroom practice and demonstrate the depth of your professional knowledge by completing three academic assignments during the course.
Additional entry requirements
To be accepted on this course, you must meet the partnership's established entry requirements for Initial Teacher Education. See 'Our Entry Requirements' at the bottom of our Applying web page. Additionally, given the significant competition for those applying for a place on this Initial Teacher Education course specifically, you should be able to demonstrate the following:
A strong knowledge and understanding of Psychology, and a sound awareness of how the subject is currently taught within Secondary state schools
A good honours degree (2:2 or above) in Psychology or a related discipline. Candidates with degrees in related subjects will need to demonstrate that they have a strong foundation in Psychology via prior study, eg. an A level.
Undertaking a short classroom type teaching task and showing an awareness of the curriculum and school life is part of our interview process, so candidates may wish to prepare themselves by spending some time in an appropriate school setting for the subject/phase they intend to teach beforehand.
NOTE:
All candidates offered a place on a teacher training course will be required to satisfactorily complete an Enhanced Disclosure and Barring Service (DBS) check (formerly known as a CRB check), including a check of all cautions and warnings as well as convictions, before their place can be confirmed. The University will pay the costs of this check on your behalf.
How to apply
Applications for all Initial Teacher Education courses are made online via the Government's Department for Education website. See also our 'Applying' web page for a step-by-step process for how to apply to train to teach at Sussex.
Funding
See our Scholarships, fees and living costs web page for information on fees and eligibility for financial support. Specific information on bursaries, financial incentives and other sources of funding for Initial Teacher Education are available on our PGCE & School Direct Trainee Fees & Bursaries: 2023 and from the Department for Education.
Enquiries
See full details of the Secondary Psychology PGCE course at Sussex on the Prospectus.
General enquiries about any ITE course, including application queries, should be directed to the ITE admissions team:
E: iteadmissions@sussex.ac.uk
Specific course enquiries can be directed to the Course Leader:
E: j.badesha@sussex.ac.uk