CORTH Blog: 2 March 2018
Leah Widdicombe
Leah Widdicombe is a Research Intern at Girlguiding, a leading charity to empower girls and women in the UK. Email Leah.
On 20 December 2017, you may have seen a sea of people wearing red, shouting about Mooncups and carrying giant tampons opposite Downing Street. For some, this might produce an uncomfortable feeling – after all, we don't talk about periods very often, and when we do, we whisper about 'that time of the month', or hide our tampons under our sleeves so that nobody knows 'we're on'. But menstruation is completely natural – so why should we be kept quiet about it!? With all the secrecy around periods, it may come as a surprise to some that period discrimination, including stigma and poverty is an issue close to home.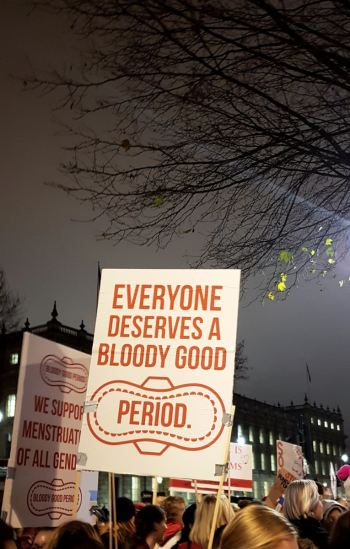 The peaceful #FreePeriods protest was organised by young campaigner Amika George, in collaboration with co-founders of The Pink Protest, Grace Campbell and Scarlett Curtis. The protest followed on from Amika's petition for the Government to provide free menstrual products for girls on free school meals. Speakers included celebrities Adwoa Aboah and Daisy Lowe, YouTuber Tanya Burr, Deborah Frances-White from the Guilty Feminist and others. It was great to see support from MPs too. Paula Sherriff, Jess Phillips, Rosie Duffield and Layla Moran also spoke freely about their experiences of having periods, and the age-old method of having to use toilet roll in place of menstrual products. The atmosphere of the night was amazing – we had music, a menstrual product mambo by Chella Quint of the #periodpositve movement, and of course, lots of puns about periods.
The topic of period poverty in the UK came to light when the charity 'Freedom4Girls', who donate menstrual products to girls in Kenya, was approached by a school in Leeds asking for free products as girls were missing school due to their periods. This problem is estimated to affect girls and others who menstruate across the UK. According to research by Plan UK, 1 in 10 girls can't afford to buy menstrual products and nearly half (49%) of girls have missed school when menstruating.
However, the problem doesn't end with schools. Gabby Edlin, another speaker at the #FreePeriods protest, is the founder of Bloody Good Period, which donates menstrual supplies to asylum seekers and refugees. And there are a number of small groups set up all over the UK, to donate menstrual products to people who are homeless and to food banks.
But it's not just about making sure menstrual products are available. Part of tackling period discrimination includes normalising the conversation around menstruating and reducing the stigma around it. Plan's research showed that nearly half (48%) of girls aged 14-21 in the UK are embarrassed by their periods. It's important that both boys and girls are educated on the topic, and that advertisements are more realistic. As Gabby mentioned at the protest, "if periods become secret again, then period poverty will become secret again".
It's amazing to see girls and young women are speaking out, and showing their bleeding passion for issues that matter to them. The #FreePeriods petition now has more than 148,000 signatures, and Bodyform is currently tackling the taboo with their new #bloodnormal advert, showing red liquid instead of blue - finally! But with all the uncertainty at the moment, it's easy to get disheartened. There will be setbacks and disappointments, but if we all continue working together, our voices will be heard.
Last year, Girlguiding's British Youth Council delegates chose tackling the tampon tax as one of the policy motions they put forward to the Council:
"The BYC believes that sanitary products are essential for people who menstruate and therefore should not be taxed as a luxury product. We recognise that this tax shows a disregard for the needs of girls and young women and has a detrimental impact on their lives. We call on the Government to remove the luxury tax on these products, and to continue to commit to this following Brexit."
So, what's next? Recently, one of our Youth Panels, Advocate, made up of Girlguiding members aged 14 to 25 told us how they'd like to be involved in tackling period poverty. Following consultation with our members from the Senior Section (young women aged 14 to 25), 97% of our young members voted for us to join the fight and campaign for an end to period poverty and discrimination.
Girlguiding believes it is unacceptable that girls face barriers to their education and in participating in society fully because they cannot afford menstruation products.
We don't want to be silenced about periods any longer – we want to talk about the reality of having a period, and the really important issue of period poverty.

About Girlguiding
Girlguiding is the leading charity for girls and young women in the UK, with over 500,000 members. Thanks to the dedication and support of 100,000 amazing volunteers, we are active in every part of the UK, giving girls and young women a space where they can be themselves, have fun, build brilliant friendships, gain valuable life skills and make a positive difference to their lives and their communities. We build girls' confidence and raise their aspirations. We give them the chance to discover their full potential and encourage them to be a powerful force for good. We give them a space to have fun. We run Rainbows (5–7 years), Brownies (7–10 years), Guides (10–14 years) and The Senior Section (14–25 years). Registered Charity No 306016. www.girlguiding.org.uk

Key messages
We are for all girls
We give girls their own space
We give girls a voice
We change as the lives of girls change