Clearing FAQ: your questions answered by the experts
Our Admissions experts Amy and Louise answered our Twitter followers' most pressing questions about Clearing. Read their answers to the most popular questions below.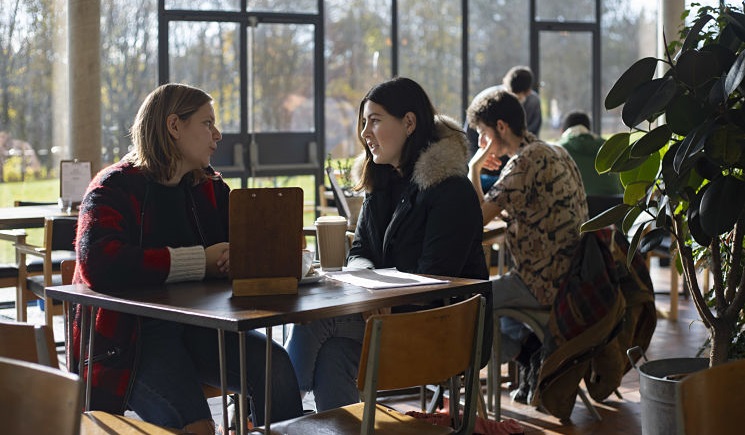 Click the links below to skip to the topic that you're interested in:
Your results
What are my options if I don't get the results I need?
Don't panic! You can look for places through Clearing. We'll advertise our Clearing vacancies on our website in July, and for A-level students from August.
For other qualifications, you can contact us when you get your results. For more info and our contact details, take a look at our Clearing pages.
Who do we contact to discuss our grades with and whether they're good enough for a place?
Give us a call, or send us an email and we'll be more than happy to help you. You can reach us on +44 (0)1273 678416 and at ug.applicants@sussex.ac.uk.
What happens if I miss my grades for a place at Sussex?
We'll still consider your application to see if we can accept you onto your chosen course. We'll also look at alternatives such as Foundation Years. See our Clearing pages for more info.
Entry requirements
If you got an offer of ABB and you get A*BC, do you still have a chance to get in?
Yes, you will have a chance, but it will depend if the C is in a subject where we've asked for a higher grade.
Does it matter if I only take one A Level and the others are diplomas and BTECs?
We will consider you, but it will depend on the course you're applying for and the subjects you're taking. Feel free to get in touch if you want to chat with us about this in more detail. Contact us here.
I'm doing 4 A Levels and my offer is ABB from any 3 subjects - does it matter if I fail the other one?
As long as we haven't specified a grade in a particular subject then you should be fine, but you might want to email us at ug.applicants@sussex.ac.uk if you're unsure.
What are the usual grades you require for Clearing? Do you consider EPQ?
It'll depend on the course you're applying for, but it's worth keeping any eye on our Clearing pages ahead of results day to see the grades we're looking for.
We do consider EPQs in some cases, so make sure you mention these if you call us on results day.
On results days
On results days, when do you find out if you've got a place at your firm uni choice?
You will find out on results day as soon as UCAS Hub opens in the morning. Just log in and check your status.
Foundation Years
How do Foundation Years work?
Our Foundation Years are designed for talented applicants who don't quite meet the criteria for direct entry into the first year of an undergraduate course. They enable you to gain the subject-specific knowledge and skills to support your transition to uni.
Successfully completing your Foundation Year allows you to continue on to a range of related degrees. Check out our Foundation Years.
If you miss the main course, will you be offered a Foundation Year instead? If so, how does that work?
If you're holding an offer from us and you miss the offer conditions, we will consider you for a Foundation Year if we can.
This will all be done through UCAS, so make sure you check your status on results day. Check out our Foundation Year courses.
IELTS
What if you had to get at least 6.0 from each part of the IELTS test but you got 5.5 from one?
For most courses our IELTS requirement is 6.5 overall, with no less than 6.0 in each section. Unfortunately, if you've achieved 5.5, you'd need to re-sit the test. Please do send us your results however and we'll attach them to your application.
Deferring my place
Will I be able to defer my place until next year or do I have to reapply?
If you've received an offer from us we'll happily defer your place if we can. Just contact us to let us know. You'd need to meet the requirements this year.

But, if you need to re-take your A-levels, then you'd need to re-apply next year.
Offers
If I got an offer but declined it, would I still be applicable/eligible for Clearing?
You can apply to us as long as you have a UCAS application and meet the entry requirements. Keep an eye on our Clearing pages - we'll list our courses and the grades we're looking for on there nearer the time.
Change of course
I've firmed my place for September but now want to do a different course. What do I do?
We're always happy to consider a change of course! Get in touch with us (+44 (0)1273 678416 / ug.applicants@sussex.ac.uk) with your UCAS ID and we'll take a look at this for you.
Contact us
For general queries, ask us a question online or email study@sussex.ac.uk
If you have questions about your application, please contact Admissions on:
Here are other contact details which may be useful:
You might also be interested in: