University Clearing and Adjustment 2019
If your plans for applying to your chosen university change, we'll be here to support you. Find out everything you need to know after getting your exam results, including information about Clearing, Adjustment and the courses on offer at the University of Sussex for 2019 entry.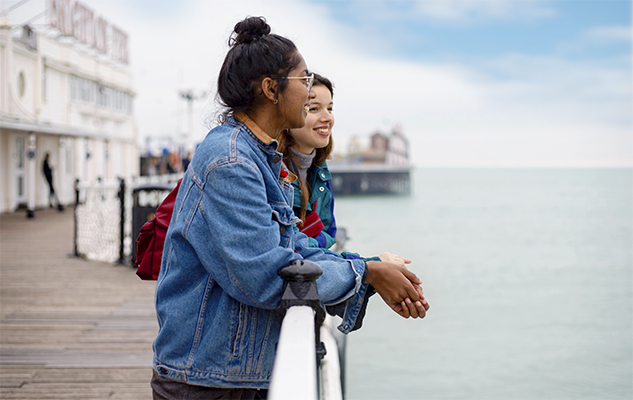 Sign up to receive Clearing updates
Keep up to date with Clearing at the University of Sussex by signing up to receive our emails for 2019 undergraduate course entry.
Sign up for Clearing updates now
Haven't applied to university yet?
If you haven't applied to university for 2019 entry yet, you don't have to go through Clearing. You can still apply to Sussex through UCAS before 30 June 2019. Apply through UCAS now.
---
Key dates for Clearing 2019
If you apply for a university course after 30 June 2019, you'll automatically be entered into Clearing. Clearing 2019 opens during the summer. Key dates for your diary include:
International Baccalaureate: Clearing opens on 5 July 2019
BTEC and other vocational courses: Clearing is open as soon as you get all your results in July or August
A-level exam results: Clearing through UCAS Track opens on 15 August 2019
other European and international qualifications: Clearing opens as soon as you have all your results in July or August.
---
---
Adjustment
If you get better results than expected, you can explore other course vacancies through a process known as Adjustment, even if you've secured a place at your firm choice university.
We have a number of adjustment vacancies at Sussex, which will be available for you to browse in the summer.
Adjustment is available from A-level results day on 15 August.
Find out more about Adjustment from UCAS.
---
What courses will be available at Sussex through Clearing 2019?
We will begin listing vacancies when Clearing opens on 5 July, with vacancies for A-level students being previewed from 13 August.
In the meantime, you can get an idea of the type of courses we offer on our undergraduate course pages.
---
Have you considered a Foundation Year?
Our Foundation Years are designed for talented applicants who do not quite meet the criteria for direct entry into the first year of an undergraduate course.
They enable you to gain the subject-specific knowledge and skills to support your transition to university. Successfully completing your Foundation Year allows you to continue on to a range of related degrees.
Take a look at our Foundation Year options
---
Uni checklist: How to choose a university
Before you choose a university, check it has everything a university should have:


Take a Virtual Tour of our campus
---
---
Clearing updates
Fill out the form below to receive updates about Clearing from the University of Sussex.
Data protection
Your personal data is processed by the University of Sussex and stored by 'Campus Management' (on the University's behalf) in compliance with the General Data Protection Regulation; further detail about the University's processing activities in relation to personal data can be found in our privacy notice. You can also view Campus Management's privacy notice.
---
You might also be interested in: