About our Online SKEs at Sussex
Learn more about how we've designed our SKE courses, as well as eligibility and funding.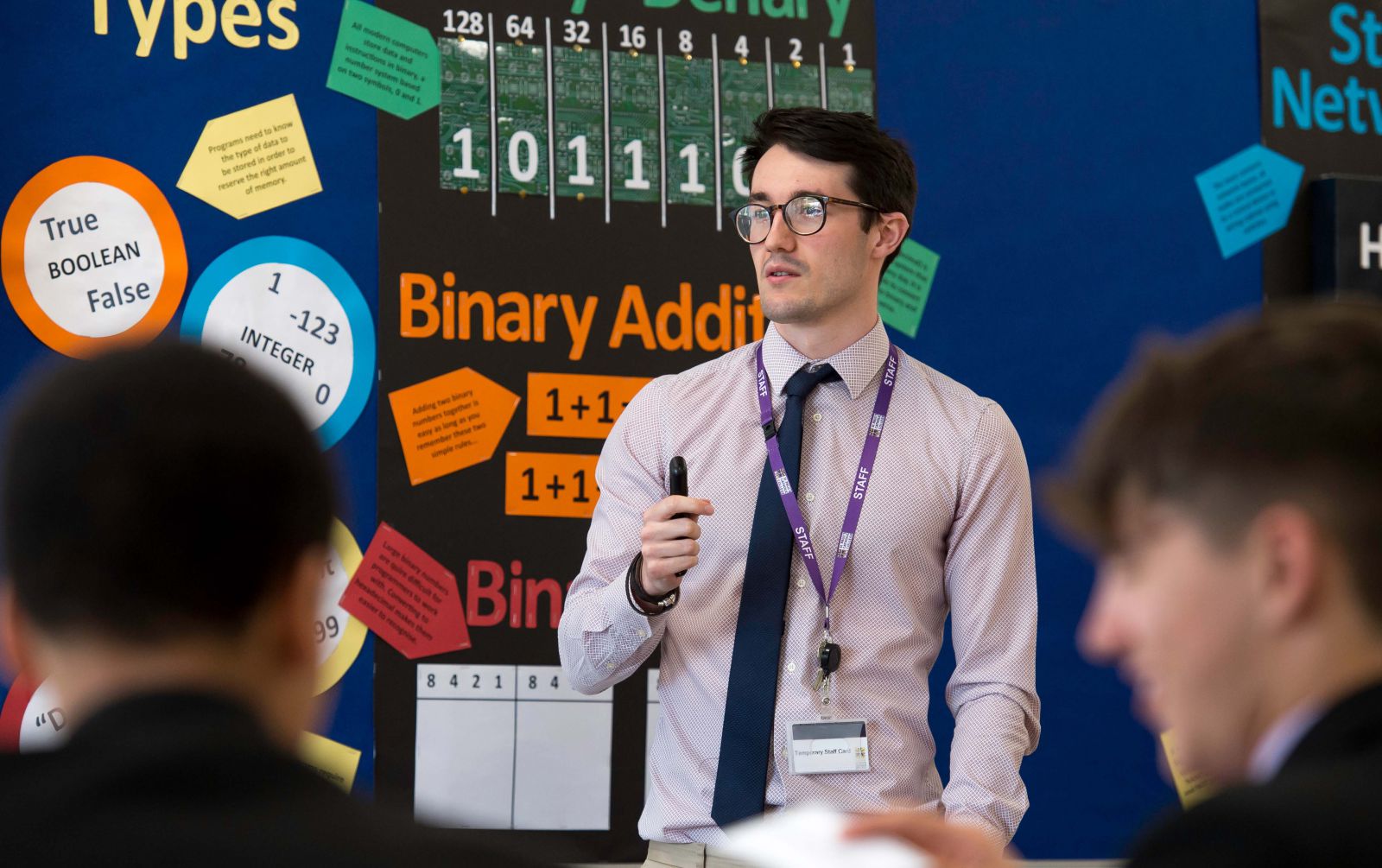 Applications now closed
Applications for our SKE courses are now closed and will reopen in October 2023.
The knowledge to create "lightbulb moments"
Teachers often talk about the "lightbulb moments" that happen when a child realises they understand an idea they have previously struggled with. At Sussex, we realise that a teacher's subject knowledge is vital to creating these moments through clear explanation and stimulating examples.
All our SKE tutors are experts in teacher training, and our courses are designed to give you the subject knowledge you need to plan inspirational lessons from day one of your training year. Our SKE courses are aligned to the Core Content Framework, that sets out challenging expectations for what trainee teachers should learn. For example, on our science SKE, you won't just learn about the practical work required by the exam board – you'll also discover exciting demonstrations to make the subject come alive. At Sussex, you will learn knowledge beyond the textbook.
Get in touch to find out more about our SKE courses.
Do I have to pay for an SKE course?
You must have been offered a place on a PGCE or School Direct course with enrolment on an SKE course as a condition of acceptance. SKE courses are funded by the Department for Education (DfE) and are free to participants.
A bursary of £175 per week is available for those parts of the SKE course completed prior to starting your training year (in September). The DfE has introduced new rules that mean, if you have been awarded a degree within the last 5 years, it must be significantly different to the subject you want to train to teach before you are eligible for SKE funding.
If you have any questions about your eligibility regarding SKE, please email ske@sussex.ac.uk.
Courses designed for you and by you
We understand that you already have strengths in your subject as well as gaps that you need to fill. Our courses allow you to focus on those areas where you need to do the most work. All of our courses are designed around 4-week units focused on different topics at KS3, KS4 or A-level. You will have a course tutor who will work with you to select the right units for you. You can focus on an unfamiliar area of the curriculum or cover all the topics for a particular qualification. You select the units that suit your needs and the time you have available.
Support from tutors
Throughout your SKE you will have access to your tutor, an experienced, subject specialist teacher educator. You will have optional fortnightly tutorials with your tutor where you can talk about your study, discuss your assignments and ask any subject questions. On some courses there will be units that include online or face-to-face sessions. These units cover parts of the course that are hardest to learn through self-study. For example, in our science courses there will be practical sessions, and in our modern foreign languages courses you will practice speaking.
Part-time or full-time
Our courses can be completed full-time (25 hours a week), part-time (12.5 hours a week) or a combination of the two. You can study when your children are at school and take a break during the school holidays. You can study during your lunch break or intensively during a period when you are not working. You set the schedule that suits you.
Real-world Curriculum materials
Your assignments will be based on the same materials you will use as a practicing teacher. During the SKE you will be working from the National Curriculum, exam board specifications, past exam paper questions, mark schemes, examiners reports and examples of student work. By familiarising yourself with authentic classroom materials you will well-prepared for your training year. If you know what exam board your school works with, you can even focus on the specific demands of that curriculum.
All resources provided
You will have access to resources that would normally cost hundreds of pounds. The resources we provide vary between subject but examples include:
Printed resources
All of our courses come with a bundle of core texts. You will receive hard copies of text books and revision guides appropriate for the course you are studying. Alernatives to paper resources may be provided for students outside of the UK.
Online resources
You will access many of these through your training year to help with your lesson preparation and to continue your subject knowledge development.
---
You might also be interested in: