Education and Teaching
Train to be a teacher, or learn about the UK education system. At Sussex, you can study an undergraduate course, Masters degree or PhD in Education and Teaching.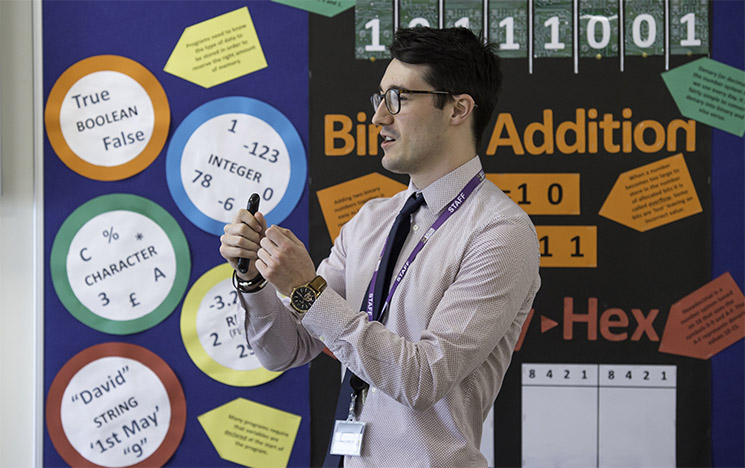 We're proud of our strong partnerships with local schools. Together, we ensure that your course prepares you well for your future career in education and teaching.
You'll learn from experts who are advising governments, shaping policy and improving practice. You can also get personalised support from established practitioners across a range of professional practice placements.
On our PhD courses, you'll develop specialist knowledge and advanced research skills.
Explore Education and Teaching at Sussex
Meet Nstiki
Nstiki Mgxabayi, International Education and Development MA, wanted to be effective in bringing positive change to others. She came to Sussex on a Mandela Scholarship where she has found the experience she was looking for.
The undergraduate view
Video transcript

Hello, my name is Alexander, and I'm a second-year on the Primary Education with QTS course.

[ON SCREEN TEXT] CHOOSING SUSSEX

The first thing that stood out to me about Sussex as a university was its location.

I always knew that Brighton was this exciting place, great for young people to live and this is yet to disappoint.

Applying for the University, I read that they had the course I wanted to do, so I decided to attend an Open Day to see what it was like.

I found it really exciting and when I met the course leaders and spoke about some of the content and the modules we'd be doing, I found it really intriguing.

So when I applied, I was invited to attend an interview and this is when I knew that it was the right place for me and the course that I wanted to do.

[ON SCREEN TEXT] FAVOURITE THINGS

Something that I really like about the course at Sussex is that it's all involved within the three years.

Sometimes with a teaching degree, you'll do a three-year course and then have to do PGCE.

But I knew straight away I wanted to be a primary teacher, so I thought I'd do this within three years, which is something amazing that Sussex offers.

Another great thing about the course is how involved the placements have been so far.

So I'm now on my second placement and there's one in all three of the years and you get a real great opportunity to observe teaching and put into practice some of your own teaching.

[ON SCREEN TEXT] WHAT'S NEXT?

Looking forward, I can't wait to carry on with this course, and I just find it so exciting.

I love the fact that after three years, I'm going to go straight into teaching with all the tools that I could possibly need from all the lectures and the modules that we've covered, and also the practice I've done in placement.

[ON SCREEN TEXT] MY ADVICE

If you're interested in joining Sussex, then don't hesitate to go to an Open Day and see if it's the right place for you.
More about life at Sussex
Virtual tour
Could there be a better place to be a student than our beautiful campus? Nestled in the South Downs National Park, we're just nine minutes from one of the UK's most iconic cities.
To get a picture of life on our campus and the excitement of being in the city of Brighton, take our virtual tour.
Explore more subjects at Sussex: