Childhood and Youth Studies
Discover our Childhood and Youth Studies degrees including undergraduate, Masters and PhD courses.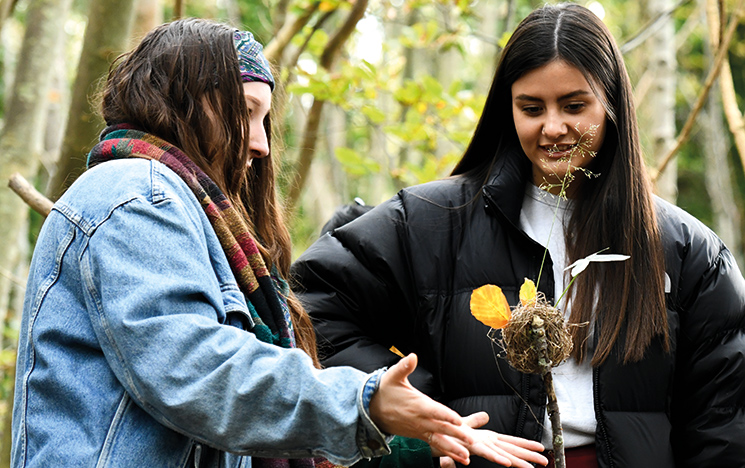 Do you want to make a difference to the lives of children and young people? We have courses to suit your career plans in child development, education, international human rights or emotional wellbeing.
At Sussex, you're taught by faculty who are active in childhood-and-youth-focused research. They influence policy and inform the work of those at the forefront of practice with children and young people. You'll gain a theoretical understanding of childhood and youth, as well as experience in a practice setting.
Explore Childhood and Youth Studies at Sussex
The undergraduate view
Video transcript

Hi, my name is Emma and I'm in my third year studying B.A.

Childhood & Youth at the University of Sussex. Outside of university, I enjoy reading and going for coffee with friends.

Over the next couple of minutes I'll be talking about my course and studying at Sussex in general.

[ON SCREEN TEXT] CHOOSING SUSSEX

What initially drew me to Sussex is how close it is to Brighton.

I love being by the sea and Brighton is a great place to live, with lots of things to do and see.

When I came to the Open Day, I knew it was the place for me immediately.

During the talks, lecturers were really friendly, coming up to each of us individually to ask if we had any questions.

I found the course different to others I had looked at as it was multi-disciplinary, with a focus on topics I hadn't seen covered in other courses, such as Global and Digital Childhoods.

I also found the idea of taking elective modules in British Sign Language and deaf culture, another draw to the course.

[ON SCREEN TEXT] STARTING UNI

I was very nervous before starting at Sussex.

However, Sussex has a great Buddy Scheme for first year students, where you get partnered with a more experienced student.

I was able to ask my buddy all the questions I didn't want to ask lecturers and also met up with them during Freshers Week to check how things were going.

During the first couple of weeks the lecturers introduced us to what studying at university is like.

Alongside learning about academic, reading, studying and referencing, the lecturers also support us settling into university life, giving us time to get to know other people on our course in a less formal environment.

[ON SCREEN TEXT] FAVOURITE THINGS

My favourite thing about the course is how every module is different.

You get to learn about childhood from lots of different viewpoints, including educational, legal, psychological and anthropological perspectives.

This has allowed me to learn about topics I had no previous knowledge of and find the areas I want to go into in the future.

[ON SCREEN TEXT] HOW I'VE CHANGED

Since starting university, I definitely have more confidence in my ability.

Being selected to take part in the Junior Research Associate program over the summer, after Year two, gave me more confidence to share my opinions and know that people want to listen to what I think.

[ON SCREEN TEXT] WHAT'S NEXT?

Going forward, I'm planning on further study looking at children's rights.

This is an area I didn't know much about before the module, on children's rights, on the course.

I think this shows you really don't need to know your whole future before starting university as you may find new interests along the way.

[ON SCREEN TEXT] MY ADVICE

To finish, I would just say, do what you think is right when applying to university.

You get advice from so many people.

School, college, family, friends.

What's most important is studying something you are interested in in a place you want to live.
More about life at Sussex
Virtual tour
Could there be a better place to be a student than our beautiful campus? Nestled in the South Downs National Park, we're just nine minutes from one of the UK's most iconic cities.
To get a picture of life on our campus and the excitement of being in the city of Brighton, take our virtual tour.
Explore more subjects at Sussex: