Speaking the language of integration
Dr Linda Morrice's research reveals the diverse language and educational needs of refugees in the UK, thereby helping to improve the outlook for migrants on both a national and local level.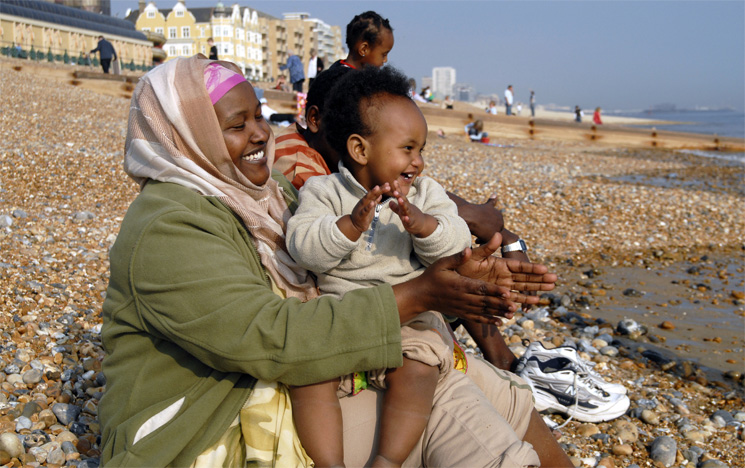 The successful integration of refugees has been at the centre of political debates across Europe. For more than 15 years, Dr Linda Morrice, Reader in Education and Migration at the University of Sussex, has been investigating effective integration of migrants into UK society, focusing on education and language acquisition as key measures.
In 2013, two years before the peak of the European 'refugee crisis', Morrice joined forces with fellow Sussex academic Professor Mike Collyer, and led on the educational element of a large Economic and Social Research Council (ESRC)-funded study to understand the experiences of resettled refugees after five years in the UK.
The four-year study focused on the Gateway Protection Programme (GPP), the only resettlement programme in the UK at the time. It was the first study to look at long-term integration and, with the involvement of 280 refugees, it followed the largest cohort of refugees of any UK research project.
The findings of this study, combined with Morrice's previous research, influenced new Home Office frameworks on integration and saw the introduction of an English for Speakers of Other Languages (ESOL) hub in Brighton and Hove, providing much-needed support services to the migrant community.
Inadequate language provision
The ESRC study gathered insights of refugees from Ethiopia, Iraq, the Democratic Republic of Congo and Somalia who had been resettled to Greater Manchester, Brighton and Hove, Norwich and Sheffield. Peer researchers completed questionnaires with refugees, with annual follow-ups for the next two years.
Morrice says: "Language is a key driver of successful integration. Better language skills lead to more positive contact with neighbours and acquaintances, in turn leading to higher levels of wellbeing for refugees, not to mention their value in accessing employment and education.
"But we found that the existing provision of ESOL as inadequate and did not address the diverse learning needs of refugees. Women, the elderly and those with caring responsibilities were particularly vulnerable to long-term exclusion."
Against a backdrop of dramatically reduced funding for ESOL, the study showed that the existing provision wasn't enough to equip refugees for daily life.
The study also revealed that while language proficiency was key to effective integration in society, the reverse wasn't true – day-to-day contact with others wasn't enough for refugees to learn English. As one Congolese refugee said: "You can't have good integration when you don't have a good communication."
Education and Employment
Out of the 280 respondents, 86 were young refugees aged between 13-24 who shared an insight into their educational experience in the UK.
While many young refugees arrived in the UK expecting to be able to continue with, or transition to full time education, they faced pressures to find a job as soon as they turned 18, rather than being encouraged into further education. Refugees were effectively 'aged out' of free full-time education before they could gain key qualifications.
Morrice says: "Refugees over the age of 18 could only spend a maximum of 16 hours studying in order to be eligible for welfare benefits. This means that many, particularly those who arrived with no family, faced a tricky balance of improving their outlook or having enough money each week to survive.
"The UK is potentially losing out on the talents of a large group of young people because we're not helping them to develop through higher education or other educational options."
Furthermore, after five years living in the UK, only 12 out of the 280 respondents had found full-time employment. Language skills, followed by non-recognition of refugees' overseas qualifications and skills, were cited as the main barriers.
More than one in five of the resettled refugees surveyed had received a university education in their homeland, holding careers as teachers, midwives, doctors and judges. But, with overseas qualifications not recognised in the UK, less than 3% continued to work in the same profession they'd had prior to resettlement.
Morrice explains: "For most of our research participants, employment represented much more than just finding a job and financial security; it's about self-worth and having the opportunity to deploy skills and qualifications.
"Refugees described their employment-related frustration as having their lives 'put on hold', or feeling socially excluded before they'd been given a real chance to be a part of British society."
Collyer adds: "Years after arriving in the UK, refugees were seemingly caught in poverty-trap conditions of low income, poor educational support and precarious employment or benefits. As a result, their ability to contribute to the local economy, public services and British society as a whole was limited."
Improving refugee outcomes
Morrice and Collyer's final report was released in December 2018. Even before this, it was making shockwaves among lobbyists and policy makers. Two years before its release, key findings were shared by The Guardian, and it was the only piece of research to be cited in a major review of UK refugee support, conducted by the All Party Parliamentary Group on Refugees.
In 2019 Morrice co-authored the Home Office's new Indicators of Integration framework, which referenced the study. Her work was described as 'pivotal in its review and redesign'.
Locally, the research was used to support a successful grant application by Brighton and Hove City Council, enabling them to establish an ESOL hub, which provides an advice service for migrants with referrals for ESOL provision.
Since opening, over 420 ESOL speakers have accessed the service, with 70 of these receiving bespoke pathway planning and goal setting including support to improve English outside of formal ESOL classes, the development of tailored education and training pathways, employability training and more.
Morrice said: "Refugees have a huge amount to contribute to our society, but a lack of appropriate education and language support in the early years creates long-term dependency and frustration. Hopefully things are beginning to change for the better and, locally especially, it's reassuring to see new support services for this community."
---