About
SHL experiments with digital methods in research and investigates the interactions between technology and culture, society and environment in order to imagine and create more sustainable and just futures for all.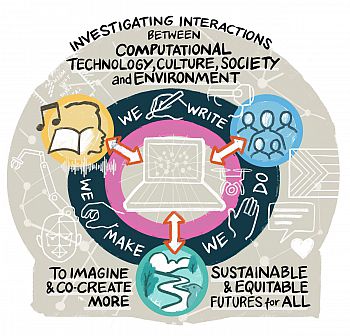 What is SHL?
SHL is one of the four Strategic Research Programmes at the University of Sussex designed to address some of the key challenges and opportunities facing contemporary society by bringing together expertise from many disciplines. As a cross-campus research programme, SHL members span the arts, humanities, engineering, informatics, social science, life sciences, and the University library. Our research has a wide disciplinary reach, from community archives to AI, media theory to conservation technology, critical heritage to intersectional feminism, digital humanities to experimental music technology and critical making.
SHL was founded in 2014 with significant investment from the University. Since then SHL has been awarded in excess of £3.7 million in external research grants and have developed Digital Humanities (DH), and DH related teaching portfolios across the University, and significantly nurtured deep interdisciplinary collaboration in both domains.
SHL has grown from its roots in critical DH to an expansive engagement with digital methods across creative practice, social science, sustainability and much more.
We think of this as 'DH++'.
Contact
Sussex Humanities Lab, SILVERSTONE SB211, Arts Road, Falmer, East Sussex, BN1 9RG
If you have any queries, email shl@sussex.ac.uk.