University of Sussex Business School AI Lecture 2021

Event details
Date: Tuesday 14 December 2021
Time: 15:30 - 19:30 GMT
Location: Large Lecture Theatre, Jubilee Building, University of Sussex Business School, and Online (Zoom Webinar)
Please join us for this year's AI Lecture, which will be given by Sara Hooker, Research Scientist at Google Brain. Dr Hooker has provided important contributions to AI and machine learning research, including research on addressing bias, the compression of models, and the relationship between AI algorithms and hardware. Her work on the 'Hardware Lottery' has received worldwide attention.
The lecture will be followed by a fireside chat with Melissa Heikkilä, POLITICO Europe's AI Correspondent and author of the AI:Decoded newsletter.
The University of Sussex Business School Annual AI Lecture, organised by the AI Research Mobilisation Group, is a distinguished keynote speech that aims to offer a high-level view on fruitful avenues of research and practice at the intersection of Artificial Intelligence and Social Sciences. Binding together the speaker's frontier expertise and insights, and the uniqueness of the Sussex approach to research, the AI Lecture is a milestone appointment for all communities working on AI; an open, inclusive and creative event, and the occasion to contribute to a true multidisciplinary approach to the study of AI technologies and their impact, in particular in the business context. The AI Lecture is usually followed by a panel or fireside chat involving rising stars of the world of AI research, policy and journalism.
This will be a hybrid event, allowing you to join either in person or online. Please register to attend using the form below.
Agenda
Time
Description
15:30 - 16:00
Welcome Tea, Coffee and Cookies
16:00 - 16:10

Introduction by AI Research Mobilisers, University of Sussex Business School

16:10 - 17:10

AI Lecture: Sara Hooker, Google Brain

The Hardware Lottery

17:10 - 17:40
Plenary Discussion
17:40 - 17:50
Break
17:50 - 18:50

Fireside chat with Melissa Heikkilä, POLITICO's AI Correspondent

18:50 - 19:00

Conclusion

19:00 - 19:30

Drinks reception
About the Speakers
Sara Hooker is a research scientist at Google Brain working on training models that go beyond test-set accuracy to fulfil multiple desired criteria -- interpretable, compact, fair and robust. She enjoys working on research problems where progress translates to reliable and accessible machine learning in the real-world. She founded a local Bay Area non-profit called Delta Analytics that works with non-profits and communities all over the world to build technical capacity and empower others to use data. She is one of the co-founders of the Trustworthy ML Initiative, a forum and seminar series related to Trustworthy ML. She believes in open research and collaborating widely. She is on the advisory board of Patterns, and amongst other efforts, she is an active member of the MLC research group which has a focus on making participation in machine learning research more accessible.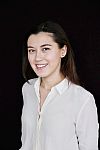 Melissa Heikkilä is POLITICO Europe's AI Correspondent, based in London. She writes a weekly newsletter on AI politics and policy called AI: Decoded. Before joining POLITICO, she worked at The Economist in London for two years, where she wrote about European politics, culture and finance. Previously she worked in her native Finland as a news anchor for the Finnish broadcasting company Yle and as a journalist for one of the largest newspapers in the Nordic region, Helsingin Sanomat. Melissa studied at the University of Helsinki and University College London.