Marie Jahoda Annual Lecture
Find out about the Marie Jahoda Annual Lecture – launched in 1997 to celebrate the outstanding contributions that Professor Marie Jahoda CBE made to SPRU.
Next lecture
Marie Jahoda Annual Lecture 2022, Panel Discussion and Theatre Production
Date: Wednesday 26 January 2022
Time: 16:00-20:15 GMT
Location: The Attenborough Centre for the Creative Arts, University of Sussex, & Online
This year's Marie Jahoda Annual Lecture will be delivered by Professor Michael Billig on the topic of 'Marie Jahoda: a psychological vision for the twenty-first century'. The lecture will be followed by a panel discussion with Professor Maximilian Kasy and Dr Andreas Kranebitter, and a theatre production from the Viennese theatre company, Portraittheater .
This event is co-organised by the University of Sussex & the Austrian Cultural Forum London. Doors will open at 15:45 GMT.
Please register to attend using the form at the bottom of this page.
Please note: Only the lecture and panel discussion will be streamed online. The theatre production will not be available to watch online.
Agenda
Time
Session

16:00 - 16:05

Welcome and Introduction

Jeremy Kent Hall, Professor of Innovation Studies, Science Policy Research Unit, University of Sussex

16:05 - 17:00

Lecture and Discussion

'Marie Jahoda: a psychological vision for the twenty-first century'

Michael Billig, Emeritus Professor of Social Sciences at Loughborough University

17:00 - 17:30
Austrian Coffee Break
17:30 - 18:15

Panel Discussion

Maximilian Kasy, Professor of Economics, University of Oxford

Andreas Kranebitter, Head of the Mauthausen Memorial's Research Center; Department of Contemporary History, University of Vienna

Maria Savona, Professor of Economics of Innovation, Science Policy Research Unit, University of Sussex

18:15 - 18:45

Drinks Reception with Austrian wine

18:45 - 20:15

Theatre production

"Women at Work – Kaethe Leichter and Marie Jahoda"

Directed by Sandra Schüddekopf and starring Anita Zieher as Kaethe Leichter and Brigitta Waschnig as Marie Jahoda.
The Lecture

Marie Jahoda: a psychological vision for the twenty-first century

In this tribute, Michael Billig will suggest that Marie Jahoda's enduring intellectual vision had three major roots. First was the democratic socialist politics of her youth. Second was her contact with psycho-analysis in Freud's Vienna; and third, her experiences in the classic study of unemployment in the small Austrian town of Marienthal. These influences, together with her personal qualities and intellectual integrity, produced an original psychological vision which in her lifetime transcended conventional, mainstream psychology and which provides all the more important an example for the twenty-first century.

Michael Billig is emeritus professor at Loughborough University where he worked for many years in the Department of Social Sciences. Trained as a social psychologist, he has published books on various topics, including nationalism, fascism, rhetoric, and the history of rock'n'roll. His latest book, More examples, less theory, contains an appreciation of Marie Jahoda, as the ultimate example for today's academic psychologists.

The Theatre Production

Women at Work – Kaethe Leichter and Marie Jahoda

Kaethe Leichter (1895 - 1942) and Marie Jahoda (1907 - 2001) were two Austrian pioneers in the 1920s and 1930s in researching and writing on the condition of work, unemployment and gender pay inequality. Both were political activists who opposed the rise of fascism in Austria. Their life-memories and important achievements of their work are at the centre of the play.

Directed by Sandra Schüddekopf, this exciting 95-minute play stars Anita Zieher as Kaethe Leichter and Brigitta Waschnig as Marie Jahoda. The Viennese company portraittheater produced the play in 2018 and toured with it in Europe and in the USA.
---
Last lecture
The most recent Marie Jahoda Annual Lecture took place on 4 February 2020, shortly before the Covid-19 pandemic hit the UK.
Under the name of Living with Technology: Scientific Knowledge and the Good Life, it took place at the Attenborough Centre for the Creative Arts.

The guest speaker was Professor Jennifer Rubin (pictured), Executive Chair of the Economic and Social Research Council (ESRC).
Professor Rubin's presentation drew on Marie Jahoda's Marienthal study on the economics of unemployment to discuss the role of social sciences in technology and innovation.
Opening the Lecture, Professor Adam Tickell, Vice Chancellor of the University of Sussex, shared the meaning of Marie Jahoda's legacy today, her rich and eventful life from her emigration from Austria to her contribution in the shaping of the interdisciplinary, innovative, forward thinking principles of the Science Policy Research Unit (SPRU). Professor Tickell referred to the need for more interdisciplinary research and noted SPRU's long running contribution to this endeavour.
Professor Jeremy Kent Hall, before introducing Professor Rubin, gave an overview of Marie's last presentation, which he attended in person. Drawing again on her classic Marienthal: The Sociography of an Unemployed Community (German: 1933; English: 1971), she discussed the problems in the Balkans after the breakup of Yugoslavia and the basic thesis, "that prolonged unemployment leads to a state of apathy in which the victims do not utilize any longer even the few opportunities left to them". From her personal experience of fascism in Austria, this vicious cycle, between reduced opportunities and aspirations, allowed for the manipulation of people by dubious political elements. In that presentation, Marie discussed how elements within the former Yugoslav Republics manipulated various factions to brutally turn on each other.
In her speech, Professor Rubin underlined how the axioms of Marie's work are more relevant today than ever, especially the findings of the Marienthal study. Then she emphasised that the experience of regular work was a fundamental human need for most people, not only for economic reasons but also for a personal sense of identity, for social contacts, and for the structuring of time.
As Jennifer noted, there is still little investment (within the research scope) allocated to understand how people think and behave in relation to pressing issues such as the development of technologies that may have broad societal impacts in the near future (e.g. artificial intelligence). Jennifer argued that incorporating social science into the study of technology and innovation can broaden up our understanding about how social relations shape technology and vice versa.
Jennifer continued that more attention needs to be put into questions such as 'what societal need is a technology meeting?' 'whose needs are identified and prioritised and why?' 'what are the actual or likely impacts of such technologies in society?' and 'how should technology be governed, regulated and shaped?
A Q&A session discussed the role of social sciences in broadening its scope of analysis to include the study of technology, from the purpose of a technology to the social power relations involved in it.
---
About Marie Jahoda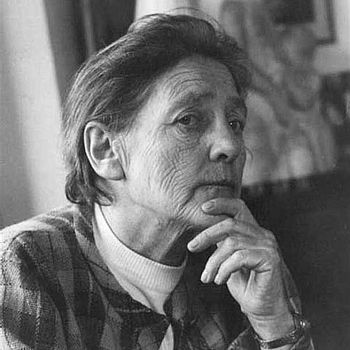 Marie Jahoda was born in Vienna in 1907. In 1928 she earned her teaching diploma from the Pedagogical Academy of Vienna, and in 1933 her Doctor of Philosophy in Psychology from the University of Vienna. In 1937, she fled Austria, staying in England during World War II. In 1946 she emigrated to the United States. During her time there she worked as a researcher for the American Jewish Committee and Columbia University and as a Professor of social psychology at New York University where she founded the Research Centre for Human Relations.
Marie came to the University of Sussex in the 1960s and played a full part in the academic life of the University and its governance.
After her official retirement at 65 years old, Marie began a new period of active creative work participating in the interdisciplinary research of the Science Policy Research Unit (SPRU). She made major contributions to research programmes on social and technological forecasting and the social psychological consequences of prolonged unemployment.
Marie's work has been recognised with a prestigious Kurt Lewin Memorial Award from the American Psychological Association and was belatedly honoured by the German Social Democratic Party and by the Austrian Social Democratic Government. She was awarded an honorary degree by Sussex in 1973 and received a CBE in 1974.
---
Past lecture speakers
In 1997 the inaugural Marie Jahoda annual lecture was given by Sir Robert May, Government Chief Scientist.
Other speakers have included:
Professor Helga Nowotny, founding member and former president of the European Research Council
Professor Jeremy Farrar, Director of the Wellcome Trust Professor Jeremy Farrar
Sir Paul Nurse, President of the Royal Society and Director of the Francis Crick Institute in London
Professor Linda Wilson, President of Radcliffe College, Cambridge, MA
Professor Chris Freeman, founder and first Director of SPRU
Professor David King, Government Chief Scientific Adviser
Baroness Sharp, House of Lords
Lord Giddens, former director of the London School of Economics
Professor Sir Gordon Conway, Chief Scientific Advisor, Department for International Development
Sir Howard Newby, Vice-Chancellor, University of the West of England
Professor Carlota Perez, Professor of Technology and Socioeconomic Development, Technological University of Tallinn, Estonia
Professor John Beddington, Government Chief Scientific Adviser
Calestous Juma, Professor of the Practice of International Development and Director of the Science, Technology, and Globalization Project at Harvard Kennedy School
---
You might also be interested in: