Marie Jahoda Annual Lecture
Find out about the Marie Jahoda Annual Lecture – launched in 1997 to celebrate the outstanding contributions that Professor Marie Jahoda CBE made to SPRU.
The next Marie Jahoda Annual Lecture will be held in 2023

The Marie Jahoda Annual Lecture 2021
On Wednesday 26 January 2022, the Marie Jahoda Annual Lecture took place online. It was a pleasure to finally get together to celebrate the remarkable life and intellectual legacy of Marie, following the re-scheduling of last year's lecture due to Covid-19.
Introducing the event, SPRU'S Director Professor Jeremy Kent Hall emphasised the key role Marie's legacy had played in establishing the Science Policy Research Unit (SPRU) and the University of Sussex Business School's distinctive reputation as a leading centre in innovation studies. Marie joined SPRU in 1965 as Professor of Social Psychology, and this event paid tribute to her trail-blazing legacy, both within her field and beyond.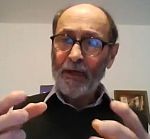 Guest keynote speaker Michael Billig, Emeritus Professor of Social Sciences at Loughborough University, gave an engaging lecture titled, 'Marie Jahoda: a psychological vision for the twenty-first century.' Michael spoke of the extraordinary life and career of Marie, from her beginnings in Vienna to the impact of her enduring intellectual vision today, encouraging young academics to take Marie, that "gentle rebel" as "the example to follow" in their academic journey.
Michael suggested that her original psychological vision had three major roots: the democratic socialist politics of her youth, her contact with psychoanalysis in Freud's Vienna, and her experiences in the classic study of unemployment in the city of Marienthal in Austria. Together with her personal qualities and intellectual integrity, these experiences produced a vision that transcended the conventional mainstream psychology of her time, and provided an all-the-more important example for the 21st century.
Following Michael's lecture, a panel discussion on 'The current and future implications of Marie Jahoda's work' saw three academics discuss their research in relation to Marie's legacy.
Maximilian Kasy, Professor of Economics at the University of Oxford, introduced his ongoing research project: the Marienthal job guarantee pilot. Professor Kasy and colleagues' project partly mirrors Marie's seminal work on unemployment, as they consider the converse: 'Employing the unemployed of Marienthal: Evaluation of a guaranteed job program.'
Andreas Kranebitter, Head of the Archive for the History of Sociology in Austria, University of Graz, focused on Marie's political activism and experience of imprisonment, sharing fascinating, original archive material. Andreas then considered how these experiences may have impacted upon Marie's own way of conducting social research.
Maria Savona, Professor of Economics of Innovation at SPRU, delivered the final panellist talk on 'Marie Jahoda: A precursor of multidisciplinary research on work and mental health.' After acknowledging unemployment as the main challenge in the time period of Marienthal, Maria discussed a different set of challenges impacting today's workforce: mental health, for example, from accelerated digitalization amidst the shocks of Covid-19.
After an engaging Q&A session with the panellists, Professor Jeremy Kent Hall's closing comments reinforced the aims of the Marie Jahoda Annual Lecture: to celebrate Marie's outstanding life and legacy, and furthermore, to bridge her work with the next generation of researchers.


To view the lecture and panel discussion, please click here

---
About Marie Jahoda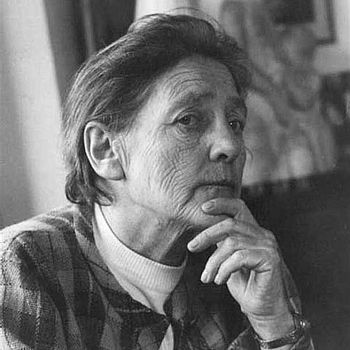 Marie Jahoda was born in Vienna in 1907. In 1928 she earned her teaching diploma from the Pedagogical Academy of Vienna, and in 1933 her Doctor of Philosophy in Psychology from the University of Vienna. In 1937, she fled Austria, staying in England during World War II. In 1946 she emigrated to the United States. During her time there she worked as a researcher for the American Jewish Committee and Columbia University and as a Professor of social psychology at New York University where she founded the Research Centre for Human Relations.
Marie came to the University of Sussex in the 1960s and played a full part in the academic life of the University and its governance.
After her official retirement at 65 years old, Marie began a new period of active creative work participating in the interdisciplinary research of the Science Policy Research Unit (SPRU). She made major contributions to research programmes on social and technological forecasting and the social psychological consequences of prolonged unemployment.
Marie's work has been recognised with a prestigious Kurt Lewin Memorial Award from the American Psychological Association and was belatedly honoured by the German Social Democratic Party and by the Austrian Social Democratic Government. She was awarded an honorary degree by Sussex in 1973 and received a CBE in 1974.
---
Past lecture speakers
In 1997 the inaugural Marie Jahoda annual lecture was given by Sir Robert May, Government Chief Scientist.
Other speakers have included:
Professor Helga Nowotny, founding member and former president of the European Research Council
Professor Jeremy Farrar, Director of the Wellcome Trust Professor Jeremy Farrar
Sir Paul Nurse, President of the Royal Society and Director of the Francis Crick Institute in London
Professor Linda Wilson, President of Radcliffe College, Cambridge, MA
Professor Chris Freeman, founder and first Director of SPRU
Professor David King, Government Chief Scientific Adviser
Baroness Sharp, House of Lords
Lord Giddens, former director of the London School of Economics
Professor Sir Gordon Conway, Chief Scientific Advisor, Department for International Development
Sir Howard Newby, Vice-Chancellor, University of the West of England
Professor Carlota Perez, Professor of Technology and Socioeconomic Development, Technological University of Tallinn, Estonia
Professor John Beddington, Government Chief Scientific Adviser
Calestous Juma, Professor of the Practice of International Development and Director of the Science, Technology, and Globalization Project at Harvard Kennedy School
Professor Jennifer Rubin, Executive Chair of the Economic and Social Research Council
---
You might also be interested in: