Psychology and Cognitive Science
Choose from a range of Psychology and Cognitive Science degrees including undergraduate, Masters and PhD courses.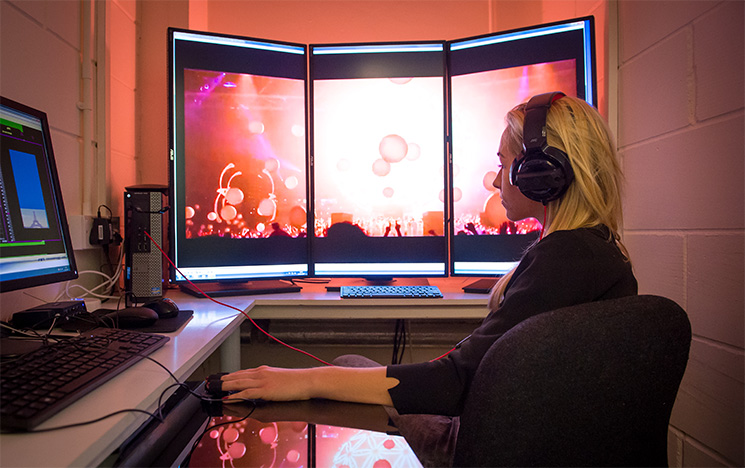 Understanding the mind is one of humanity's greatest challenges.

Study in one of the UK's largest schools of psychology. We have the expertise to support you throughout your studies, whatever your interest:
clinical, cognitive, forensic, health, social and applied psychology
child development
neuroscience.
Working with renowned researchers as well as on your own projects, you'll gain essential knowledge and develop key skills for your future career.
Explore Psychology and Cognitive Science at Sussex
Meet Robin
Professor Robin Banerjee, Head of the School of Psychology, created the Sussex Kindness Research network with the aims of exploring, investigating and illuminating kindness, and its impacts on people and communities.
The undergraduate view
Video transcript

I'm Hannah, and this is my second year as a psychology student here at Sussex.

One of the things I'm really interested in outside of my studies is learning different languages.

So, at the moment I speak four, those are: Arabic, English, German and French.

I will be talking about my whole journey here, how I got here, what I've been up to and how I hope to proceed.

[ON SCREEN TEXT] CHOOSING SUSSEX

So initially, when I first started looking for universities, one of the most important things was for me to feel like I fit in.

And actually, we have one of the largest cohorts and we have a large number of international students.

And this means that you're going to fit in no matter where you're from, no matter your background and no matter what your beliefs are.

[ON SCREEN TEXT] STARTING UNI

When I first started uni, most of it was online, but we received so much support rom my lecturers and University staff.

Sometimes I used to go to my lecturers' drop-ins and just sit for hours, sometimes on a weekly basis.

And when we shifted to in-person teaching, I even got to meet my lecturer's dog once.

[ON SCREEN TEXT] FAVOURITE THINGS

One of my favourite things about Sussex is that you can ask about academic advice, but you can also ask about general life skills and advice about everyday life.

And having my lecturers encourage me to do so was a very comforting feeling, especially when I was first starting university as a student who travelled from abroad to study... in the UK.

[ON SCREEN TEXT] HOW I'VE CHANGED

One of the things I've been able to do here is to build on my interpersonal skills.

I've suddenly shifted from being this quiet and shy person at school to being the first person to speak in class or start a discussion in a seminar.

[ON SCREEN TEXT] WHAT'S NEXT?

One of the things I'm looking forward to after my degree is actually just staying here at Sussex.

I'm planning on doing my master's here and I actually can't imagine leaving.

[ON SCREEN TEXT] MY ADVICE

Being a psychology student here at Sussex really offers you a unique opportunity to learn about others, but also to learn about yourself.

You really want university to be a place where you can grow.
More about life at Sussex
Virtual tour
Could there be a better place to be a student than our beautiful campus? Nestled in the South Downs National Park, we're just nine minutes from one of the UK's most iconic cities.
To get a picture of life on our campus and the excitement of being in the city of Brighton, take our virtual tour.
Explore more subjects at Sussex: