Criminology
Discover our undergraduate courses, Masters and PhD degrees in Criminology.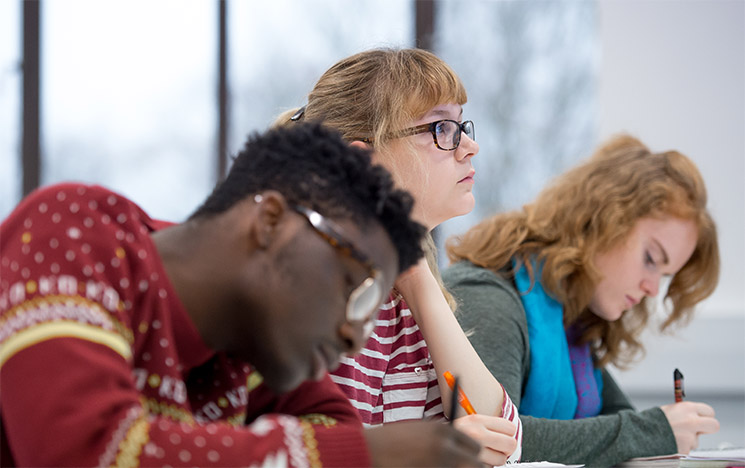 Criminology at Sussex has a sociological grounding. You'll gain theoretical knowledge and learn to understand crime in the context of its culture, as well as the criminal justice system.
You'll focus on the real-world impact of criminology. You're supported by supervisors who are active researchers on topics ranging from terrorism to victims of crime and capital punishment.
You'll develop your practical and analytical research skills. This training will help you throughout your studies. On graduation, you'll have the skills needed for a variety of careers.
Explore Criminology at Sussex
Meet Lizzie
Lizzie Seal, Professor of Criminology, became interested in criminology and sociology during her PhD. Her work has involved shifting understandings of gender, race and class.
The undergraduate view
Video transcript

Hi, my name is Jasmine, and I study Criminology at the University of Sussex and outside of my studies, I like to play netball and I like to go for walks along Brighton Beach with all my friends.

This video will talk to you about my journey to Sussex and what it's like to study Criminology.

[ON SCREEN TEXT] CHOOSING SUSSEX

When I was choosing what university to go to, I knew I really wanted to be by the beach and by the seaside.

So Brighton came to mind instantly.

I'd also heard it was a really fun and vibrant place to be.

When I visited Sussex on the Open Day, I went into Brighton afterwards and found everything that was said to be true.

It was a really beautiful, sunny day.

There was lots going on.

There were lots of people around which made me really excited to come here.

I also knew that I wanted to be on a campus uni, as you tend to get more of a community feel.

There's everything in one place, all your lecture halls, the accommodation, everything you need is all in the same place.

So that was something I considered too.

And Sussex is perfect for that because we have quite a large campus.

[ON SCREEN TEXT] STARTING UNI

Once I'd arrived at Sussex, it didn't take me very long to get settled into my course.

All the tutors are really helpful.

You get quite a few emails in the first few weeks.

They are trying to help you set up your student dashboard, we use Canvas at Sussex.

And everyone's really helpful.

You just need to stay on top of the emails to get settled in.

If you have any questions, the tutors are more than happy to help you and it really didn't take very long.

And before you know it, you'll be absolutely fine, knowing exactly what you're doing.

Another thing that made settling in much easier is the fact that every student is assigned an academic advisor and they can help you with nearly everything.

Their main purpose is to be there for help when you need it, regarding essays, but they can also be there for any other problems alongside the Student Centre, who will be there to help you if you've got any worries about settling in or any other questions, really.

[ON SCREEN TEXT] FAVOURITE THINGS

One of the things I've enjoyed the most about my course so far is something that is quite unique to Sussex.

When I started my course, you pick electives, which is the modules that you want to study in that term, and if you want to, you can select a pathway.

A pathway is essentially a selected set of modules that you choose, which then enable you to extend your degree beyond your initial discipline.

So I started with Criminology, but I'm in the process of completing Criminology with Global Studies because I chose the Global Studies pathway.

[ON SCREEN TEXT] HOW I'VE CHANGED

Since starting my course at the beginning of first year and now being halfway through my second year, I've changed in lots of different ways, mostly academic, which is expected.

I've also just become a lot more independent.

Obviously living by yourself, for some people, for the first time, it was my first time leaving home, learning how to navigate around campus, use the buses in Brighton, cook for yourself, clean for yourself.

It's all a really important growing process, and you change a lot, but in all the right ways.

[ON SCREEN TEXT] WHAT'S NEXT?

The next thing in my university career is my final year dissertation, which is something I'm really looking forward to.

I've never written an essay that large before, but it's something I'm really excited to tackle and I feel the end result will be really rewarding.

[ON SCREEN TEXT] MY ADVICE

My advice to anyone considering Sussex as a choice is just to make sure you've looked into your course, make sure you know the content and it's something you feel you might enjoy.

Make sure you're keen to be on a campus uni.

It definitely has a lot of benefits.

Like I said, a large community feel and just be excited for it, it's is a really exciting new chapter.

It's little bit daunting, but it all works out fine.

So my advice would just be enjoy it.
More about life at Sussex
Virtual tour
Could there be a better place to be a student than our beautiful campus? Nestled in the South Downs National Park, we're just nine minutes from one of the UK's most iconic cities.
To get a picture of life on our campus and the excitement of being in the city of Brighton, take our virtual tour.
Explore more subjects at Sussex: