Millie and Tia's story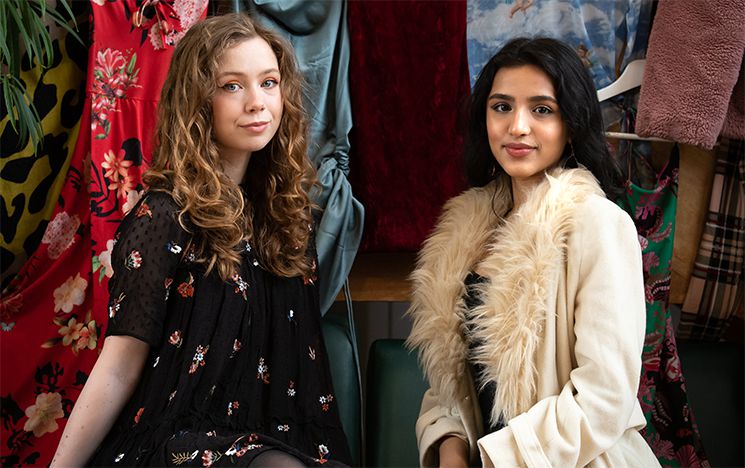 It's great how the University has introduced ideas of sustainability across the curriculum because you can see how it links with every single subject."

millie woodgate and tia sharma


Pitch for the Planet winners 2021 (Sustainable fashion)
"Tia and I were working together in the Students' Union in our first year. We started talking about setting up a thrift fair for recycling and upcycling fashion. Our idea meant students could make money by selling their clothes, and also raise awareness for sustainable fashion.
"Being among the winners of the Pitch for the Planet competition means we receive some funding for our idea. It's great how the University has introduced ideas of sustainability across the curriculum because you can see how it links with every single subject.
"I've really enjoyed being part of the Student Sustainability Committee and being able to give comments on the University's waste and recycling practices. This has definitely made me want to work in sustainability after my degree."
Millie Woodgate
International Relations and Development BA
---
"I did some fashion modelling and saw first hand the amount of waste produced by the fashion industry. I've learned that it's a bigger polluter than the aviation and shipping industry combined.
"But I love fashion and wanted to do something that meant I could still enjoy it without feeling guilty. When Millie and I chatted and came up with the idea of a thrift fair, it seemed like a perfect solution.
"We encourage people to bring along their clothes to sell at a booth, or we sell them for a small fee that goes toward our other initiative, the 'Last Season' Collection. This means they are upcycled and refashioned to be sold again.
"My experience at Sussex has re-affirmed my desire to work in sustainability."
Tia Sharma
Psychology with Economics BSc
You might also be interested in: