James' story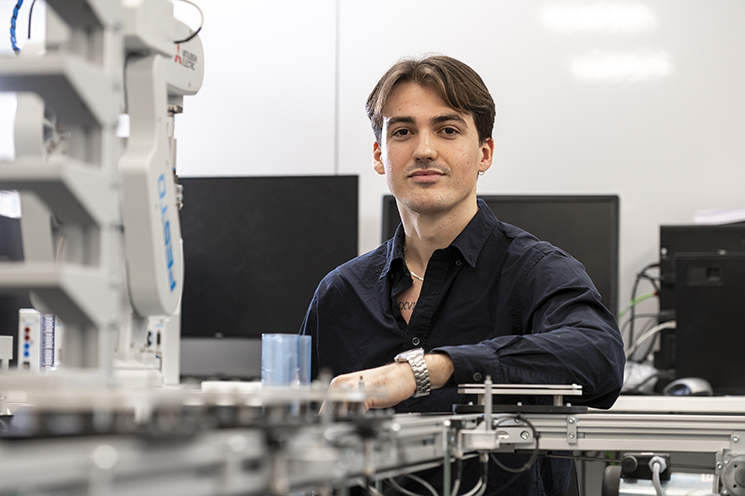 Engineering is so collaborative that whatever you're doing, and in whichever sector, you're going to be working with other people. And that's what I'm best at."James Napp
Mechanical Engineering BEng
Paxton Scholar
"Receiving a £10,000 Paxton Scholarship is not just a massive confidence boost for me, it's also lifechanging. That money will enable me to focus on my degree and get immersed in my final-year project without the financial stress.
I'm also excited about working a summer placement with Paxton, a Brighton-based global tech company specialising in security access control systems. It will be great to learn from the experts.
The scholarship application process was quite rigorous – especially the practical exam – as we had to work with a partner to assemble one of Paxton's door lock mechanisms, while under pressure. In fact, I messed up early on and apologised to my partner. But I think they were also testing our communication skills, and that's one of my natural strengths.
I actually had a U-turn into engineering. I did A-levels in Art, History and English, and was initially interested in pursuing a career in the arts. But I've always loved problem-solving, and Engineering provides me that mental stimulation.
After Sixth Form, I did an art foundation before going travelling and working, mostly in construction. I developed my practical skills and began taking an interest in the mechanical systems – and that's where I discovered my passion for science and technology.
Although Mechanical Engineering appealed to me, I needed to get my Maths and Physics up to speed. I did an engineering foundation year at the University of Brighton before applying to Sussex.
I really wanted in-person teaching, which Sussex offered very soon after the Covid pandemic. Admittedly, I found the Maths challenging, but I worked hard and learnt to break down complex problems into chunks, which makes them more manageable. I'm passionate about engineering for sustainable development, and I find this helps me to focus on my studies as I know what I am working towards.
Sussex has a really diverse community of nationalities and cultures – it's one of the most diverse places in Brighton, and I love that about it. It's also been interesting to debate different viewpoints in our ethics classes, especially those you may not initially share.
My ambition is to go into the renewable-energy sector in engineering. Once I get the technical aspect under my belt, I can see myself eventually in a communications role. Engineering is so collaborative that whatever you're doing, and in whichever sector, you're going to be working with other people. And that's what I'm best at."