Paxton Scholarships
The Paxton Scholarship provides students with a work placement and hands-on experience that supports their academic learning, preparing graduates for a career in engineering. It also offers a generous bursary that helps students through their final year at Sussex.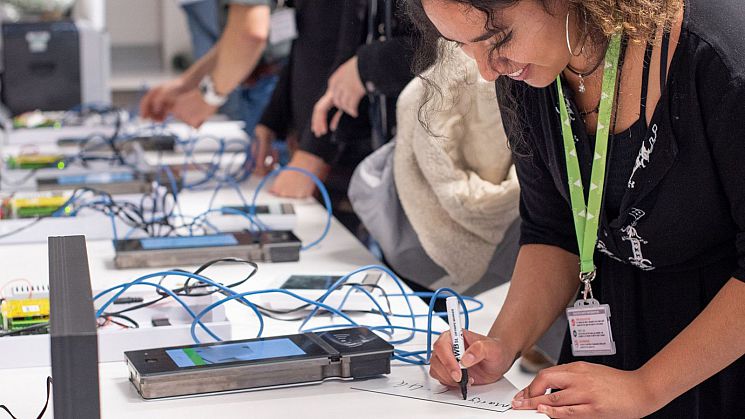 Paxton are a Brighton based global firm that utilise the latest technology and manufacture powerful, easy to install and use security solutions. With over 35 years of experience, Paxton products serve a wide range of sectors, including education, healthcare, retail, leisure, commercial, the public sector and more. Their systems secure more than 25,000 buildings across the world every year, and they work with brands such as Manchester United, graze, Michelin, Sky Deutschland and Foyles. A global leader in their field, Paxton's Head Office is based in Brighton with employees in 12 countries, and they export to over 60 countries worldwide.
Paxton are keen to support local talent and ensure they are well-placed attract bright young engineers. In order to achieve both of these goals, they introduced the Paxton Scholarship, hoping to inspire and attract a new generation of engineers into the sector. Students are selected through a competitive process that starts with a tour of the companies Head Office, where they learn about Paxton and get to see and experience the technologies and research they cover. An application and interview process follows, and candidates are selected on a range of criteria.

The Paxton Scholarship is in initiative we're very proud of, as it gives us an opportunity to support local students in their studies, whilst giving them the chance to gain real world experience prior to completing their education. We're pleased to have this platform to nurture young talent, and to have been able to offer a number of our past scholars permanent roles at Paxton at the end of their studies. I'd like to wish all of this year's applicants good luck!"

Nicola O'Donnell




Head of hr, paxton
While it provides a generous bursary, more importantly, the Scholarship also includes a work placement. Throughout the final year of their degree, students can engage with experienced engineers and real- world challenges gaining valuable practical support to complement their academic learning.
You might also be interested in