Roche Diagnostics
Roche Diagnostics approached Sussex with a proposal to establish a mentoring scheme for students. The scheme is intended to help students through University and/or with their first career steps. They also made a very generous donation to the Sussex Fund to support student hardship and well-being.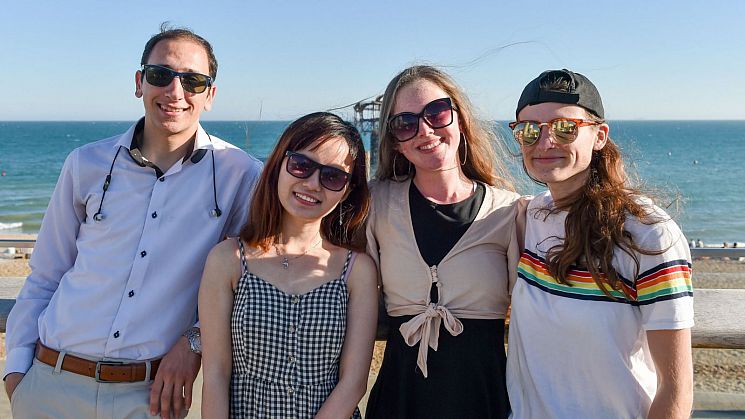 Roche Diagnostics are a leading medical diagnostics company. Their site in Burgess Hill, Sussex, is home to Roche's Diagnostics and Diabetes Care business. Having established a successful mentoring scheme at other UK universities, they were keen to provide students at Sussex with similar opportunities.
The Roche University Mentoring Scheme offers 10 students at Sussex the opportunity to be mentored by one of their employees based in Burgess Hill. They can share their experiences (both personal and professional) in an informal and supportive way, helping students through University life and to make the transition into employment. Mentors typically have experience working within a global corporate organisation, and the programme is aimed at students who consider themselves to be from one or more of the following communities: socioeconomically disadvantaged; a minority ethnic group; disabled; female; or apart of the LGBTQ+ community.
The programme offers twelve months of mentoring (face to face and virtually), a visit to the UK head office of Roche, an interactive "Experience Day" workshop with the Roche Early Careers team, and networking opportunities with other programme participants. The application process for students is similar to when applying for a job. Roche wanted students to gain experience and practice in applying for a job and also to share information that will help shape their relationship with a mentor.
Young people from underrepresented communities can face many challenges that make it harder for them to achieve their goals. To help address this, we have launched the Roche Diagnostics University Mentoring Programme in partnership with the University of Sussex, which will connect resourceful, driven students with experienced Roche professionals. Our industry flourises when diverse talent is supported and embraced, and we're proud to help guide students as they embark on their careers." pierre hazlewood
marketing director, roche diagnostics
To further support students at Sussex, Roche made a very generous donation to the Sussex Fund. Their donation will help students facing financial hardship, or to access support for mental health and well-being services. The Sussex Fund helps students when they need it, often at a time when they are vulnerable and most likely to drop out of University. A hardship grant, or funds to access counselling services enables students to cope with the immediate pressures they are facing. It helps them to refocus on their studies and to gain more from their time at Sussex, so they too can succeed in completing their degree.
You might also be interested in