Emmanuel's story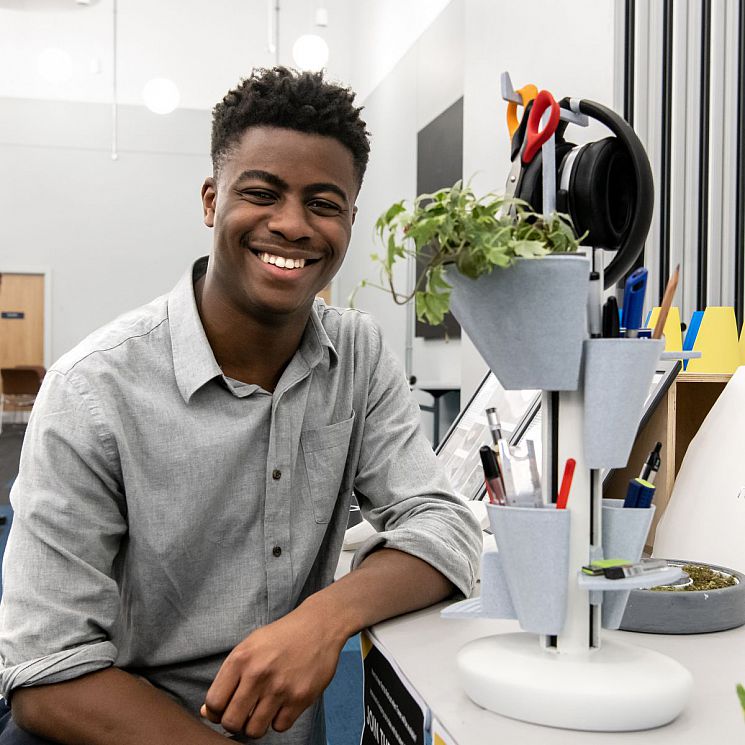 It doesn't matter who you are, I feel everyone has an entrepreneurial spirit inside them and I'm grateful that Sussex helped to bring that out within me."

EMMANUEL OYEMADE


Product Design (with an industrial placement year) BSc, Student Connector (Entrepreneurship)
"I remember telling my parents that my dream job was to be an inventor. I'd always had an interest in designing and creating products. But coming to Sussex helped me develop an interest in entrepreneurship, businesses, and understanding how you can take an idea and launch it to hundreds and thousands of people.
I had an idea for a desk tidy product, Tower, when I was in Sixth Form. Although I already had a desk tidy, I knew I could design something better that could be customised to suit individual needs. I brought this idea with me when I began my Product Design degree at Sussex. I didn't think I'd be doing it as a final-year project, but I gained a lot of help and support to improve my entrepreneurial skills at the University. For example, by taking part in the StartUp Sussex competition.
This experience taught me how to build a business model and how to find a target market. It also improved my pitching skills. When I first came to Sussex, I found it challenging to speak about my idea. But over time I learned how to pitch my product in a way that engaged people. I also became a Student Connector and worked with the Careers and Entrepreneurship team.
At the end of my placement year, I applied for the Young Innovators Award by Innovate UK and I found that I'd won at the start of my final year. It was an amazing moment! My startup, Modomise, would receive £5,000 to create prototypes, invest in marketing and apply for intellectual property rights. It was also great to have the support and mentorship from other founders and business specialists.
There are so many resources available if you have an idea. It's inspiring to see entrepreneurs around you, creating wonderful products and bringing innovative ideas to life.
It doesn't matter who you are, I feel everyone has an entrepreneurial spirit inside them and I'm grateful that Sussex helped to bring that out within me."
You might also be interested in: