States and borders
State enforcement of borders still has a real effect on migrants' experiences and opportunities, despite transnational activities and networks. SCMR research in this area draws particularly on politics and law to critically examine the 'management' of migration, and the politics of racism and anti-racism in receiving countries.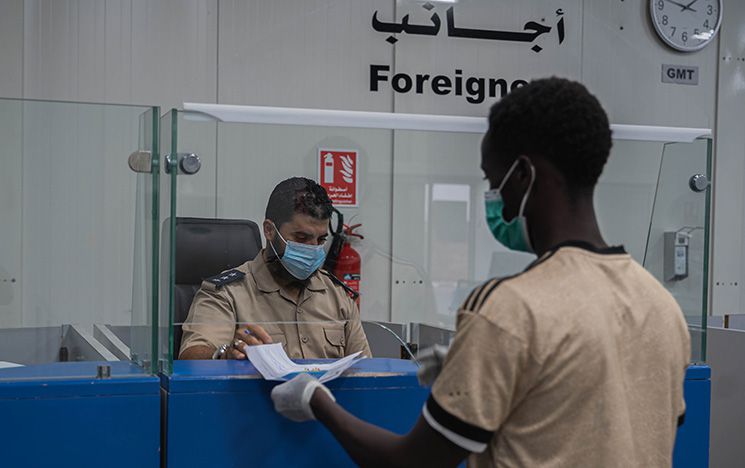 Pre-departure processing, Libya (Photo: Zaghdani, 2021)
States and borders
Read more below about selected current and past projects on the politics of migration, states and borders.
Women in Refugee Law (WiRL)

The Women in Refugee Law (WiRL) network brings together asylum seeking and refugee women, senior and early career scholars, practitioners, policymakers and activists working in this field around the globe. The purpose of the network is to re-centre the study of refugee women within refugee law, policy and practice. In particular, the initiative challenges the assumption that legal and policy changes in the last 30 years have displaced the need for continued research and advocacy efforts. It aims to safeguard advances and identify contemporary obstacles to the protection of women in refugee law, policy and practice.

Read more at the WiRL website.

SCMR people: Moira Dustin

Partners: University of the West of England Bristol (UWE)

Project dates: 2021 - ongoing

Reaching out to Close the Border

Reaching out to Close the Border: The Transnationalisation of Anti-Immigration Movements in Europe, is a project studying contemporary European anti-immigration movements. A comprehensive analytical state-of-the-art framing will be followed by a pilot study to trace transnational outcomes in Europe, five comprehensive studies of most different cases (Germany, Italy, Norway, Poland, Portugal and the UK), and a major synthesizing comparison. A core ambition of the project is to inspire new projects on transnational anti-immigration mobilization, while also drawing up and generating interest in a new agenda on the contentious governance of migration.

Read more at the project website.

Funder: Norwegian Research Council

SCMR people: Aleksandra Lewicki

Partners: Peace Research Institute Oslo (PRIO)

Project dates: 2020-2024

Evaluation of the Common European Asylum Policy (CEASEVAL)


Since 2015, migration to and within Europe has challenged the adequacy of the Common European Asylum System (CEAS). This has affected the implementation of both the CEAS and national asylum systems and called further harmonisation into question. Harmonisation is not a fixed term but incorporates varied meanings and practices. In legal terms, harmonisation has been explained as an approximation process towards minimum standards. In political terms, harmonisation focuses on policy convergence, of which legal harmonisation is only one of many mechanisms of convergence. CEASEVAL determined what kind of harmonisation and solidarity is possible and necessary.

Read more at the CEASEVAL website.

Funder: European Union Horizon 2020

SCMR people: Michael Collyer, James Hampshire

Partners: Technische Universität Chemnitz (Germany); Universiteit Van Amsterdam (Netherlands); Université de Luxembourg (Luxembourg); Forum Internazionale ed Europeo di Richerche sull'Immigrazione (FIERI) (Italy); International Centre for Migration Policy Development (ICMPD) (Austria); Barcelona Centre for International Affairs (CIDOB) (Spain); TARKI Tarsadalomkutatasi Intezet Zrt (Hungary); University of Helsinki (Finland); European Council on Refugees and Exiles (ECRE) (Belgium); New Bulgarian University (Bulgaria); Koç University (Turkey); Elliniko Idryma Evropaikis kai Exoterikis Politikis (Hellenic Foundation for European and Foreign Policy) (Greece); Amsterdam Centre for Migration and Refugee Law, Vrije Universiteit Amsterdam (Netherlands)

Project dates: 2017-2019