People features
This Sussex Life. Rebecca Hart: "I try to make my personal values align with those of the university"
By: Jacqui Bealing
Last updated: Wednesday, 21 September 2022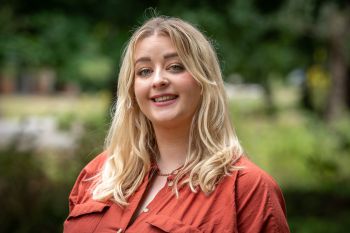 Rebecca Hart, manager of the Spirit of Sussex Award, earned praise and recognition for her work this year in the University's Education Awards.
I first came to work at Sussex five years ago. I had taken a degree in language and linguistics at the University of Gloucestershire, but I'm from Seaford, where my parents still live, and so Sussex as a university wasn't unfamiliar to me.
My first job at the University was a fixed term contract as a Summer Programmes assistant for the Undergraduate Summer School. I then became more involved in the operational and communications side. I was so excited to launch the Summer School. But then Covid hit and all our roles were lost. I had to let student staff go, which was really hard. Luckily, I was a given a role working on other marketing projects, including, a Foundation Years Clearing project. I really loved doing market research and delivering projects, and I realised I wanted my next job to be as a project manager, ideally in student experience.
I left Sussex to work at a girls' school for four months, but I was drawn back! I missed working with students and with like-minded people. I never feel out of place here. You can be what or whoever you want. The exposure to different cultures has helped me broaden my horizons.
When the Spirit of Sussex Award manager role came up, what really attracted me to it was the user experience element – understanding the student journey and what they wanted from it, and that it was created by students for students. I got the role in March last year and it quickly took off.
We have gone from 260 students on the scheme to more than 1600. Students log in with their university details and they immediately start to earn points for their voluntary, extra-curricular and co-curricular activities. There are lots of ways to earn points, for example if they attended a conference or represented their school of study at a conference, or if they have been an ambassador, a student connector or a digital guru. The awards are 25 points for bronze, 50 for silver and 75 for gold. About 70 per cent receive a gold award because Sussex students truly are remarkable!
Other universities do similar schemes, but they often describe them as 'employability awards'. We didn't want to create a need for it to be on students' curriculum vitae. We wanted it to be something that students could reflect on and build as part of their Sussex legacy. So whether they were a committee member of the Afro-Caribbean Society, or cooked food for One World Week, or presented a business idea for the Pitch for the Planet competition, we would want them to look back on their time at Sussex and know that, by participating, organising or leading events and activities, they left their mark in some way. It is more than just adding to their CV, it's their legacy.
As someone who employs students and graduates, I am way more interested in what else they have done with their lives beyond studying. My current graduate connector worked on University Radio Falmer with the Students' Union. We talked about that quite a lot in their induction. The award definitely shows individuality. We often showcase students who have set up their own businesses or who have done unusual things. One of our students identifies as Gypsy, Roma and Traveller (GRT) and has been going out to schools on a consultancy basis with the Widening Participation team to do workshops on GRT folklore, which is incredible. It's a culture we don't hear much about, so I'm pleased Sussex provides this space.
The challenge is reaching out to disengaged students – or those we think are disengaged because we haven't seen them on any of our programmes in the Student Engagement and Enhancement teams. Maybe they are engaging with other areas, such as SussexSport or the Student Rep scheme. That's the bigger question – how do we map all students and find their student journeys?
The Spirit of Sussex Award is well represented among students who are BAME or who are living with disabilities. That shows that the award is accessible. The ambition is to get 50 per cent of students engaged by 2025. We are currently at nine per cent. Covid dampened out activities, but we hope to be up to 30 percent by 2023. Our team consists of me, two graduate connectors, and six student connectors.
I was touched to be nominated and to receive a University of Sussex Education Award this year. I feel I'm quite young and still have so much growth and learning to do, and I didn't feel I was noticed in the university at all. But I was really pleased to read the comments from nominators, who saw that I had gone above and beyond my duties, and that I had taken time to train people. I used to think it was easier for me to get on and do the operations stuff, but I realised that, as a manager, if I put in the effort to train my team it would pay off in the long run, enabling me the time to think more strategically and support my team's progression. Unfortunately, I couldn't go to the ceremony because of the train strike on that day.
I am ambitious and would like to have my own education consultancy one day. But I also know that I need to reign things in sometimes and make the most of the present. I can get fixated sometimes on the things I don't have rather than seeing the things that do have, so I have been doing some personal work and, in my team, around affirmations and manifestations to think about the abundance of what we as individuals do have. I've been sharing these thoughts with my team.
I would quite like to further my study and do an online course at Sussex – perhaps Psychology of Kindness and Wellbeing at Work.I thought about doing a marketing degree but, although the theory would be interesting, in practice I have already taught myself a lot. The kindness and psychology course would give me a totally new perspective and help with other things, such as respectfully delegating, mitigating workplace challenges, conflict resolution management, and other skills that you need as a manager. I have long been inspired by Professor Robin Bannerjee, the founder of the Sussex Centre for Research on Kindness at Sussex.
I try to make my personal values align with those of the university. Collaboration comes naturally to me and I'm proud that we can demonstrate inclusion through participation in our Spirit of Sussex Award. Since joining Sussex, I have been more aware of the values of integrity and courage. I am not great with confrontation but finding courage and having integrity means that confrontations don't need to be a negative experience. If you truly believe in something, you need to have your voice heard. It's OK to challenge, but it's also important to say let's think of a solution or a happy medium.
This profile is part of our This Sussex Life series.