Sussex Education Awards event 2022: a night of recognition, celebration and fun!
By: Maria Balboa Carbon
Last updated: Friday, 24 June 2022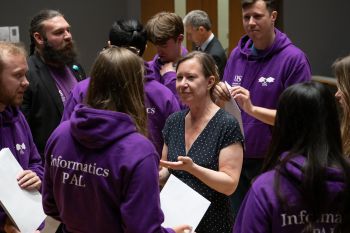 On Tuesday 21 June, David Maguire, Interim Vice-Chancellor and Kelly Coate, Pro Vice-Chancellor for Sussex Education and Students, hosted the first in-person Education Awards since 2019.
The awards are an opportunity for students and colleagues to say thank you to members of staff who've made a positive impact on their time at Sussex, and each nomination included an explanation of why they felt the candidate deserved it.
We received nearly 350 nominations, a clear testament to the hard work, kindness and dedication of academic and professional services staff across the University. A panel chaired by the Pro Vice-Chancellor for Education and Students and including Heads of School, professional services and academics representatives had the difficult task of shortlisting the finalists and choosing the winners.
Members of the University's executive group, Heads of Schools, and Professional Services Directors joined nominees in the Jubilee Lecture theatre. Kelly Coate opened the evening's proceedings, regaling the audience with a fun tale of how the University's Chancellor, Sanjeev Bhaskar, who sadly was ill and unable to co-host the event, had written a script for a short skit at the beginning of the event between Sanjeev and Kelly. It involved Sanjeev explaining that awards ceremonies are risky events these days, so he had asked Sussex to provide the very best personal protection he could have. Sanjeev would then reveal that Kelly doubled as a martial artist and was ready to resolve any security issues for him on the night. The dark sunglasses Kelly had brought as a prop were not needed, but it was heartening to know that Sanjeev had spent so much time trying to ensure the event would be a special one for all the participants.
Kelly then returned to the important reasons why everyone had gathered together. She reflected upon the difficult times of recent years and how the foundations of kindness, dedication and brilliance that staff demonstrated every day during the pandemic continue now. 'It is thanks to our amazing staff that Sussex is such a special place' - she concluded.
Interim Vice-Chancellor, David Maguire spoke of how every one of the nominees was an example of the excellence of Sussex, which had remained a constant through the pandemic, and how they will be remembered by the students for the positive impact they have had on their lives.
Out of 42 individual and team nominations shortlisted, Kelly Coate and David Maguire presented 21 awards in the categories: Better World, Transformative Technology, Learning Together, Teaching to Disrupt and Sussex Spirit.
The Better World award celebrates those who have shown a real commitment to bringing about positive change, not just for our community but for others too. The shortlisted nominees were:
Katherine Kruger
Zahid Pranjol
Jeanette Ashton
Jo Wilson
Zahira Jaser
The winners were:
Katherine Kruger (MAH)
Zahid Pranjol (Life Sciences)
Jeanette Ashton (LPS)
The Transformative Technology award recognises those staff who use technology in interesting and innovative ways to enhance students' learning. Those shortlisted were:
The Animal Computer Interaction team
Tab Betts
Filippo Cagnetti
The winners were:
The Animal Computer Interaction Team (Eng Inf): Dr Charlotte Robinson, Alice Torjussen and Emeline Brule
Filippo Cagnetti (MPS)
The Learning Together awards recognise those staff and students who have worked closely together on the teaching and student experience. Those shortlisted were:
The Citizens Advice Clinic (LPS): Bonnie Holligan and Jo Smallwood
The Business School Feedback Connector Programme (USBS), composed of Susan Smith, Dan Axson, Gabriella Cagliese, Kitty Horne, Josephine Van-Ess, Philip Jarman, Jasmine Gooch, Syeda Begum, Leona Lovegrove, Elisha Peters, Nicolas Bozenko, Katie Sargison
The Engineering & Informatics PAL Team (Eng Inf) with Alexander Lee, Anson Wong, Dexter Shepherd, Matthew Woods, Nauris Kalnins, Tom Shoesmith, Josh Kybett, Navni Rege, Alex Jenkinson, George Smith, Jude Birch, Maria Wieckowska, Rehan Zuberi, Robin Mae, Shaun Ring, Stathis Kagioulis
Winners
The Citizens Advice Clinic (LPS)
The Engineering & Informatics PAL Team (Eng Inf)
The Business School Feedback Connector Programme (USBS)
The Teaching to Disrupt award, which recognises teaching staff who dare to be different in their approach to teaching. The shortlisted nominees were:
Mark Hayward
Simon Morley
Suda Perera and Lyndsay McLean
Thomas Godfrey
Yusuf Sayed
Helena Howe
The winner in this category was Helena Howe (LPS).
And finally, the Sussex Spirit Award celebrates staff who embody the University's values of kindness, integrity, inclusion, collaboration and courage. The shortlisted nominees were:
Geeta Hitch, Jill Meerwood and Gill Yates
Hengyi Wang
Jacqueline Young
Jacqueline Young, Deborah Brown, Fliss Bull and Rebecca Webb
Jacqueline Young, Deborah Brown and Rebecca Webb
Jacqueline Young and Fliss Bull
James Hardie-Bick
Rebecca Hart
Sean Higgins
Priya Paudyal
Sam Manton
Sarah Holland
Alison Pike
Barry Maughan
Alice Wilson
Benjamin Sovacool
Danielle Evans
Demet Dinler
Carli Rowell
The ESW Reception team
Lindsey McLean
Lynn O'Meara
Katie Turner
Maria Clara Castellanos
Laura Gallaher
Tim Redmond
Tracey Hunter
Thomas Godfrey
The winners were:
Carli Rowell (LPS)
Hengyi Wang (USBS)
Lindsey McLean (Global)
Lynn O'Meara (DSE)
Rebecca Hart (DSE)
Thomas Godfrey (MAH)
Benjamin Sovacool (MAH)
Demet Dinler (Global)
Tracey Hunter (Finance)
Tim Redmond (Eng Inf)
Laura Gallaher (MAH)
ESW Reception Team: Denise Hassany, Michele Petitt, Kathy King, Liz Elkin
All the winners had the opportunity to share a few words, and some gave heartfelt speeches thanking the students and colleagues that nominated them.
Following the event, there was a drinks and canapés reception in the Jubilee Atrium.
Kelly Coate shared her thoughts on the night's events: 'What a wonderful evening! The Education Awards are a very special event, and tonight it was even more special as we could all come together in person to appreciate the brilliant examples of work that happen at Sussex.
Whilst we can't give an award to every member of staff, the stories we heard this evening should resonate with all of us, and I know that every single day staff make a huge difference. It's all of those actions at an individual and collective level that enable our students to reach their academic and personal potential at Sussex.'
David Maguire, the Interim Vice-Chancellor, also reflected on the evening's events
'I thoroughly enjoyed co-hosting the event with Kelly, it was great to meet some of the amazing staff here at Sussex, who go above and beyond to ensure our students get the best education and student experience at the University. Thank you to them and all of our staff who make this possible'
The recording of the event will be available soon for all staff to view. In the meantime, you can enjoy some photos of the event below: