Sussex Grad At Home
Congratulations Winter Graduates!
You've achieved amazing things in extraordinary times. Whilst we can't celebrate together at this time, we want to celebrate your success.
Winter Grads at Home
We want to remind you that you will have an opportunity to attend a ceremony in the future and we will be in touch as soon as we can with further details.
Although we can't be together at this time, we could not let this moment pass without marking your achievements.
Winter Graduation Address from our Vice-Chancellor, Professor Adam Tickell
In this video recorded via Zoom during lockdown, our Vice-Chancellor, Professor Adam Tickell, offers congratulations to our Winter Graduates.
Video transcript

Winter Graduates, none of us could have imagined the events of the past year and we have all been affected in different and significant ways. But the fact you have successfully completed your degree is a true testament to your resilience. The commitment that you have shown is inspiring and gives me real hope for the future.

Sussex graduations are famously lively and uplifting, a culmination of many years or hard work. They really are the highlight of the academic year and something I have missed greatly. Whilst I'm sorry that we can't celebrate together now, I'm pleased to say that you will have the opportunity to attend a ceremony in the future.

For now, however, you are embarking on new journeys – metaphorical, if not actual. The world may seem a little different. Your plans may take you in new or unexpected directions, but please know that everyone at Sussex is cheering you on. And, as you take your next steps into the world, let the Sussex values of inclusion, integrity, collaboration, kindness and courage – help to guide you.

Whilst your education with us may be over, you now become a member of our amazing alumni community. You are joining thousands of alumni from around the world and I would encourage you to join our professional networking and mentoring platform Sussex Connect and use it to reach out to fellow alumni who are willing and able to help you with your career. We'll be in touch with you soon about this.

You have achieved something remarkable in what has been the most challenging of circumstances. Wherever you are in the world and however you are celebrating, I very much hope you are able to enjoy yourselves and recognise the scale of your achievement.

On behalf of myself and everyone at the University of Sussex, I wish you many, many congratulations and the very best of luck.
Grad on your phone
Use the QR scanner on your phone to read this code, and be transported to our bespoke Graduation filter on Instagram.
Celebrate in style on Brighton Pier, at a Graduation, in front of the Sussex sign or keep it simple with a Sussex mortarboard.
If you don't have a QR scanner, you can get the filters here.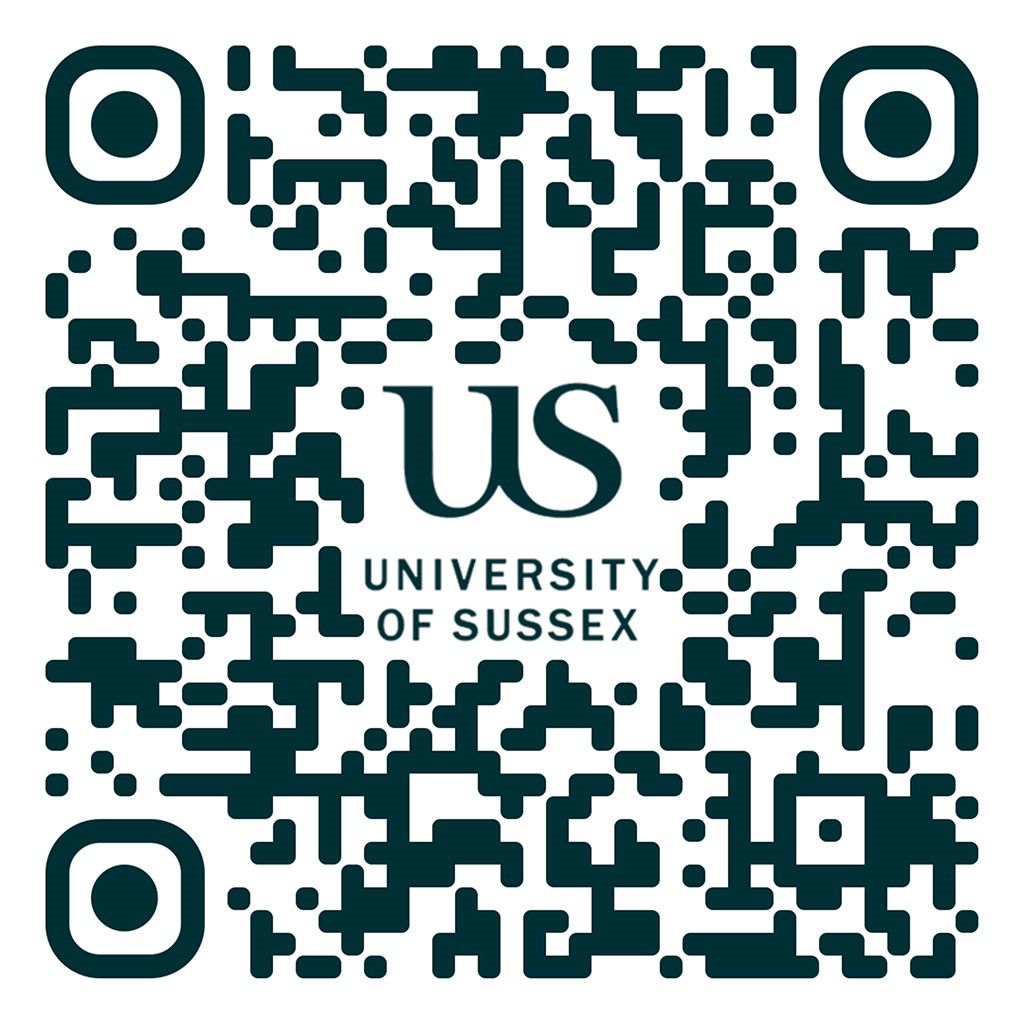 A message of congratulations from our Chancellor, Sanjeev Bhaskar, OBE
Recorded via Zoom from his home, our Chancellor, Sanjeev Bhaskar, OBE wanted to congratulate our Winter Graduates and wish them the very best of luck.
Video transcript

Congratulations graduands to graduates of Sussex. Graduation day is the day that everybody works towards, students work towards it, families are there to enjoy it, the tutors are there working with their students to this very day. And so it's on the one hand, incredibly sad that we can't be together celebrating Sussex graduation in the unique way that Sussex graduations are celebrated.

And if you've been there before, which, particularly for the winter graduations in January I know a lot of people are on their second, and sometimes third degrees, so if you have experienced Sussex graduations before, you know what I'm talking about. To those who haven't, it's a day which you define, it's your day, it's your celebration and at some point, if in the future you wish to come back and experience that graduation in-person I believe that invitation is open to you.

But don't think for a moment that I'm not thinking about you, your schools and your families and how wonderful and how valuable and how impressive your graduation this year is. To be able to graduate under such trying circumstances and challenges that the last year has brought all of us is no mean feat and is worthy of applause and I hope you and your families are, as your University are, incredibly proud of you.

I really hope we get the chance to meet in-person one day and good luck with your journeys. Congratulations again, as the t-shirt says, Choose Love.
Time to celebrate
We want to help you celebrate with Sussex Grad at Home. We'd love to see photos or videos of your home ceremonies and graduation celebrations, tag us on social @sussexuni and use #sussexgradathome or email us on graduation@sussex.ac.uk.
We know nothing can replace the real thing but, until you can attend your own graduation ceremony in Brighton, we want to help you celebrate and take a moment to recognise your achievements.
---
You might also be interested in: