Sharing Good Practices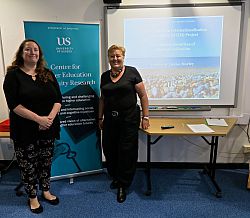 The HEIM project has explored the theme of Internationalisation in higher education, with a focus on Roma students. One of the key aims of the project has been to capture the complexities of Internationalisation and to identify and share good practices.
For an overview of Internationalisation, see HEIM Project Experts' Meeting Presentation: Intro by Professor Louise Morley [PPTX 2.27MB].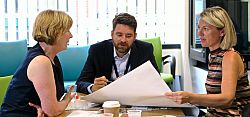 To this end, the project team held the seminar Disrupting Internationalisation Discourses: Discussing Equity and Inclusion in July 2017 with keynote speakers Professor Sue Webb (Monash University, Australia), Dr Linda Morrice (University of Sussex), Dr Terri Kim (University of East London) and Lee Rensimer (University of Wisconsin-Madison) with input from Summer School participants: Imre Balong,University of Pécs, Hungary; Mate Dezso, Eotvos Lorand University; Tom Bass, Roma Education Fund; Radu Lacatus, Babes-Bolyai University, Romania; and Ion Goracel, Western University of Timisoara, Romania.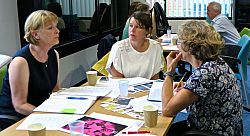 The Training Module 'Internationalisation in Higher Education: Practical Guidance' was developed to support training for Human Resources personnel, managers and other staff working in higher education in developing initiatives to support International staff in their institutions.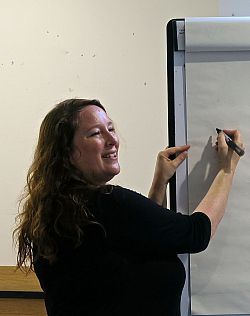 A pilot training and evaluation session entitled 'Supporting International Staff at the University of Sussex' took place at the university on July 26 2017 with approximately 20 human resources staff. The overall aims were to pilot the Training Module and resources developed as part of the HEIM project (WP2); to facilitate knowledge exchange and expertise sharing among key university personnel on the theme of Internationalisation; to provide an opportunity to reflect deeply on the challenges facing International staff; further identification of good practices and a consideration of staff training needs and next steps for the university in terms of enhancing practices and support for international staff. Staff fed back that they would take away some valuable learning from the session, including the following:
Be more mindful of international staff needs
The complexity of internationalisation and the implications/issues
Importance of internationalisation to attract/retain staff and be competitive in today's global academy
The % of international staff at Sussex
Our practices are very generic – ways in which we can re-focus on providing information/support needed
Issues facing international staff
Strategic push towards internationalisation - both on economic and social grounds.
As a result of undertaking the training, a range of actions were identified:
Staff reported that they would be more pro-active in provision of information to international staff
Review and develop recruitment and induction processes to take International staff needs into consideration
Develop further training activities for staff across the institution
Ensure that specific support, tailored to international staff needs, is made available, and bring a new level of awareness and mindfulness of internationalisation issues to their work.
Staff planned to update their website resources with relevant content for international colleagues; improve statistical data collection and undertake qualitative research
Investigate introducing mentoring process
In the longer term, develop a strategy for supporting international staff.
If you are interested in running training sessions for staff at your institution, check out the resources in our Training Module and contact us for further information: L.Morley@sussex.ac.uk
We welcome any feedback or suggestions and are interested to know how your institution has used/benefitted from this resource.