The 20th International Studying Leadership Conference
Leadership and the future of humanity
On Sunday 11 – Tuesday 13 December 2022, the University of Sussex Business School hosted the 20th International Studying Leadership Conference in Brighton. In association with the journal Leadership, this annual event brings together leadership researchers from across the globe for critical, constructive and supportive discussions.
Despite snow fall and transport delays, we were delighted to welcome around 100 participants from numerous countries to the Hilton Brighton Metropole Hotel, situated along the seafront. Many contributed papers on the conference's ambitious theme, Leadership and the future of humanity.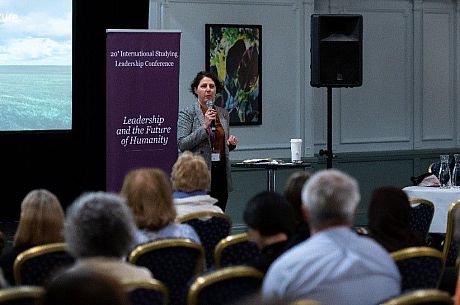 This theme reflects the conviction that whilst the serious challenges we face won't be solved by leadership alone, leadership matters in the search for solutions and the future of humanity.
Submissions responded to the call by raising many issues of global significance, including the nature of populist leadership and leadership during the Covid pandemic. A diverse range of contributions resulted in an exciting programme, with sessions exploring leadership in relation to a wide variety of areas like sustainability, ethics, and gender and sexuality.

Dr Zahira Jaser welcomes #ISLC22 attendees
Four engaging Keynote Speeches were presented over two days by Mats Alvesson, Thomas Fischer, Donna Ladkin and Suze Wilson:
It was a pleasure to have Edward Elgar Publishing present as our conference exhibitors.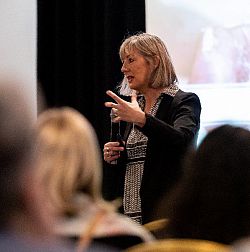 On Monday evening, participants enjoyed delicious food and drink at the Gala Dinner, hosted in the Hilton Brighton Metropole.
It was an honour for the Business School to host the 20th International Studying Leadership Conference in Brighton. Congratulations to the conference co-organizers, Professor Dennis Tourish and Dr Zahira Jaser, both from the Department of Management at the University of Sussex Business School.
We would like to thank our donors, Keith Grint, Linda Sue Warner and George S. Briscoe III for their generous support that enabled a group of PhD students to participate in the conference.
Dr Suze Wilson delivers Keynote