29th International EurOMA Conference
On Sunday 1 - Wednesday 6 July 2022, the University of Sussex Business School hosted the 29th International Annual EurOMA Conference in Berlin. The European Operations Management Association (EurOMA) is an international network of academics and practitioners with a shared interest in the continuing development of Operations Management.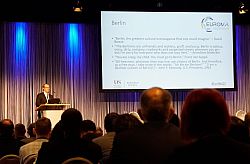 Over 500 participants from 39 countries attended the conference, held at the art infused Estrel Hotel & Conference Centre in Berlin. Many contributed papers on this year's theme: 'Brilliance in resilience: operations and supply chain management's role in achieving a sustainable future'.

This theme speaks to current challenges within operations and supply chain management, with disruptions caused by the pandemic, Brexit and geopolitical disputes, amongst other factors. Scholars and practitioners working in this field are well placed to answer the call to help businesses, policy makers and the third sector build resilience to today's disruptions and achieve a sustainable future.
We were delighted to receive many strong contributions towards the theme, with 427 full paper submissions covering a wide range of topics. Examples include sessions on Sustainable Innovation in the Supply Chain, Artificial Intelligence and Transformational Processes, and Transitioning to a Circular Economy. Special Tracks also focused on a broad range of topics such as Climate Crisis and Operations Management, and Data-driven applications for Sustainable Supply Chain Management in periods of crisis.
It was fantastic to see such engaging Keynote Speeches from Stefan Seuring, Feryal Erhun and Jeremy Kent Hall throughout the main conference:
Stefan Seuring, Professor of Supply Chain Management at the University of Kassel, discussed 'Developing future research(ers) in supply chain management'.
Feryal Erhun, Professor of Operations and Technology Management at the University of Cambridge, provided an in-depth analysis of the disruptions to supply chains in recent months in 'What is is next for supply chains? A brief discussion on supply chain thinking'.
Jeremy Kent Hall, Professor of Innovation Studies and Director of the Science Policy Research Unit, considered 'The challenges and opportunities of emerging technologies addressing the climate crisis: Towards transformative sustainable supply chains.'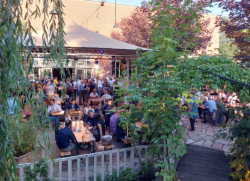 Each year the EurOMA conference organises several seminars and workshops in the days prior to the main conference, aimed at supporting academics' professional development. This year, we were pleased to see a great turn-out and fruitful discussions in the Doctoral Seminar, the Publishing Workshop and the Young Scholars' Workshop. More details are available on the EurOMA 2022 website.
Monday evening saw a conference dinner with a twist, as guests enjoyed live music and delicious food and drink at funky Berlin venue, Festsaal Kreuzberg. Closing the evening, Professor Taco van der Vaart was joined on stage by Professor Chris Voss, to announce the end of Taco's EurOMA presidency, before welcoming Professor Cristina Gimenez Thomsen as the new EurOMA President. Following the conference's close, a city tour was also held on the Wednesday with knowledgeable guides taking the group to landmarks of the city.
It was an honour for the Business School to host the 29th International EurOMA Conference in Berlin. Congratulations to all the Sussex academics on the organising team for producing such a successful and well-attended event: Professor Constantin Blome, Dr Sam Roscoe, Dr Maria Holgado Granados, Dr Anthony Alexander, Dr Martin Schleper and Professor Nachiappan Subramanian.
We would also like to thank our exhibitors for supporting the conference: Edward Elgar Publishing, Palgrave Macmillan and Processim Labs.
Next year's conference will be hosted by KU Leuven University in Belgium - find out more at EurOMA 2023.
Last year's EurOMA Conference was also organised by the Business School as an online-only event during Covid-19. The best papers from the 2021 conference are linked to via EarlyCite of the IJOPM special issue, Managing the 'new normal': the future of operations and supply chain management in unprecedented times.