University of Sussex commits to eliminate use of avoidable single-use plastics within five years
By: Neil Vowles
Last updated: Monday, 15 November 2021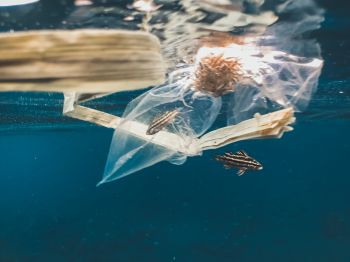 The University of Sussex has committed to eliminating avoidable single-use plastics from catering, stationery, laboratories, halls of residence, offices and events by 2025, as it publishes its annual sustainability report today.
Where the use of plastics is unavoidable, the University have made a new pledge to encourage the use of recycled plastics, where practicable, and support manufacturers that make products from locally sourced waste plastics.
The University will also encourage its supply chain partners to sign up to this pledge wherever feasible and proportionate as part of its ambition to become one of the world's most sustainable universities.
The newly published sustainability report also details:
The University of Sussex has increased the proportion of waste it recycles by almost 40% in the 2019/2020 academic year compared to the 12 months before.
The University collected almost 60 tonnes of food waste for conversion into compost in 2019/20 using our on-campus aerobic digester, the first to be installed at a UK university.
The University's solar array, one of the largest solar farms at any university campus in the UK, helped the University to self-generate more than 13% of its total energy needs in 12 months with a 21% increase in production in 2019/20 compared to 2018/19.
Professor Rachel Mills, Provost at the University of Sussex and world-renowned deep-sea oceanographer, said: "Our strong progress on developing our sustainability plans has been a bright spot during the darker moments of the pandemic.
"The Sustainable Sussex strategy shows how we will have a lasting impact in the sustainability of our local communities and how we will create one of the greenest, most biodiverse campuses in the world.
"Our annual report is designed to transparently show our path towards our ambitious sustainability targets and empower our students, staff and strategic partners to engage with us in our response to the climate emergency and contribution towards building a better world for future generations."
Earlier this year, The University was named among the top 50 in the world, and among the top ten in the UK, in the Times Higher Education (THE) World Impact Rankings 2021 measuring for effectiveness in delivering on the United Nations' Sustainable Development Goals (SDGs).
The University's annual sustainability report, published alongside three new policy documents on sustainable food, waste and transport, details the steps that Sussex is making to deliver on all 17 of the UN SDGs.
By becoming in June 2020, one of only 15 UK universities to be awarded University of Sanctuary status, recognising our work in providing an environment of welcome and opportunity to people from refugee and asylum-seeking backgrounds, the University is helping to deliver towards SDG 10 to reduce inequalities.
The launch this September of the EcoGo active and sustainable travel reward scheme financially rewarding staff and students for making sustainable journeys to and from our campus helps the University contribute towards SDG 11 sustainable cities and communities.
Our recently launched Climate Leader Prizes and annual Sussex Climate Leadership Scholarships, worth up to £3,000 a year, and our COP26 student video competition, with £1,500 in cash prizes shared between three winning student entries, form part of the University's response to SDG 13 on climate action.
And the University's campus in Falmer, unique in higher education for its setting among a UNESCO World Biosphere Region and designated national park, is home to approximately 158 species of birds and 32 species of mammal, including three social groups of badgers and several bat colonies in line with SDG 15 life on land.

This week, the University became one of the founder signatories to the COP26 declaration: asset owner climate expectations of asset management, launched at COP26 in Glasgow, in line with our commitment to SDG 7.
Sam Waugh, Sustainability Manager at the University of Sussex and author of the new report, said: "I am really excited to publish all of our great achievements from the last year. The pace of progress around sustainable waste, transport and decarbonisation is putting us on course to realise our sustainability goals and strengthen our resilience and collective leadership in the face of the current climate crisis.
"I am looking forward to continuing to work with staff, the Students' Union, stakeholders and academics to further bring our vision of being one of the most sustainable universities in the world to life. I am particularly looking forward to working with the student sustainability committee representatives as partners and innovators as we put students at the heart of all we do."