University named among the world's best for helping to deliver global sustainability
By: Neil Vowles
Last updated: Wednesday, 21 April 2021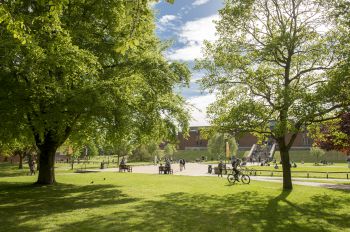 The University of Sussex has been named among the top 50 universities in the world for delivering on the United Nations' Sustainable Development Goals (SDGs), a new league table shows.
The University has been ranked 41st in the Times Higher Education (THE) World Impact Rankings 2021 out of 1,115 institutions, with a score of 90.3 out of 100. Sussex is the ninth highest ranked UK university in the league table.

The University has been judged to be performing best against the SDG of No Poverty, where Sussex was ranked 10th in the world.

Sussex also scored highly against the SDG of Sustainable Cities and Communities (26th globally), Partnerships for the Goals (31st) and Peace, Justice and Strong Institutions (41st).

Participating in the rankings for the first time, the University is ranked in 10 out of 17 SDGs, with the highest ranked four of those being used to calculate an overall score.
Vice-Chancellor Adam Tickell said: "The Sustainable Development Goals are an urgent call to action and our best hope for a global response to the existential issues our planet faces.
"Delivering on the SDGs is critical if we are to make this a better world for all, which is why we are placing the SDGs at the very heart of our emerging sustainability strategy.
"This ranking is a welcome reminder of how much progress we've already made and heartening evidence that we are ready to lead the way in global higher education."

Sussex's top-10 global ranking for anti-poverty work reflects its position as number one in the world for Development Studies in the QS world rankings, held jointly with the Institute of Development Studies, and the University's efforts to increase the proportion of its students joining from less advantaged backgrounds.

Success in working towards SDG 17 incorporates the University's commitment to global partnership on sustainability, through its Sussex Sustainability Research Programme, Sussex Energy Group, Steps Centre and others.

Meanwhile, the University's high ranking for SDG 11 Sustainable Cities and Communities factors in the campus's unique relationship to its natural surroundings, being within a UNESCO World Biosphere region and surrounded by a National Park, alongside its commitment to sustainable transport.

The University also received full marks for its first annual report on sustainability and the SDGs.

The Times Higher Education Impact Rankings are the only global performance tables that assess universities against the SDGs.

Rankings are calculated through comparisons across four broad areas:
Research: Delivering the SDGs by creating research in relevant topics.
Stewardship: How universities act as stewards of their physical resources and also their employees, faculty, and students.
Outreach: The work that universities do with their local, regional, national and international communities to create impact on sustainability.
Teaching: Developing the skilled practitioners to deliver on the SDGs and in creating alumni that take forward the key lessons of sustainability into their future careers.
The University's first comprehensive sustainability strategy will be published this summer.
For more information on the University's vision for a sustainable future, contact Sustainability Manager Sam Waugh: E s.waugh@sussex.ac.uk