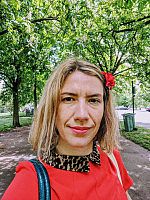 Miss
Samantha Waugh
Biography
Sam has an MSc in Global Politics. She has spent most of her career working in the Civil Service, where she regularly advised Ministers in Whitehall and Westminster. She began her career in Government as a Specialist Advisor on Refugees and Housing before taking up a number of Head of Policy and Strategy Roles within four Government Departments, including the Department for Energy and Climate Change and the Office of the Deputy Prime Minster.
These roles included Head of: International Relations and Trade Policy, Energy Efficiency Policy, and Biofuels Policy. She also worked as the Organisational Effectiveness and Innovation Manager at the Department for Transport and has been a senior programme manager on the largest infrastructure project in Europe.
Sam left the Government in 2018 to move to Brighton and be nearer to the sea and nature. She joined Sussex in 2020 after a brief period of providing sustainable development consulting (with a focus on equality diversity and inclusion, community engagement, sustainable procurement and inclusive and accessible design) for a major consulting firm.
Role
Sustainabilty Manager - Responsible for developing organisational policy, strategy and delivery in relation to all 17 UN Sustainable Development Goals at an institutional level. This role relates to envioronmental, social and economic sustainability.