Broadcast: News items
Are you ready to EcoGo?
Posted on behalf of: The Sustainability Team
Last updated: Monday, 4 October 2021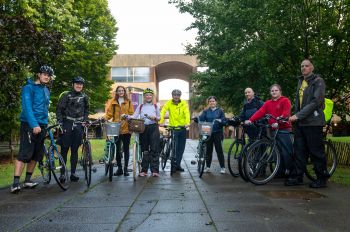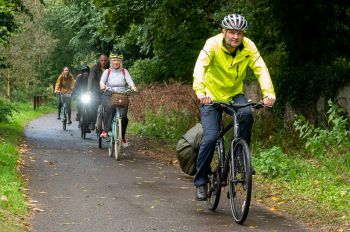 Today (27 September), Adam Tickell led a group cycle train to the University campus to promote active and sustainable travel and launch EcoGo.
EcoGo is the University's new active and sustainable travel rewards scheme for staff and students, provided in partnership with BetterPoints.
From today, every time you walk, cycle, wheel or take public transport you can earn points to spend in your favourite shops (including great local offers on campus) or to give to charity.
By traveling actively and sustainably you can save money and help save the planet at the same time.
Signing up couldn't be easier. All you have to do is download the BetterPoints app and register an account with your University of Sussex email address.
By using your Sussex email, you will be able to earn rewards that have been paid for by both the University and Brighton and Hove City Council.
So, join in, give it an EcoGo, and start earning points today.
Need more motivation and support to travel actively?

Join our Cycle Trains
Do you wish you could cycle to and from campus but lack the confidence? You're not alone. That is why the sustainability team is organising regular cycle trains between campus and the Level at 8:20am (to campus) and 5:30pm (to the Level) every day this week, and every monday going forward.
By taking part in a group cycle train we are more visible to traffic. This can increase feelings of safety and it's also a fun way to meet new people, cut down on commuting costs and get fitter each day while reducing carbon emissions.
Adam Tickell said: "It was great to get out and cycle with staff and students from Sussex today. Cycling is such a great way to get fit and reduce our carbon emissions. I hope that many more people will sign up and take part in the next available cycle train today."
Want to join us but don't have a bike? No problem, you can hire a bike for a single journey from the BTN BikeShare Scheme. Don't forget that staff can also get financial support to buy a bike via our Cycle to Work Scheme.
Worried about getting sweaty? All cyclists can make use of the shower facilities across our campus for free – including the showers in our Sport facilities. Just ask at reception if using the Sportscentre or Sports Complex facilities.
So, what are you waiting for? Sign up here and join the next cycle train today.
Run, Walk or Wheel to campus
If cycling still isn't for you then why not start running, walking or wheeling some of the way to and from campus.
If you need extra motivation to help build active travel into your life then why not join Team Sussex and train for the 2022 Brighton Marathon, 10K or Bike Ride and raise money for sustainability projects at the same time. Everyone who signs up is offered support to succeed as we race for the planet.
Want to know more?
The University of Sussex is committed to being one of the most sustainable universities in the world. You can learn more about our sustainability strategy and how we are supporting you to travel actively and sustainably on our new sustainability web pages. This includes additional information on EcoGo, public transport, cycling, walking, running, and wheeling to and from campus.
You can also contact the sustainability team at sustainable@sussex.ac.uk for more information about anything contained in this article or our wider sustainability policy and strategy work.