Sustainable and active travel
By choosing to travel actively and sustainably, you can reduce your carbon footprint and work with your fellow students and staff to reach Net Zero Carbon by 2035.
Sustainable and active travel means walking, wheeling, running, cycling, or using public transport. You can choose these methods to increase your health, get some exercise and to reduce your carbon emissions.
You can also help our University to reduce our carbon emissions. Travel is an important area as we estimate that commuting to and from campus made up 9% of the University's carbon footprint in 2018/19.
Rewards for sustainable and active travel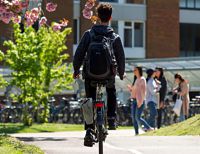 Use your commute to campus to save money and help us be one of the most sustainable universities in the world through EcoGo.
For every sustainable travel choice that you make you can earn money off at your favourite shops and leisure locations and help fight the climate crisis.
Download the BetterPoints app and register with your University of Sussex email address to earn points and give it an EcoGo!
EcoGo Accessibility Statement
The EcoGo mobile application and website have been developed by BetterPoints. As EcoGo is an application which contains third party content this means that some aspects of the website and application accessibility are outside of the University of Sussex's control.
EcoGo is partially compliant with the Web Content Accessibility Guidelines, improvements are needed including improving colour contrast and some navigational issues. The University of Sussex is committed to making the EcoGo website and mobile app fully accessible and are actively working to address these issues. The University is working with BetterPoints to improve accessibility in the new version of their app, which is currently in development.
If you have any trouble using or accessing parts of EcoGo, please contact us here: web-accessibility@sussex.ac.uk
The University of Sussex's full accessibility statement can be found here.
Our Transport Policy and Strategy
Action
Co-owner
Target delivery date

4. Set annual active and sustainable commuting targets

Scott Noble (Head of Service Delivery Estates and Facilities Management)

August 2022

5. Implement our active and sustainable travel plans in full. This will include: introducing an active travel reward app, promoting cycling and commissioning a feasibility study by August 2021 into the creation of a new sustainable travel hub

August 2025

6. Reduce the emissions made by car journeys by introducing: more progressive parking charges (subject to equality analysis); ride sharing; and a possible lower cost ultra-low emission vehicle leasing scheme for staff

August 2023

7. Make all of the University's vehicle fleet ultralow emissions

August 2025
---
---