Your Root to Sussex
We're planting 355 trees as a thank you to visitors who travelled to our Open Day by public transport in June – and we're pledging to plant more if you travel by bus or train to our Open Days in October.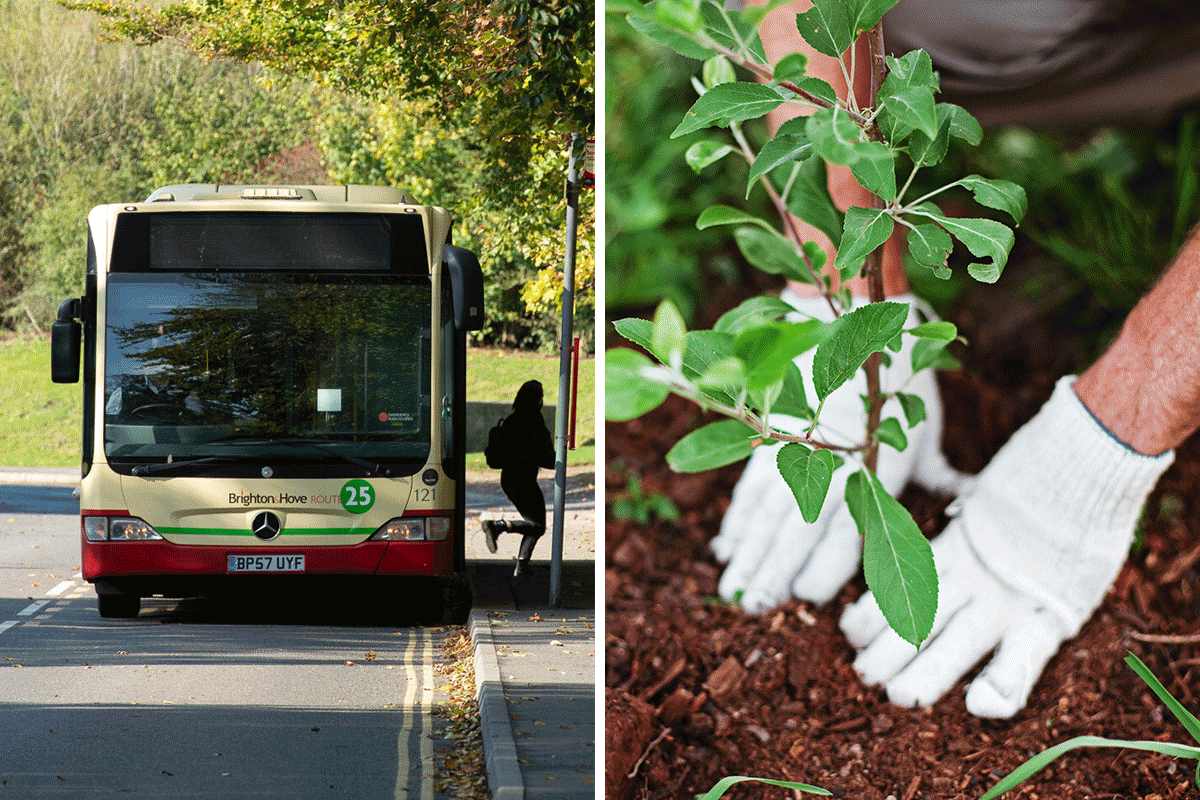 About the scheme
As part of our vision to be one of the most sustainable universities in the world, we have partnered with Sussex graduate-led Trees for Trips, to plant a tree for every prospective student that travels to our Open Days by public transport.
Despite the train strikes, 355 people travelled to campus by public transport on Saturday 3 June. The 355 trees will be planted in surrounding Sussex target areas to increase biodiversity and Sussex water quality. This also means that together, these visitors avoided approximately 2490.33kg of CO2 emissions, simply by choosing to use public transport (estimated calculations made using The World Land Trust's emission calculator).
With many visitors expected at our on-campus events this year, we're encouraging you to lay down roots for change by choosing 'Your Root to Sussex', supporting our sustainability vision and becoming part of the growth to a better future. You can do this by travelling by bus or train, to reduce carbon emissions and think about your environmental impact/footprint.
In 2022 we welcomed 1,233 visitors travelling by public transport; meaning that our prospective students could potentially plant over 1,500 new trees in the Sussex area this year.
Get involved
Book your place on one of our Open Days, taking place in October, and select public transport on the booking form.
Make sure you tell us that you have arrived using our instructions in reminders nearer the time.
Your tree will be planted in the surrounding Sussex target areas to help increase biodiversity and Sussex water quality.
Trees for Trips
Trees for Trips is a new scheme led by Sussex graduates Tim Merritt and Diana Valenzeula, following their Trees for Graduates campaign. They've partnered with the University of Sussex and the Wilding Network to support tree planting along Sussex riverbanks and watercourses, helping to improving water quality and boosting biodiversity.
The scheme seeks to empower students and their families at a pivotal moment, by enabling a small action for the betterment of the future of the environment.
Trees for Graduates received funding in our annual Pitch for the Planet competition for enterprising Sussex students.
---
You might also be interested in: