Public transport
You can use public transport to get to campus quickly and sustainably. It only takes 30 minutes by bus and 10 minutes by train to the centre of Brighton.
Rewards for taking public transport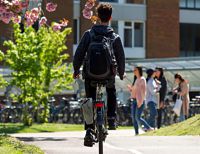 From the 27 September 2021, you can use your commute to campus to save money and help us be one of the most sustainable universities in the world through EcoGo.
For every sustainable travel choice that you make you can earn money off at your favourite shops and leisure locations and help fight the climate crisis.
Download the BetterPoints app and register with your University of Sussex email address to earn points and give it an EcoGo!
EcoGo Accessibility Statement
The EcoGo mobile application and website have been developed by BetterPoints. As EcoGo is an application which contains third party content this means that some aspects of the website and application accessibility are outside of the University of Sussex's control.
EcoGo is partially compliant with the Web Content Accessibility Guidelines, improvements are needed including improving colour contrast and some navigational issues. The University of Sussex is committed to making the EcoGo website and mobile app fully accessible and are actively working to address these issues. The University is working with BetterPoints to improve accessibility in the new version of their app, which is currently in development.
If you have any trouble using or accessing parts of EcoGo, please contact us here: web-accessibility@sussex.ac.uk
The University of Sussex's full accessibility statement can be found here.
Staff discounts on public transport
Bus tickets for staff
Sussex staff can get a 10% discount on Brighton & Hove networkSAVER bus tickets (7 day, 28 day, 90 day and annual) using the key smartcard. Staff can also get this discount by registering for the Easit scheme. Note that 1 day, Pay Monthly networkSAVERS and citySAVER tickets are not included.
Easit membership also entitles staff to free Stagecoach Day Rider gold tickets for travel across Sussex, Surrey & Hampshire, as well as discounted tickets on Stagecoach services in the Brighton area.
Train tickets for staff
Sussex staff can obtain a 15% discount on Southern rail services by registering for the Easit scheme.
An interest-free loan is available for University staff who wish to purchase a season ticket. Find out more at Staff Travel Loan where you can download an application form, or contact Payroll on ext 3757.
Bus travel to campus
You can get the bus to campus from many areas of Sussex, including several routes from the centre of Brighton.
Train travel to campus
Trains run directly to Falmer train station from Brighton, Lewes, Seaford, Eastbourne and Hastings. Passengers travelling via London need to change at Brighton train station. Once at Falmer station, go through the underpass under the A27 to get to our campus.
For more information about public transport to campus, including about accessibility check our SEF Bus travel and Train travel pages.