Brighton Marathon Weekend
The Covid-19 pandemic has turned our lives upside down. For many, it has shone a light on the importance of supporting our physical and mental health. Now you can do something incredible to help yourself and others.
Join our community of runners and cyclists for the next Brighton Marathon Weekend and support our world-leading mental health research. You can also make a gift towards this vital work.
It is estimated that one in four of us will experience a mental health problem every year, and the impact on individuals, families and friends can be immense. Hear Kevin, our Head of Undergraduate Recruitment, share his personal story of how his world changed after his father's suicide – and how Professor Gordon Harold's groundbreaking Child and Adolescent Mental Health research is changing this narrative into one of hope:
Breaking the cycle – mental health research at Sussex
Video transcript

I'd been at uni for six days. It's 3 o'clock in the afternoon. My sister rang. And I always dreaded when my phone would ring because my dad had attempted suicide a total of seven times.

And all she said was, "He's done it." It was just three words.

He never liked sport, never did sport, but, he used to love coming to watch me do the things that I did, and, I played a lot of rugby, represented the town and the county in athletics and cross country, and he was always there, you know.

We grew up with not a lot of money, but he would beg, borrow and steal to get me to those places.

He was brilliant in so many ways.

I knew nothing about mental health, and nothing about suicide until it happened.

I started my life in terms of my professional ambitions, running around a track, actually, running around a field in Dublin... and thinking this this feels good. Now, why does this feel good?

My interests are to bring evidence, scientific research evidence to young people directly, to help them understand their experiences, and to help them help me ask the right questions to help them understand their experiences, and as a consequence how they might proceed forward.

Like most of the things in my life, running was an accident. It became like... a daily ritual for me.

I've done some phenomenal things in running and I love it.

But, the most powerful thing that it gave me, was the ability to run and think, or run and not think, however I choose it.

I was also the rugby playing kid from a council estate who… couldn't cry in front of people, and this was an opportunity to be on my own and I would sob sometimes.

It helped me to grieve so much, and it helped me to come to terms with things so much, that running's become something else.

One of the most significant risks for an individual who experiences parental suicide, is to believe that actually the genes that underpin the causes of suicide, may leave that person to be at elevated risk for similar choices.

And suicide to use a common term, runs in families.

The power of research evidence is that we need to actually sit down, and begin to introduce to that person evidence that competes with that belief.

The start of the journey to the right type of support, is being able to speak about the experiences one is having, to open up and say in the same way you say, 'you know I've got a headache today', and for that to be taken seriously, and sign-posted, and normalised.

That's where we have to go next.

I've taken all of the best aspects of my dad, and there were a lot of them, and, I've channelled those into my own... fatherhood.

Jesse and I run... we run together. We always have to the point now where he's six and he does Park Run most Saturdays, runs 5km.

We've had chats and laughs and jokes. He knows it's followed by a trip to the park and cake.

But he also knows that... we can talk because... I tell him why I started running.

Running doesn't have to be anything more than just running, but it can be everything as well.

He's... as intelligent about mental health now as a six year old as I was as a... 26 year old.
Join Team Sussex
Get involved in the next Brighton Marathon Weekend, whether you're taking part physically or donating.
At present the event is scheduled for Sunday 20th September. Should this be postponed to April 2021, however, all registered places will be automatically rolled over.
Places are available for the Brighton Marathon, the BM10k, and the BM Ride cycle event. We will give you all the support you need to fundraise for our world-leading mental health research – so whether you walk, run or cycle, you will be helping to transform people's mental wellbeing.
Walking, running or cycling with Team Sussex gives you the opportunity to support mental health research and look after your own mental wellbeing in the process.
In return for your efforts we will provide you with the training and fundraising support you need to succeed in your chosen event.
Whether you are a walker wanting to complete the 10km course; a novice runner or cyclist, looking to do your first event; or a seasoned athlete, there will be something in our support package for you.
Find out more about the Brighton Marathon, the BM10k, and the BM Ride cycle event.
Donate
Your support means the world to us. Gifts of all sizes, large and small, from alumni, staff, students and friends will enhance our research efforts and help us get to the answers that transform people's mental wellbeing even sooner.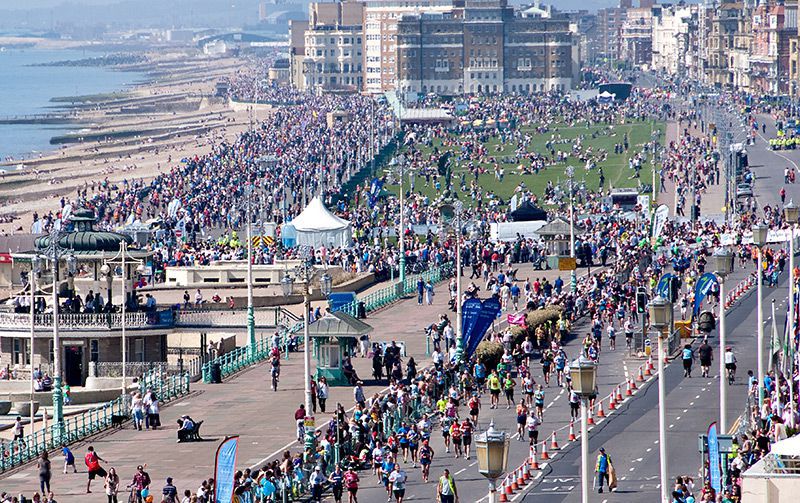 Why mental health research matters
Prior to the pandemic, we were already facing a mental health crisis. Roughly one in four people in the UK were experiencing a mental health problem every year. It is too early to say what the outcome of our current social isolation will be. What we do know, however, is that we need research into how best to protect our mental wellbeing now more than ever.
With your help, Sussex can work to address this issue through our world-leading work.
In December 2018, for example, Universities UK listed Professor Gordon Harold's work – which looks at children's mental health – as one of the UK's 100 best breakthroughs of the past century for its significant impact on people's everyday lives. Your support will enable more of this ground-breaking research to take place.
Mental health podcast
Listen to episode two of Run Things, a podcast produced by Sussex staff member Kevin Betts. It covers why mental health research at Sussex is so important.
Discussion on kindness
Our research is providing new paradigms through which we can view this fast-changing world. Watch Sussex Psychology professor Robin Banerjee discussing the importance of kindness.
Social relationships and wellbeing: why kindness matters
You might also be interested in: