Brighton Marathon Weekend
Do something incredible and race for the planet. Take part in the Brighton Marathon Weekend 2022 or donate to our cause.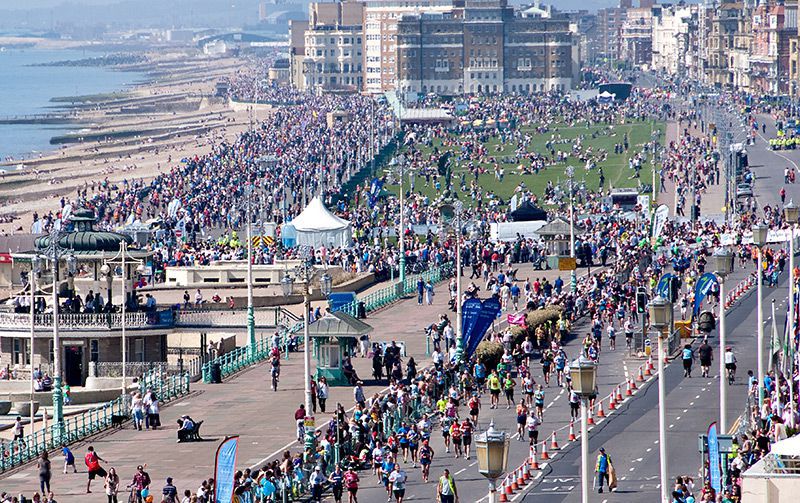 Walk, run or cycle with us
Join our community of runners and cyclists for the Brighton Marathon Weekend on 10 April 2022 to race for the planet and support our aims to create and maintain a sustainable and biodiverse campus in Falmer.
By joining Team Sussex – made up of our staff, students and alumni – you'll get fit, make new connections and fundraise for a cause that is important now more than ever.
We currently have places available for the Brighton Marathon, BM10K (10km run/walk) and BM Ride (50km bike ride) events.
Rachel Mills, Provost – sign up to raise money for biodiversity
Video transcript

I'm really excited by our ambition to be one of the most sustainable universities in the world. And in particular that our campus can be the most biodiverse campus in the UK. Biodiversity is so important to all of us. It's important for us in our food supply. It's important for these special spaces that we all enjoy. And, most of all, it's important for our climate. So reversing, or at least halting, biodiversity loss is really key for our survival as a species and for our future as a university.

So I've signed up for the 2022 Brighton Marathon. I'm going to be training hard and I'm going to be raising funds, raising funds for biodiversity projects that add to the great work that our Sustainability team are doing on this campus. These projects will fund projects here on the campus and out in our community. So why don't you join Team Sussex? Why don't you join us to raise funds and make a difference? Let's make a difference together for our planet.
Join Team Sussex
Whether you are a walker wanting to complete the 10km course; a novice runner or cyclist, looking to do your first event; or a seasoned athlete, you will find all the help you need in our support package:
a training programme tailored to your level
extra training advice and support from Sussex Sport
a fundraising guide to help you meet your target
Team Sussex supporters cheering you on during the event
a free massage after your event
access to our tent in Charity Village, where you can meet your family and friends.
Join Team Sussex today and make a difference.
Find out more about the Brighton Marathon, the BM10k, and the BM Ride cycle event.
Worried you're not fit enough?
We'll be organising couch-to-5k runs on campus throughout the autumn to help you prepare for the 10km event from a low fitness base. Email sustainable@sussex.ac.uk for more information.
Raise money for sustainability projects
Do you want to stop the loss of biodiversity and the global mass extinction crisis?
If you can't get involved in a Marathon event, you can still show your support by making a gift towards our vital sustainability research.
We want to be one of the most sustainable universities in the world.
So join us to raise money for projects to protect and enhance biodiversity on our campus in Falmer and in the wider community.
Professor Dave Goulson – help end the sixth mass extinction
Video transcript

Hi, my name's Dave Goulson and I'm Professor of Biology at the University of Sussex, and I specialise in studying bumblebees. Lots of them around me today, thankfully. Sadly, though, bumblebees broadly are in decline, as is biodiversity as a whole. We are worryingly in the midst of the sixth mass extinction event, species going extinct faster than they have for 65 million years since a meteor wiped out the dinosaurs.

But this extinction event is down to us. And so, just to give you some examples: Butterfly populations in the UK have roughly halved since I was a kid, since 1976. Bird populations, the breeding bird population in the UK has fallen by, on average, 42 birds per hour, every hour since 1966 when I was one year old. Isn't that terrifying?

Anyway, let's not get depressed because it's not too late! We can all do something about it! Biodiversity can recover if we give it some help. And so today, I'm here to encourage you, everybody, to sign up to raise money for biodiversity projects in and around Sussex by running a 10K or, if you're fitter and have the stomach for it, a whole marathon to raise money. This is next April in Brighton. So do your bit for biodiversity and sign up now. Thank you.
Biodiversity projects and natural spaces not only benefit nature but also people; spending more time outside is great for wellbeing.
We enjoy a range of natural areas on and around our campus, such as a wildflower meadow and woodland at our west boundary with Stanmer Park. Currently about a quarter of campus land is set aside for nature while 20% of the campus is managed as amenity grassland.
See our Biodiversity Strategy & Draft Biodiversity Policy [PDF] for details about our targets, strategy and potential projects.
Projects will be selected in consultation with current staff and students through a Big Biodiversity Conversation led by our Provost, Rachel Mills. In this conversation, we will also agree our target for setting aside a percentage of the land on campus for nature.
In July 2021, we published a new and ambitious Sustainable Sussex Strategy [PDF], with a range of targets and action plans to help us reach our vision of being one of the most sustainable universities in the world.
Donate
Your support means the world to us.
Gifts of all sizes, large and small, from alumni, staff, students and friends will help us deliver a more sustainable future.
---
You might also be interested in: