University of Sanctuary
The University of Sussex has a proud and radical tradition of providing sanctuary for academics and students, and is committed to making the University a welcoming and safe place for forced migrants and asylum seekers.
University of Sanctuary status
The University of Sussex is an official University of Sanctuary, after being awarded the status in 2020. This recognises our commitment to promoting a culture of welcome, safety and inclusion across our campuses and their wider communities, as well as commitment to the City of Sanctuary Charter.
Universities of Sanctuary are part of the UK's City of Sanctuary initiative to ensure our nation is a welcoming place of safety for all.
An agenda for change
The University of Sanctuary team will use the University of Sanctuary status to:
further develop our support for forced migrants
provide a focal point for research and teaching on asylum and migration
work with other Universities of Sanctuary across the UK and beyond
coordinate services and support
work across the University, with STAR and with service-providers and advocates in Brighton & Hove to fully and effectively recognise the rights and needs of asylum seekers and refugees.
Our history and values
University of Sussex staff and students have a long history of supporting those seeking sanctuary and raising awareness of their needs, including through our research, community engagement, and campaigning activities.
Sussex was the first British university to offer Mandela Scholarships. In a pioneering effort to counter the injustice of apartheid and raise the profile of Mandela's struggle for freedom, students at Sussex founded the scholarship in 1973.
The University's strategy for 2025 and beyond contains values of 'kindness, integrity, inclusion, collaboration and courage', with a particular commitment to community engagement in one of its four main areas.
---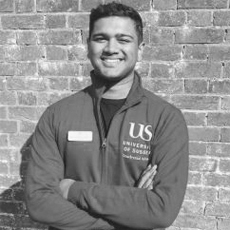 "I sincerely thank the University and the Sussex alumni community for supporting and recognising me in this way. My Article 26 Scholarship was the light at the end of a very dark tunnel."
Adarsh Ramdawor
Article 26 scholar
Find out more about Adarsh's story
---
Steering Group and Forum
The steering group coordinates, supports and develops activities in relation to University of Sanctuary status. The steering group brings together colleagues from across the University of Sussex, and external representatives, including those from refugee communities. The forum is an open meeting for anyone in the university community and beyond to come together to discuss issues related to Sanctuary.
You can sign up to our Sanctuary Forum mailing list using the form below.
---
You might also be interested in: