Walking, wheeling and running
Walking, wheeling, or running to campus can improve your health, save you money, and reduce your carbon footprint.
Rewards for walking, wheeling and running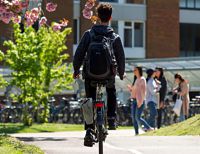 From the 27 September 2021, you can use your commute to campus to save money and help us be one of the most sustainable universities in the world through EcoGo.
For every sustainable travel choice that you make you can earn money off at your favourite shops and leisure locations and help fight the climate crisis.
Download the BetterPoints app and register with your University of Sussex email address to earn points and give it an EcoGo!
EcoGo Accessibility Statement
The EcoGo mobile application and website have been developed by BetterPoints. As EcoGo is an application which contains third party content this means that some aspects of the website and application accessibility are outside of the University of Sussex's control.
EcoGo is partially compliant with the Web Content Accessibility Guidelines, improvements are needed including improving colour contrast and some navigational issues. The University of Sussex is committed to making the EcoGo website and mobile app fully accessible and are actively working to address these issues. The University is working with BetterPoints to improve accessibility in the new version of their app, which is currently in development.
If you have any trouble using or accessing parts of EcoGo, please contact us here: web-accessibility@sussex.ac.uk
The University of Sussex's full accessibility statement can be found here.
Our Sussex campus is unique for its location within a National Park, giving it amazing surroundings that are perfect for a walk or run. The campus is also located close to Brighton, with footpaths all the way from the centre of the city up to the campus. There are also footpaths across our campus, meaning you can easily walk between different buildings.
You can also collect points and get rewards by taking part in our EcoGo Challenge.
Join Team Sussex at the Brighton Marathon
If you need extra motivation to help build active travel into your life then why not join Team Sussex and train for the Brighton Marathon, 10K or Bike Ride and raise money for sustainability projects at the same time. Everyone who signs up is offered support to succeed as we Race for the Planet.