Cycling
Swap your car for a bike to improve your health, save you money, and reduce your carbon footprint. You can also collect points and get rewards by taking part in our EcoGo Challenge.
Rewards for cyling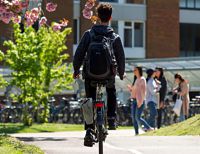 From the 27 September 2021, you can use your commute to campus to save money and help us be one of the most sustainable universities in the world through EcoGo.
For every sustainable travel choice that you make you can earn money off at your favourite shops and leisure locations and help fight the climate crisis.
Download the BetterPoints app and register with your University of Sussex email address to earn points and give it an EcoGo!
EcoGo Accessibility Statement
The EcoGo mobile application and website have been developed by BetterPoints. As EcoGo is an application which contains third party content this means that some aspects of the website and application accessibility are outside of the University of Sussex's control.
EcoGo is partially compliant with the Web Content Accessibility Guidelines, improvements are needed including improving colour contrast and some navigational issues. The University of Sussex is committed to making the EcoGo website and mobile app fully accessible and are actively working to address these issues. The University is working with BetterPoints to improve accessibility in the new version of their app, which is currently in development.
If you have any trouble using or accessing parts of EcoGo, please contact us here: web-accessibility@sussex.ac.uk
The University of Sussex's full accessibility statement can be found here.
Useful information
Sussex is a bike friendly campus with cycle paths throughout and over 20 bike rack locations and free shower facilities available. Brighton also has many cycle lanes, including along the main route to campus along Lewes Road, making cycling a great option for commuting to and from campus.
Staff Cycle to Work scheme
A government-backed initiative, the Cycle to Work scheme allows staff to obtain a bike and/or cycling accessories to use for riding to work while making tax and National Insurance savings from your gross pay. You choose your combination of bike and accessories and then rent the equipment through salary sacrifice from the University.
Find out more with our Cycle to Work scheme FAQs
BTN Bikeshare
Don't have a bike? You can hire one! BTN Bikeshare is a bike hire scheme with 450 bikes available from 50 hubs across the city. We have two solar-powered bike hubs on campus – at the Sports Centre and York House.
The Universities Annual Rider Plan gives students a 10% discount on annual membership. Just make sure to use your sussex.ac.uk email address. If you want to try before you hire, you can also get a free ride by using the code UNI2021.
Download the BTN Bikeshare app
Bike Maintenance
Make sure you're cycling safely by learning how to maintain and repair your bike.
You can learn to repair and maintain your bike with the Bike Shack. They're a student run society that can help you fix your bike, and teach you how to do it yourself in future. They run from 1-3pm on weekdays, closed on Tuesday.
Dr Bike Workshops will be coming to campus in Autumn 2021 to give free bike checks and repairs. Dates can be found on this page once they have been confirmed.
Join our Cycle Trains
Do you wish you could cycle to and from campus but lack the confidence? You're not alone.
The Sustainability Team organises regular cycle trains between campus and the Level at 8:20am (to campus) and 5:30pm (to the Level) every monday.
Taking part in a group cycle train makes us more visible to traffic, making us feel safer, and it's also a fun way to meet new people, cut down on commuting costs and get fitter each day while reducing carbon emissions.
Don't forget you can make use of the shower facilities across our campus, the BTN BikeShare Scheme and staff can use the Cycle to Work Scheme to get support to buy a bike.
So, what are you waiting for? Sign up here and join the next cycle train today.