University of Sussex releases plan to become one of the world's most sustainable universities
By: Neil Vowles
Last updated: Monday, 26 July 2021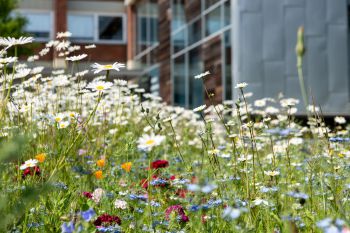 The University of Sussex has outlined ambitious plans to achieve a net zero carbon footprint of its entire operations within 15 years.
A newly published sustainability strategy, called Sustainable Sussex, details how the University plans to overhaul its heating, transport and supply chains over the next decade in order to become one of the world's most sustainable universities.

The ambitious and comprehensive sustainability strategy aims to:
Reach net zero by 2035 - including both direct and indirect carbon emissions
Embed sustainability into all aspects of student learning and experience
Recycle 50% of waste by 2025 - and reduce the waste produced per student by 10% by 2025
Create the UK's most biodiverse campus - setting aside up to half of the site for nature
More staff and students volunteering in their local community – including through a new charity partnership with Surfers Against Sewage
The strategy, which has been co-created with the University's students, staff, partners and stakeholders, outlines how the University will meet the UN Sustainable Development Goals.
The University is looking to build on existing sector-leading performance on key issues of sustainability including:
The University was also named among the world's top 50 for delivering on the UN SDGs in research, teaching, stewardship and outreach in the Times Higher Education (THE) World Impact Rankings 2021.
Adam Tickell, Vice-Chancellor of the University of Sussex, said: "Our ambition is simple and clear: to be one of the most sustainable universities in the world. To achieve this, we will show global leadership in all forms of environmental, social and economic sustainability.
"Universities exist to answer the big questions – and there is no bigger question than how we build a sustainable planet. This is the greatest single challenge facing humankind and this strategy puts sustainability right at the heart of everything we do."
Other aspects of the wide-ranging strategy include:
Sustainable Procurement Principles Framework ensuring University suppliers meet a high level of social, environmental and economic sustainability. Currently more than 60% of the University's emissions are indirectly from purchased goods and services.


Sustainable food priorities ensuring at least 80% of the University's supply of fresh produce, excluding dairy, come from local producers, piloting a food sustainability traffic light system and the opportunity to end or reduce the sale of beef and lamb-based meals by 2023 if supported by students and staff.


An expansion of biodiversity programmes could see the creation of bee hotels, butterfly banks, orchards, therapeutic gardens and areas of passive rewilding on campus.


Investigating feasibility of sustainable transport hub, upgrading electric vehicle, scooter and bike charging; and exploring the potential for an ultra-low emission vehicle leasing scheme for staff.


Investigating feasibility of considerable investments to replace fossil fuel dependent infrastructure such as Combined Heat and Power Plant with lower carbon alternatives from 2026. Building an additional on-campus solar farm.
Professor Tickell said: "Our ambition is for our sustainability strategy to be a living, breathing vision powered by our staff and students.
"The University has already shown leadership within the UK HE sector in to make considerable progress in some key areas. But we are determined to do more and this strategy provides us with the way ahead to take on the significant challenges ahead.
"As COP 26 makes clear, we need to build back greener from the Covid pandemic and so now is the time for the University to really renew our already strong sustainability ethos."