University of Sussex becomes first to install aerobic digester, reducing food waste produced by 70%
By: Stephanie Allen
Last updated: Friday, 13 March 2020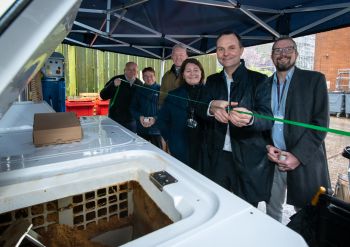 The University of Sussex has become the first university in the UK to install an aerobic digester, successfully reducing the food waste produced by 70% in an initial trial.
In just over a week, the University's central food building generated around nine 160-litre bins filled with both food waste and biodegradable containers. Aerobic digestion converted this into two bins filled with enriched fertiliser, which is now being used on the University's grounds.
Aerobic digesters use bacteria and oxygen to break down organic and biological waste into biomass, which can then be used as fertiliser or as an energy source.
Adam Tickell, Vice-Chancellor of the University, said: "Since declaring a climate emergency, the University has accelerated its ambitions to become cleaner and greener.
"This new digester is a brilliant step in ensuring we dispose of our waste in a sustainable and responsible way while also demonstrating how waste can be recycled and turned into something useful."
Working with its catering partner Sussex Food, the University is using the digester to dispose of both food waste and biodegradable food containers, reducing the need for separate waste collections in central parts of campus.
It is hoped that, moving forward, the biomass produced by the digester could also be used to power the University.
Jason Oliver, Director of IT and Professional Services Sustainability Lead, said: "We're looking at the potential to convert our existing combined heating and power plant for biomass use on campus, which would allow us to turn our food waste into an energy source.
"We already have 3,000 solar panels so this would take us a step closer to being a truly sustainable university."
After such a successful introduction, the University is now exploring ways to roll this out across campus to revolutionise the disposal of food waste and compostable disposables.
Mark Lawrence, Contract Director for Sussex Food, said: "The aerobic digester is the only machine that can process both food waste and the disposable containers.
"The University is now able to take control of food and disposable waste, ensuring it is disposed of in the most sustainable way."
The aerobic digester can reduce content down by 80% over a 24-hour period and has a maximum capacity of 500 litres. With the ability to be loaded three times a day, the machine could transform the way waste is disposed of at the University moving forward.
The University is also drawing on its academic expertise to become as green as possible in its own activities. Among other developments, in recent years Sussex has:
Doubled the use of reusable

mugs

for hot drinks sold on campus
Increased recycling and food waste facilities for students, staff and visitors, including recycling of Tetra Paks and duvets
Implemented sustainable transport initiatives, such as installing charging points for electric vehicles
Established a socially responsible investment strategy, investing its funds in businesses that contribute to a social good
Expanded online distance learning programmes
Begun work to embed sustainability across its curriculum
The University also held a sustainability assembly in February, where staff and students came together to share ideas on how to make the campus more sustainable and address the climate emergency.