Sussex hosts its first Sustainability Assembly
By: Sean Armstrong
Last updated: Friday, 21 February 2020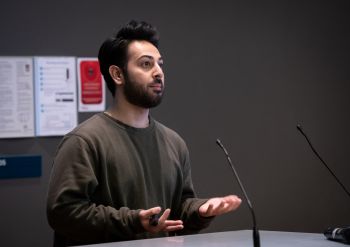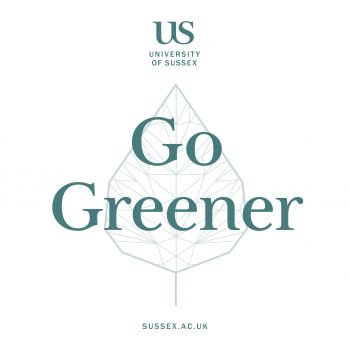 The first Sussex Sustainability Assembly took place this week, bringing together staff and students to discuss how the University should act in response to the climate emergency declared by the Vice-Chancellor in August 2019.
Speaking at the time Adam Tickell stated "unless the higher education sector works together to address the problem at every possible juncture, we will be failing the young people who turn to us – and who need us to protect their futures."
Thursday's event was designed to offer staff and students insights into the climate and biodiversity crises; outline what the University is already doing; and discuss what more we could be doing collectively and individually.
It was co-organised by the University and Students' Union and attracted over 330 staff and students, in addition to those viewing the four different sessions on livestream.
Jörn Scharlemann, Professor of Conservation Science, helped to co-organise the event. Jorn said: "I was delighted to see so many passionate students and staff at the first Sussex Sustainability Assembly. The Assembly started the discussion and provided an opportunity for everyone to put ideas forward on how we can make our campus more sustainable. I look forward to the next steps we collectively take to implement some of the suggested actions."
The University's Sustainabiltiy Committee - chaired by the Vice-Chancellor - will consider the recommendations of the Assembly before communicating the next steps that Sussex will take to help become a more sustainable campus and address the climate crisis.
Materials from the Sussex Sustainability Assembly
Session 1: Towards Sustainability
Introduction and Chair: Ijlal Khalid (Society and Citizenship Officer, SSU)
Introduction: Adam Tickell (Vice Chancellor)
Sustainability: Melissa Lazenby (Lecturer in Climate Change, Global Studies)
Climate Breakdown: Harry Jenkinson (BA Anthropology & International Development, Global Studies)
Biodiversity Crisis: Sam Ruggiero-Cakir (MSc Zoology, Life Sciences)
---
Session 2: Living and Working Sustainably at Sussex
Chair: Jason Oliver (Director of IT)
Buildings: Matthew Arnold (Energy and Environmental Manager, SEF) and Scott Noble (Head of Service Delivery, SEF)
Food: Martha Knott (MSc Global Biodiversity Conservation, Life Sciences)
Single use plastic: Megan Youngs (BA Geography, Global Studies)
Mobility: Charlotte Rae (Lecturer, Psychology)
---
Session 3: Sustainability Research, Education & Engagement at Sussex
Chair: Ananya Tiwari (MSc in Climate Change, Development & Policy, Institute for Development Studies)
Research: Joseph Alcamo (Director, Sussex Sustainability Research Programme)
Living Lab: Chris Sandom (Senior Lecturer, Life Sciences)
Community Engagement: Monique Forbes-Broomes & Becca Finney Environmental Lead, SSU)
Mental health: Kotryna Vaičiulionytė (BA International Relations and Development, Global Studies)
---
Session 4: Next Steps for Sussex
Chair: Jörn Scharlemann (Professor of Conservation Science, Life Sciences)
Panel discussion with: Vinita Damodaran (Professor of South Asian History, History); Adam Tickell (Vice-Chancellor); Filip Vasilijevic (President, SSU); Veronica Wignall (PhD Researcher, Life Sciences)

Summary of key themes from the event
Gallery



Get involved
If you'd like to take some action yourself, the Green Impact scheme is a great way to work with colleagues to make your workplace more sustainable and environmentally-friendly. Teams who sign up get access to an online step-by-step guide to making environmental improvements within their department. As teams complete actions and make progress they become eligible for bronze, silver and bronze awards.
Following the University's declaration of a climate emergency, we've tailored our Green Impact guide to reflect the demands of our campus more than ever – taking an increasingly plastic-free approach and including more actions focused on the UN Sustainable Development Goals. More information