Unwanted duvets getting a fresh start with new university recycling scheme
By: Neil Vowles
Last updated: Thursday, 19 September 2019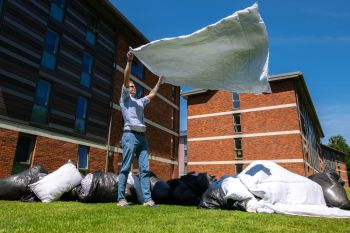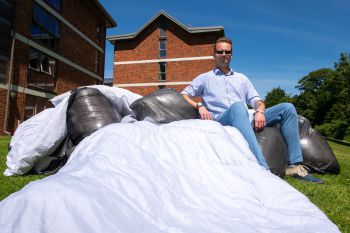 Second-hand duvets are being given a new life in child car seats and equestrian venue flooring as part of the latest sustainability initiatives being led by University of Sussex students and staff.
Hundreds of duvets collected at the university will not go to waste thanks to the new recycling scheme in partnership with Veolia while others are being donated to a dogs' charity.
New means of recycling cigarette butts, pens, crisp packets and polystyrene boxes have also been introduced in a bid to make better use of the waste created by everyday campus life.
Matthew Arnold, Energy Manager at Sussex Estates and Facilities (SEF), said: "It's really inspiring that it's the energy and determinism of our environmentally-minded students and staff that is assisting in our drive to deliver these new recycling programs.

"Through the Environmental Forum, we encourage and support staff and students to initiate new ideas to help reduce waste in their areas of work.

"We help to facilitate these ideas as much as possible, often by linking up the university with amazingly innovative companies in the local community, and try to help them grow across the campus."
The recycling of the duvets are among a raft of sustainable initiatives introduced by Sussex student Megan Youngs during her internship year with SEF in the University Estates Team.
She was also instrumental in securing a Tetra Pak bin on campus as well as launching a partnership with recycling firm TerraCycle which sees SEF grounds team collect and recycle all parts of stubbed-out cigarettes, which is then transformed into plastic lumber and boards to be used for signs and table tops with any remaining tobacco or paper composted. Eight kilograms have already been collected from campus.
Third year Geography student Megan, who has been shortlisted for Student Sustainability Champion of the Year at the Green Gown Awards, said: "It was really fantastic to be given the freedom and responsibility during my internship to put some of my ideas into action on campus.

"It was great to feel that I was making a difference and I really hope to see these schemes grow over the next academic year and see what other waste reducing and sustainability innovations the university can explore going forward."
Another staff member taking a lead on sustainability initiatives is Life Sciences technician Crispin Holloway who helped set up a new collection scheme for polystyrene boxes delivering scientific equipment to campus encouraging their collection and return to the supplier New England Bio Labs who then make a donation to the Woodland Trust.
A new partnership to collect other, non-returnable, polystyrene boxes from laboratories on campus has also been established with Cat Fletcher, the Brighton-based co-founder of reuse site Freegle UK.
Crispin said: "We all now know about the serious damage single use plastics have on ecosystems and the environment.

"Our labs take deliveries of materials needed for research in polystyrene boxes. Some can be reused as ice buckets but the majority go to waste or worse, mistakenly put into recycling bins, contaminating all the recyclable waste.

"Most polystyrene products are currently not recycled due to the lack of incentive to invest in compactors but thanks to the assistance and buy-in from colleagues and the support and know-how of Cat Fletcher we now have a solution to our problem through upcycling."
Sussex Food has also recently learnt that it is one of the top collectors of crisp packets in the country as part of another link-up with Terracycle.
Forty-five thousand crisp packets have already been collected on campus, separated, cleaned, and extruded into plastic pellets to make new recycled products since the scheme launched earlier this year.
Alison O'Gorman, Deputy General Manager of SussexFood, said; "We have a lot of initiatives running at the cafes on campus and are always looking for further opportunities to reduce waste and recycle more.
"We participate in the Simply Cups scheme where our collected cups are reformed into stationary and furniture. Our Mug for Life, which includes giving away cups for life to freshers each year, has increased reusable cup use up to 35% and we have ambitions to make that 50% or more by September 2020.

"We now have three sites which have taken the plastic free pledge and we are purchasing an aerobic digester to turn our food waste and take away packaging into material suitable for Biomass heating systems and as a fertiliser for use on campus which will create a circular economy for this waste stream."