University of Sussex commits to COP26 scholarships to help develop future climate experts
By: Neil Vowles
Last updated: Wednesday, 20 October 2021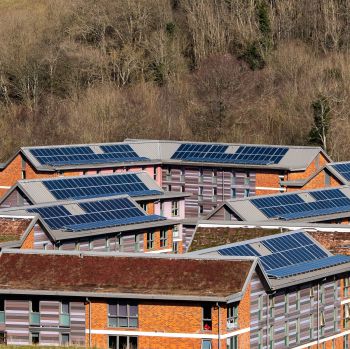 The University of Sussex is among the first UK universities to introduce COP26 scholarships supporting talented students to develop into climate experts.

The University has announced the creation of a minimum of five annual Sussex Climate Leadership Scholarships worth £3,000 per year from the 2022–23 academic year onwards.
The scholarships will be available to both undergraduate and post graduate UK students, with a minimum of two scholarships available for new undergraduates and two for Master's students. The window for applications this year will open on 1 November 2021 and run until 1 July 2022.
Successful applicants will be selected based on their track record as an environmental influencer and bringing about real-world behaviour change in relation to the climate crisis. The process will favour those who are willing to collaborate with the University in reaching net zero by 2035 and encouraging others to tackle the climate crisis.
Sussex is also offering three one-off COP Climate Leader Prizes of £3,000 each for current students who show outstanding climate leadership in the run-up to and immediate aftermath of the UN Climate Change Conference (COP26) held in Glasgow next month.
Students can apply via an online form from 1 November 2021 until 1 February 2022. Successful applicants will be chosen by a panel of sustainability and communications professionals in spring 2022.
Sustainability leaders at the University of Sussex are also echoing calls from counterparts at other UK universities asking the government to match-fund the awards in the upcoming Comprehensive Spending Review and ensure the overall contribution of universities to climate action is not constrained by budget cuts.
Government match-funding would allow the University to double the number of annual Climate Leadership Scholarships it could offer to 10.
Professor Rachel Mills, Provost at the University of Sussex, said: "The climate scholarships are one of the ways we will deliver our sustainability strategy. Our vision to be one of the most sustainable universities in the world is powered by our staff and students and I am delighted that we can support the next generation of climate leaders and sustainability champions with these generous scholarships.
"The University has already made bold commitments that have made us a sector leader on a number of sustainability issues including ambitious schemes for renewable energy as well as food and paper waste. We all need to go further still in significantly reducing the environmental footprint of our operations and these scholarships will enable our passionate students to help us to do this in new ways."
Earlier this year, the University of Sussex announced the launch of its sustainability strategy, called Sustainable Sussex, which detailed how the University plans to overhaul its heating, transport and supply chains over the next decade in order to become one of the world's most sustainable universities.
Sustainable Sussex commits the University to:
Reaching net zero by 2035 - including both direct and indirect carbon emissions
Recycling 50% of waste by 2025 - and reducing the waste produced per student by 10% by 2025
Creating the UK's most biodiverse campus - setting aside up to half of the site for nature
It aims to build upon the University's existing sector-leading performance on key issues of sustainability including:
Becoming the first UK university to introduce an aerobic digester for food waste
Having the largest on-campus solar farm of any University in the UK
Significantly reducing the use of disposable cups via an innovative hot drink pricing scheme
Ahead of COP26, 140 universities have backed a new set of commitments on climate action drawn up by Universities UK, including emissions reduction targets and a pledge to champion the UN Sustainable Development Goals Accord.