Video
Read our guidelines for planning and producing high-quality, on-brand videos.
Contents
---
Introduction
Video is a powerful tool we can use to excite, inform and speak to our audiences.
All our video content should be lively and engaging.
The style should:
be uncluttered
be clear and direct
use high photographic and production values
have simple, unobtrusive graphics and captioning.
Our videos should allow the viewer to get a genuine feel for what Sussex is like.
Videos should be put together using natural lighting and candid footage, in which people communicate using a tone of voice that is clear, articulate and impassioned.
Technical guidance
These guidelines are not a technical manual – all our suppliers are fully briefed on technical requirements.
Staff working at Sussex
If you're thinking of creating something for your department, follow our guidelines on starting a new project.
---
Cinematography
Interview style
Subjects should be filmed talking to camera or slightly off camera, positioned centrally within the frame. Avoid positioning the subject too far to the left or right of the frame.
Symmetrical framing creates an open and engaging feel for your video, with subjects talking directly to camera giving an authentic, personal impression.
Some people are not comfortable with speaking directly to camera. In such cases it is acceptable to have slightly off-centre framing with the subject talking to the interviewer rather than the audience.
The aim is to create video portraits that give us authentic comment from real people. To support this, the subject should be brought close to the viewer using shallow depth of field. All face and head features should be in focus.
Lighting and colour
Lighting should be soft and, wherever possible, use natural available light. Colour should be natural and authentic. Never use filters or apply unnatural colour balances/special effects.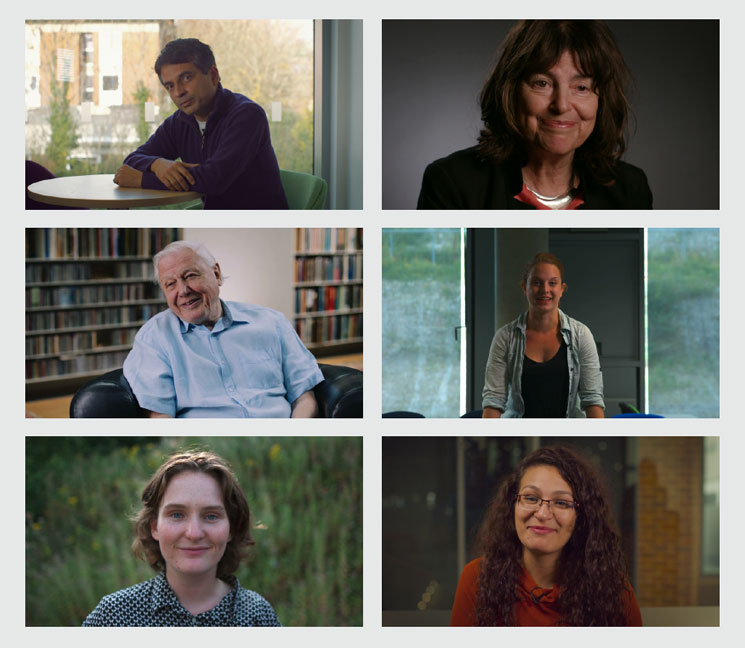 ---
Sound and music
Recording sound
Viewers do not tolerate poor sound quality on video and you will lose your audience if sound is poor. It is vital that sound recording is of the highest quality and that sound levels are consistent throughout a video. Where budget allows, consult a sound recordist.
Using music
Music can be a really powerful tool for enhancing a video. It's important that any soundtrack matches the tone of the film and supports the content without being overwhelming.
Ideally, music should be composed specifically for a project. However, if budget does not allow for music to be commissioned, music can be sourced separately.
When choosing a soundtrack, be careful to check conditions of use or any restrictions. There are several royalty-free resources online, where a licence can be obtained for a fixed fee.
Royalty free music and sound resource websites
---
Brand assets: logo, colours and typefaces
Logo
The University of Sussex logo should be used at the end of a film as a sign-off. It should not appear at the beginning or in the thumbnail.
A template file (shown below) is available from our video manager to help ensure the correct size and position. The logo should fit a 560px by 492px area. The University of Sussex logo should rest on the horizontal axis through the centre of the frame.
Colours
The logo should be placed over a solid colour background taken from the brand guidelines primary colour palette (with the exception of mid grey and warm grey). These colours provide good contrast and legibility when used with a white logo.
The logo frame should appear on a hard cut. A dissolve transition should not be used.
Typefaces
The typefaces UOS Baskerville Titling and ITC Franklin Gothic Std must be used in any text displayed on screen. See how fonts should be used in name captions and titling.
Title and credit sequences
Do not include title or credit sequences in your film. Videos should conclude with the University of Sussex logo.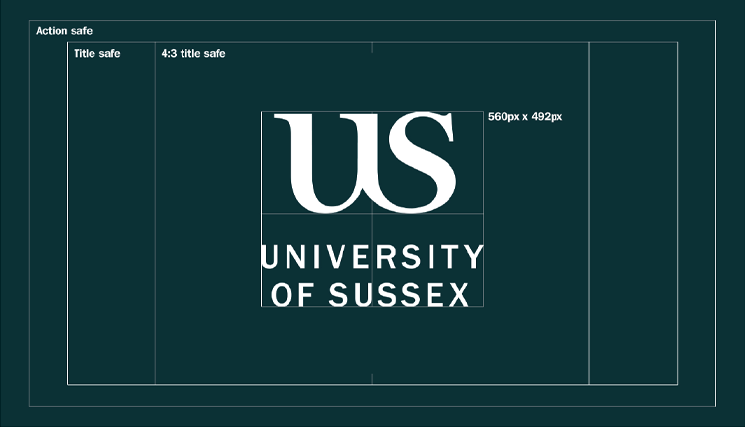 ---
Using captions in lower thirds
The typeface ITC Franklin Gothic Std Book must be used in any text displayed on screen. Standard lower thirds should be used where identification of a person, place or idea, or a chapter heading, is needed.
All captions should be written in capitals. However, there are some exceptions for degree titles: BSc, MPhys, MChem, MMaths, MPharm, PGCert, PGDip, MSc and PhD.
Name captions
We don't generally recommend name captions, especially for shorter form videos for social media. However, there are times when it may be appropriate.
Typeface: Franklin Gothic Book
Size: 68pt
Leading: Auto
Pure white (RGB 255 255 255)
The name caption should be placed on a solid holding panel, positioned above the subtitles (if appropriate), ensuring all lettering is within the 16:9 title-safe boundaries.
A fade transition should last 10 frames (24fps). Do not fade out lower third if the shot duration is 3.5 seconds or shorter. Allow lower third to end on the cut.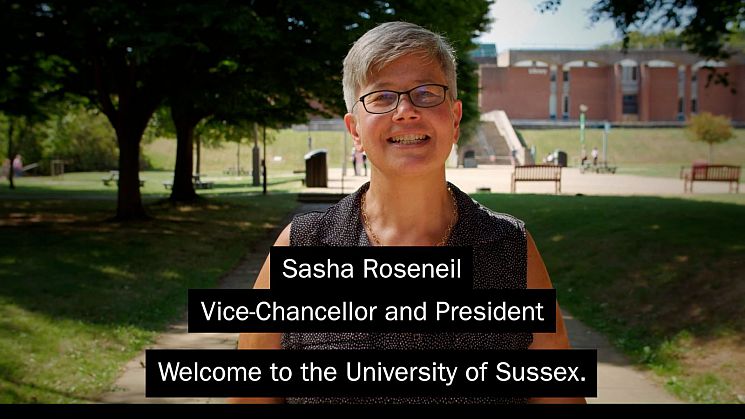 Subtitles
To meet accessibility requirements and improve usability, closed captions (subtitles) are required on all Sussex videos that are due to appear on sussex.ac.uk.
We use Vimeo to embed video on our website. Alongside the video you must supply a .srt file for each video. We will then upload the video and .srt file to Vimeo.
If a video is being made for YouTube the same procedure applies: we need the video and .srt file.
You will also need to supply a transcript of the audio. This should be supplied as a .txt file.
There will be times when you will be asked to supply videos with subtitles hard-encoded. For example, some videos for social media or for events may need hard-encoded subtitles.
The subtitle requirements should be made clear at the start of the project. If you're not sure, ask us.
If subtitles need to be hard-encoded, they must follow the guidelines below.
Videos can be subtitled with one line of text, two lines of text or a combination of both.
As with name captions, subtitles should be placed on a solid black holding panel. The panel should change width to accommodate the subtitle text on either one or two lines.
Subtitles for 16:9 films
All text should be contained within the 16:9 action-safe boundaries.
Typeface: ITC Franklin Gothic Std Book
Size: 68pt
Leading: Auto.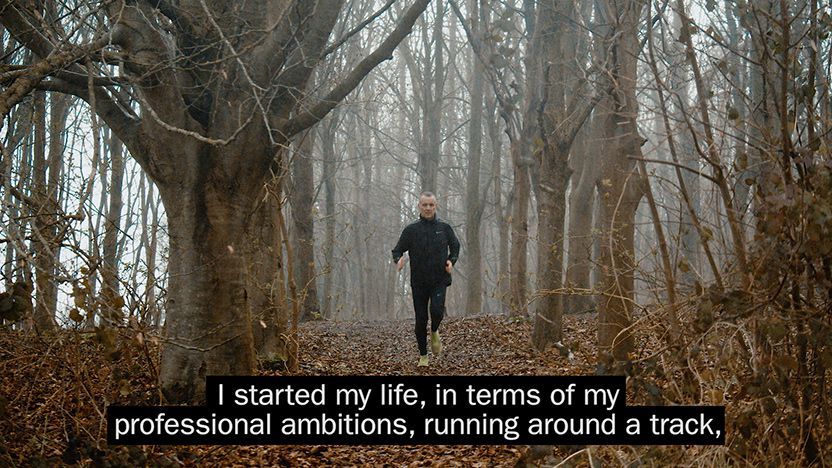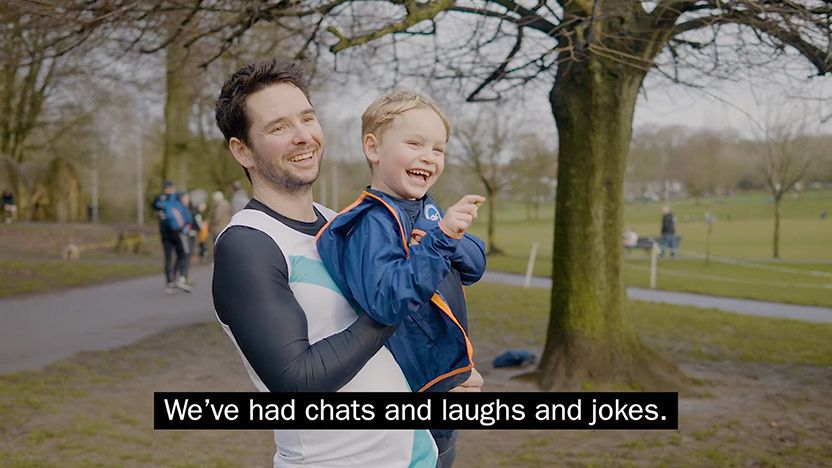 Subtitles for square video format
All text should be contained within the 1:1 action-safe boundaries.
Typeface: ITC Franklin Gothic Std Book
Size: 60pt
Leading: Auto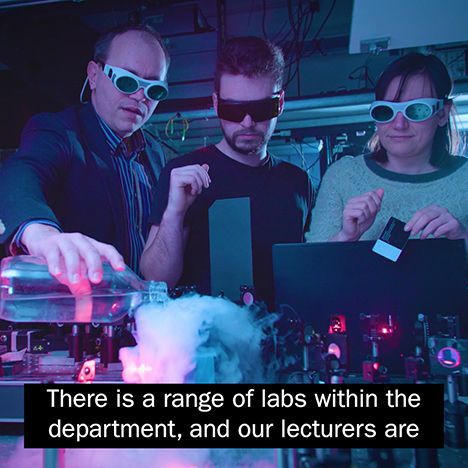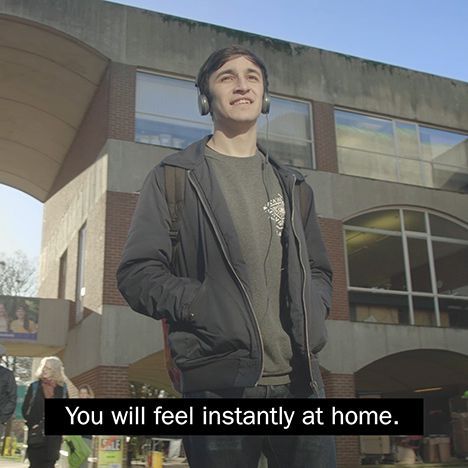 ---
Accessibility
Web accessibility standards must be considered when producing video for the University of Sussex website. To read more about these requirements visit our page on commissioning video and our guide to creating accessible video.
Permissions and copyright
---
Before filming begins, make sure you have the right permissions in place.
Consent to be filmed
Anyone who is going to be featured in your video needs to provide written consent and the purpose, use and distribution of the video needs to be made clear to them.
A consent form template is available from the video manager, and all completed consent forms should be sent to the video manager, to be kept on file.
People who appear in the filming but are 'background' do not need to provide written content, but they should be made aware that you are filming and given the option to not be included.
Permission to film on location
If you are planning to shoot in Brighton and Hove on council-owned land you need permission. There are costs involved, which vary depending on location and the scale of filming.
For more information see the Brighton & Hove City Council website.
To get council permission, you need to produce a risk assessment, fill in their application form and supply a copy of our public liability insurance certificate. The video manager will supply you with a current public liability insurance certificate.
If you are shooting on private property in Sussex, you will still need to obtain permission from the owner.
Countryside
The National Trust and Sussex Wildlife Trust own most of the beauty spots on the South Downs National Park. The South Downs National Park does not own any of the park.
Devil's Dyke and Ditchling Beacon are managed by the National Trust. See National Trust filming locations and National Trust drone guidelines.
Image and music copyright
Make sure you have written permission to reproduce any images or music in your video and have paid any necessary reproduction fees, otherwise you may be fined for breach of copyright.
You can get a variety of University of Sussex brand images.
---
Campus filming with drones
If you are planning to use drones to capture aerial footage of the Sussex campus, allow at least two weeks before filming to make sure you have:
met all health and safety requirements
completed all documentation
checked with Sussex Estates and Facilities management.
Check with the video manager before booking anything.
The documents you will need include:
site-specific risk assessment
aerial filming company operating procedure
pre-deployment survey
insurance
CAA certificate
CAA pilot's licence.
If you are flying a DJI drone, be aware there is a no-fly zone over the Amex stadium, which also covers a large part of our campus. This is unique to DJI drones. After getting permission from the University to film you will need to get permission from DJI so they can allow your drone to fly over the campus. For more information see the DJI Fly safe web pages.
It is the responsibility of the pilot and video supplier to ensure this is in place before flying over campus. You must get permission from DJI if you are flying a drone anywhere on our campus to avoid the risk of the drone being disabled by DJI.
---
Archiving and mastering
Use high-definition quality (720p/1080p) where possible. High-resolution videos can easily be compressed for lower bandwidth. 16:9 films must be filmed in PAL 1920x1080 with 4k also accepted. 25p (unless for specific creative effect such as slow motion).
Video created in 1:1 ratio (square) format should be created with a pixel size of 1080x1080.
All videos (unless your video has no audio) must be delivered in two versions: one with subtitles and one without.
Exports
H264 MP4 and Apple ProRes master MOV. The video manager will upload the ProRes to Vimeo and YouTube, the MP4 will be used to embed directly in social media channels such as Facebook and Twitter.
---
Adding video to a webpage
Please see our guide to adding video to a webpage for a guide on how to properly display video on the university website.
Contact
If you're an external video producer who needs more information or guidance, contact our video manager.
---
You might also be interested in: