Our sports facilities may be closed, but that doesn't mean we can't keep you moving!
We're still around but we've moved things online so, although you can't be with us in person, our fantastic team is working hard to keep you motivated from afar.
Covid-19 Closure Statement | Sussexsport
Our facilities are temporarily closed until further notice. Thank you to all our users for your understanding and support, we hope you are staying safe and well during this challenging time.
We know you may have questions, so please check the FAQs on our sport Covid-19 information webpages. If you can't find the information you need, you can still get in touch by email.
Classes
We have online fitness classes running every weekday via Zoom and Facebook Live, exclusively for Sussex students and staff. Feel refreshed with a relaxing yoga session, stretch your muscles with a PiYo class and get moving with a High Intensity Interval Training workout.
Classes are free and, for the majority of our sessions, you'll just need a Zoom account registered to your Sussex email address (including BSMS and IDS emails), to get involved.
If you're signing up for a Zoom account as a University of Sussex student or staff member, please register here.
If you miss a class, don't worry! We'll be recording some of our sessions for Facebook and YouTube, so you can always rewatch at a time convenient for you. We also have an On Demand section on Zoom. You'll just need your normal Zoom login details to access these. See the full list with links to classes below.
On Demand Classes - rewatch at a time to suit you!
Home workouts at any time
We've partnered with Life Fitness, who have provided us with hundreds of online workouts that you can do at a time to suit you.
We'll be sharing a Workout of the Week from Life Fitness every Monday. This week, check out their resistance bands blast workout, which uses some of the exercises that we have focused on in our own video tutorials.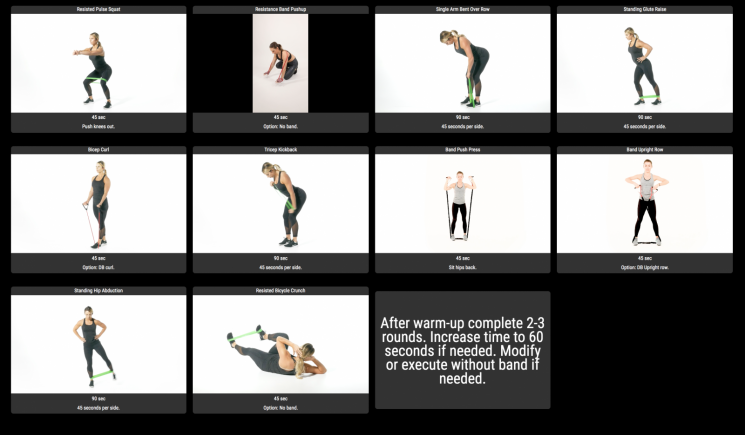 Advice from our Fitness Team
Our fitness team have created a series of video tutorials demonstrating different workouts you can do at home, with minimal or no kit. No weights? No worry! Most of our exercises just use your own bodyweight to provide resistance. But if you do need to add some weight to an exercise, you can improvise with household items like food tins and drinks bottles.
We'll be adding more workouts each week, but you can check out our latest three online now:
We have lots of fitness advice and tips on our Instagram page too.
So if you want to keep moving, we're behind you. If you can think of any other ways that we can help to keep you motivated and stay active, just let us know.