Chemistry
Find out more about what studying Chemistry at Sussex is like – with one of our accredited undergraduate degrees or a PhD.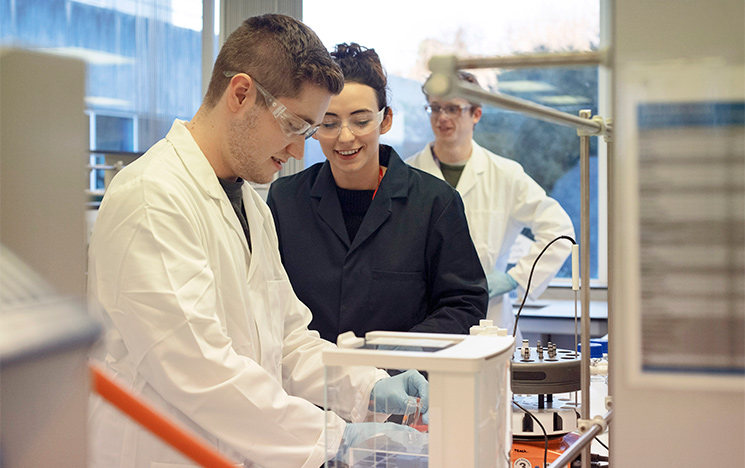 Our researchers are working on tomorrow's solutions for today's problems. From renewable energies to drug discovery, and from sustainable adhesives to low-waste catalysis. Our chemistry department has a long history of excellence, from Nobel Prize winning alumni, to our strong links with the Sussex Drug Discovery Centre.  
At Sussex, you'll have the opportunity to study:
the structure of drug molecules
quantum chemical methods
the design of potential new, improved medicines.
Our research and teaching spans physical, organic, inorganic and computational chemistry.
You'll gain hands-on experience in laboratory sessions, as well as enhancing your analytical and communication skills. And industrial placement years or research placements help you develop real-world experience and knowledge.
Our graduates are working in leading companies like GlaxoSmithKline, Deloitte, or Johnson Matthey.
Explore Chemistry at Sussex
Meet Raysa
As a PhD student in Chemistry, Raysa Khan built a library of new compounds to help cancer research. She is now continuing her focus on medicinal chemistry cancer research as a Research Fellow at Sussex.
Welcome to the School of Life Sciences
Video transcript

[Music starts – light pop – no vocals]

On screen text

Want to help shape a better world through science?

Want to tackle real world problems?

And create world-changing impact?

It all starts at the University of Sussex.

Our research focussed courses span the whole of Life Sciences:

Chemistry

Biochemistry

Neuroscience

Biology

Zoology

Ecology and Conservation

Biomedical Science

Genetics

Using the latest in cutting-edge advances.

Guided by world-leading experts.

Gain hands-on experience, in both our teaching labs and out in the field.

Influence important policies on things such as the pesticides that kill our wildlife, and policies that protect endangered species.

Work towards unlocking the secrets of the brain and ending the despair of cancer and Alzheimer's.

Join a community of leading scientists and like-minded students striving to make the world a better place for all.

And follow in the footsteps of our 3 Nobel-prize winning alumni.

We're here today, to train the scientists of tomorrow.

And you could be one of them.

Find out more about the School of Life Sciences at sussex.ac.uk

[Music ends]
The undergraduate view
Video transcript

Hi, my name is Vladimir, and I'm currently studying a Masters as a chemistry student at the University of Sussex.

I box in my free time and I love to draw art.

[ON SCREEN TEXT] CHOOSING SUSSEX

Why did I choose Sussex?

Sussex was the number one for Chemistry in 2017, so that's the reason why I visited and when I visited Brighton and Falmer, I was in love that it was so close to Stanmer Park and the beach.

[ON SCREEN TEXT] FAVOURITE THINGS

The faculty here in chemistry, they had an open door policy, so whenever I was stressed or needed any sort of advice for my academic side of things, they were more than happy just to help me out and they were all a very friendly bunch.

For four years it's all good!

[ON SCREEN TEXT] HOW I'VE CHANGED

Sussex helped me grow individually as well as academically.

So, there's so many opportunities they gave me.

At the end of my first year, I went to Malaysia and China because of the people I met in halls, as well they funded me to go to a summer school there.

So there was just a great opportunity there at the age of eighteen to go travelling.

And, in my second year I was a research associate, got my name on the paper, got a taste of research and it's given me this taste now for what I'm doing in my Masters.

[ON SCREEN TEXT] WHAT'S NEXT?

I've got to write up all the practical I did last term, and I'm basically developing a drug for Chagas disease, trying to treat it at it's acute stage, and it's very difficult.

But that's chemistry for you, it's a challenge!

[ON SCREEN TEXT] MY ADVICE

If you decide to come here, just grab it by the horns and take it for the ride because they support students so well - financially, mentally, if you have any disabilities they're great on that, as well as giving you all the opportunities for you to take on when you're ready for them.
More about life at Sussex
Virtual tour
Could there be a better place to be a student than our beautiful campus? Nestled in the South Downs National Park, we're just nine minutes from one of the UK's most iconic cities.
To get a picture of life on our campus and the excitement of being in the city of Brighton, take our virtual tour.
Explore more subjects at Sussex: