Best cheap eats in Brighton
Like eating out but don't want to max out your student loan? Check out our guide to the best cheap eats in Brighton – from incredible Indian restaurants to budget brunches.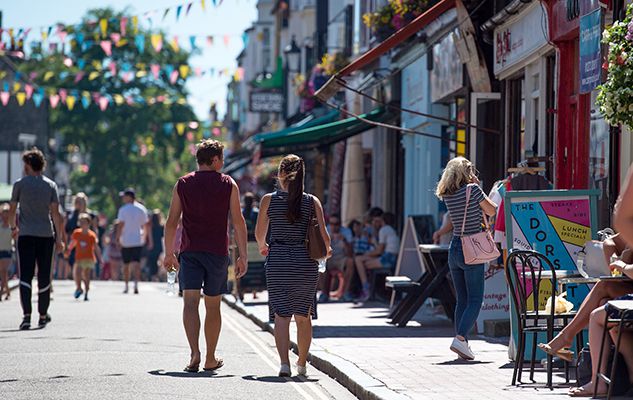 Pompoko
One of the most popular places in Brighton for a tasty yet cheap meal, Pompoko offers delicious Japanese food in the centre of the city for around £5 per head.
From flavoursome curries to filling donburi (rice bowl) dishes, this place can get packed so get there early if you want a table (you can also order the food to take away).
Want other options? Located just around the corner from Pompko, try YO! Sushi (which has 25% off for students) for a budget meal.
Piccolo
Rated 5.3 out of 6 on Just Eat, Piccolo is one of the best takeaway options for Italian food in Brighton & Hove.
You can pick from a range of pizza and pasta dishes, with mains starting at just £4.50 if you collect your order.
Find Piccolo on Just Eat or Deliveroo.
Want other options? For authentic Italian pizzas, try Very Italian Pizza and Franco Manca (mains start at around £5.)
You can also get student discounts in PizzaExpress, Zizzi, Nuposto and Bella Italia.
The Breakfast Club
With hugely popular branches in London, The Breakfast Club is the coolest place in Brighton to get your brunch fix.
Whether you want a breakfast burrito or a stack of their all American pancakes, students get 15% off here but make sure you arrive early – there's normally a long queue at weekends.
Want other options? Also popular with students, Kensingtons Cafe has one of the best full English breakfasts in the city and a great view of the North Laine streets from their balcony.
Planet India
Brighton is known for having incredible vegetarian restaurants and while some can be pricey, many of Planet India's vegetarian and and vegan dishes will cost you just £5 to £10.
From spicy street food snacks to dall curry dishes, this is the place to sample amazing flavours at purse-friendly prices.
Want other options? Tuntuns offers cheap Bangladeshi dishes, as well as vegetarian and gluten-free options.
Iydea
For the freshest and tastiest lunch in Brighton, pop into the award-winning Iydea restaurant to fill up on hearty vegetarian food for less than a fiver (lunches start at £4.70).
You can pick from their constantly changing range of dishes, with anything from freshly-made curries to enchiladas.
Want other options? On the same street as Iydea, Wai Kika Moo Kau also has vegetarian and vegan dishes at reasonable prices.
Grubbs
Grubbs is the go to place for a quick and tasty burger, with more than 10 different types on their menu (including a burger equivalent of the Hawaiian pizza.)
Prices start from around £3 and there are different branches throughout the city, making this a firm student favourite and a great budget option.
Want other options? With rave TripAdvisor reviews, Burger Brothers is a bit pricier (their cheapest burger is around £5) but worth the extra money if you like your burgers super fresh and bursting with flavour.
Buddies
Buddies, a 24-hour café on Brighton seafront, is an essential part of any student night out in Brighton.
With dishes from pizzas to their 'All Day Breakfast' and a 20% student discount (Sundays to Thursdays), it's the place to go for a cheap late night meal.
Want other options? Market Diner (home of the 'Gut Buster' Breakfast) is also open 24 hours a day and situated close to many of the city's bars and nightclubs.
Explore our cheap eats map
---
You might also be interested in: