Learn British Sign Language
Our British Sign Language classes take place at lunch times and evenings. These are aimed at the general public, offering the opportunity to study a language alongside university students and staff.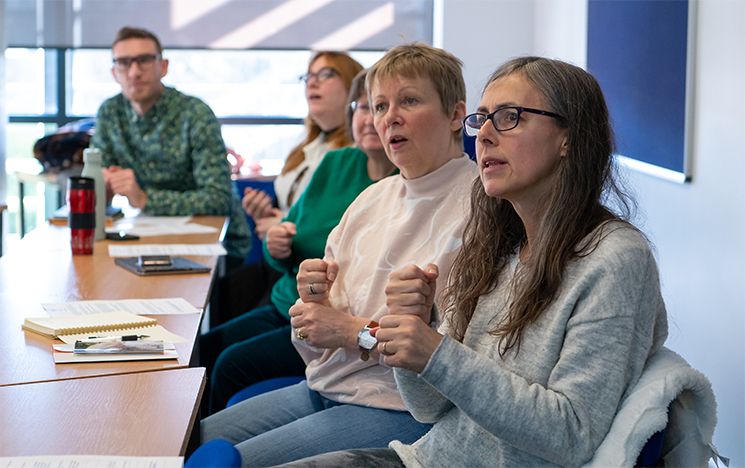 Explore our British Sign Language course
British Sign Language (BSL) is the first or preferred language of an estimated 70,000 Deaf people in the UK. BSL is a visual-gestural language, with its own grammar and principles, which are completely different from the grammatical structure of English. Following its recognition as a language in its own right in 2003, the BSL Act 2022 legally recognises it as an official language of England, Wales and Scotland.
We offer qualifications in British Sign Language at Levels 1, 2 and 3. All courses and assessments are accredited by Signature - a recognised awarding body offering nationally accredited qualifications that cover the whole range of languages and communication methods used by deaf and deafblind people. Please note that assessment fees are not included in tuition fees and must be paid separately if you wish to take the assessment.
BSL Level 1
This qualification is designed to enable you to communicate with Deaf people in BSL on a range of topics that involve simple, everyday language use.
The BSL Level 1 course includes three units – 101, 102 and 103.
You are assessed by practical exercises. The assessment for unit 101 takes place in the final week of the unit. The assessments for units 102 and 103 take place during the final two weeks of unit 103.
Participation in assessments is not mandatory to progress through the course units, but is necessary in order to obtain Signature's accredited BSL Level 1 qualification and progress to BSL Level 2.
Read the course description and unit details, including course options, dates and fees.
BSL Level 2
This qualification is designed to enable you to develop an ability to communicate with Deaf people using BSL in a range of familiar contexts, participating in longer and more open-ended exchanges than at Level 1. The BSL Level 2 course comprises three units: 201, 202 and 203. The course will develop functional communication in BSL about a range of real life, routine and daily experiences. You will be able to deal with most routine language tasks and have sufficient grasp of grammar to cope with some non-routine tasks. You are assessed by practical exercises that will take place during the final two weeks of unit 203. These exercises are not mandatory to progress through the course units but are necessary in order to obtain Signature's accredited BSL Level 2 qualification.
Read the course description and unit details, including course options, dates and assessment prices.
BSL Level 3
The Level 3 Certificate in British Sign Language caters for your learning needs if you already have competence in BSL at Level 2. You must be able to demonstrate competence at Level 3 of the UK Occupational Language Standards (CILT, 2010). This means you are able to understand and use varied BSL in a range of work and social situations.The BSL Level 3 course comprises three units: 320, 321 and 322.
---
Facilities
If you are a student, a member of staff or an alumnus at the University of Sussex, you are already entitled to use the facilities at the Resource Centre. If you are not a member or alumnus of the university, you may be entitled to access to some of the facilities as a language short course learner. Please contact the Resource Centre for specific details – email lang.centre@sussex.ac.uk or call +44(0) 1273 678006.
The Resource Centre offers excellent facilities for language teaching and learning, including:
workstations where learners can study via audio and video recordings
facilities to sample live television by satellite from France, Germany, Italy, Spain, Russia and England
a large bank of resource materials in many world languages
a wide selection of foreign language films
a browsing section with newspapers, magazines and a learner-friendly catalogue to consult.
Our teaching rooms are equipped with projectors and up-to-date audio/visual equipment.
Learners will be given advice on how best to use the resources to meet their own needs
We welcome learners with special requirements and request that you discuss these with us before joining a course. Should wheelchair access be required, suitable rooms will be allocated. It is possible to provide hearing loops in certain classrooms. Please feel free to contact us and we will do our best to accommodate your needs.
Your course
We encourage you to take part in any discussion on the aims and objectives of the class at the start of the course. This is essential for you and the tutor to work out a suitable programme. Take part in class activities where possible, and don't worry about making mistakes. It's also important to complete any work set between sessions.
Remember you are learning as a group. Although the tutor will try to meet everyone's needs, this is not always possible.
You should try to be on time and attend all your classes so you can keep up with the group and make the most of the course. Attendance on the language courses is not compulsory, but your progress will be limited if you do not attend regularly or complete the taks set between classes.
If you cannot make it to one of the classes, please let your tutor know by email. Alternatively you can email opencourses@sussex.ac.uk and we can inform your tutor.
It is not always possible for tutors to provide copies of work that has been missed through absence from a class.
We will arrange extra sessions to accommodate any cancelled classes due to Bank Holidays and/or unforeseen circumstances (such as sickness or adverse weather). We will use either your University of Sussex email or Canvas to contact you, so please make sure you check both regularly during the course.
You might also be interested in: