Learn French
Learn French with our lunch time and evening language classes.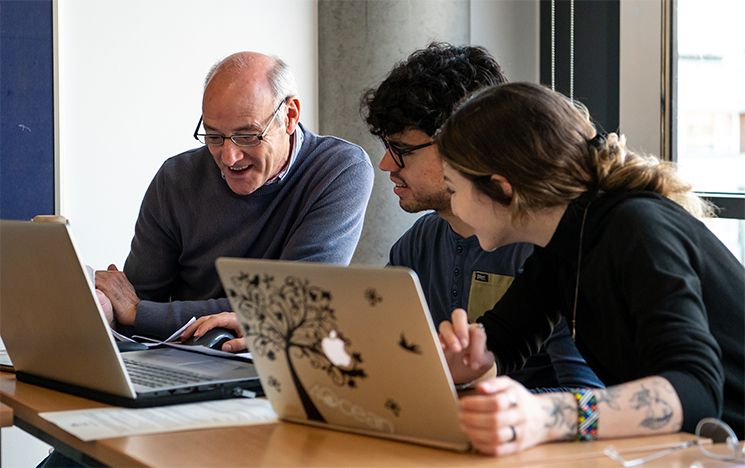 Explore our French language short course
Learning French opens up the world of cooking, fashion, arts and international business opportunities.
Our coures is tailor-made to meet your needs and interests, with a focus on spoken language. Using authentic materials, you will improve your communication skills while exploring the amazing French culture and way of life.
Join a supportive environment that will help you communicate with confidence and enjoy your learning experience.
---
The Tutor was excellent – the methodology worked well and created a greater understanding of the language and grammar. The lesson notes and additional attachments were all first class."

rachel mckenzie


French Level 1 (Beginners)
---
20-week courses
Our 20-week courses run from October to April. All 20-week courses are £287 (£277 concessions).
12-week courses
More information
Learn more about our 20- and 12-week courses, and decide what level you should study.
Fees
Our 20-week courses cost £287 (£277 concessions), and our 12-week courses cost £190 (£180 concessions). Fees must be paid in full at the time of enrolment.
Our concessions fee is available to:
full-time students (whether at University of Sussex or elsewhere)
University of Sussex staff
University of Sussex alumni
NHS and key workers
those whose sole source of income is some form of state benefit
people who are retired and on state pension only.
If you fall into one of these categories, you are eligible to pay the reduced fee. Otherwise, the full fee should be paid.
Facilities
If you are a student, a member of staff or an alumnus at the University of Sussex, you are already entitled to use the facilities at the Resource Centre. If you are not a member or alumnus of the university, you may be entitled to access to some of the facilities as a language short course learner. Please contact the Resource Centre for specific details – email lang.centre@sussex.ac.uk or call +44(0) 1273 678006.
The Resource Centre offers excellent facilities for language teaching and learning, including
workstations where learners can study via audio and video recordings;
facilities to sample live television by satellite from France, Germany, Italy, Spain, Russia and England
a large bank of resource materials in many world languages
a wide selection of foreign language films
a browsing section with newspapers, magazines and a learner-friendly catalogue to consult.
Our teaching rooms are equipped with projectors and up-to-date audio/visual equipment.
Learners will be given advice on how best to use the resources to meet their own needs
We welcome learners with special requirements and request that you discuss these with us before joining a course. Should wheelchair access be required, suitable rooms will be allocated. It is possible to provide hearing loops in certain classrooms. Please feel free to contact us and we will do our best to accommodate your needs.
Your course
We encourage you to take part in discussions about the aims and objectives of the class at the start of the course. This is essential for you and the tutor to work out a suitable programme. Take part in class activities where possible, and don't worry about making mistakes. It's also important to complete any work set between sessions.
Remember you are learning as a group. Although the tutor will try to meet everyone's needs, this is not always possible.
You should try to be on time and attend all your classes so you can keep up with the group and make the most of your course. Attendance on the language courses is not compulsory, but your progress will be limited if you do not attend regularly or complete the taks set between classes.
If you cannot make it to one of the classes, please let your tutor know by email. Alternatively you can email languageshortcourses@sussex.ac.uk and we can inform your tutor.
It is not always possible for tutors to provide copies of work that has been missed through absence from a class.
We will arrange extra sessions to accommodate any cancelled classes due to Bank Holidays and/or unforeseen circumstances (such as sickness or adverse weather). We will use either your University of Sussex email or Canvas to contact you, so please make sure you check both regularly during the course.
Online classes
Most of our language short courses are taught in-person, but we also offer a selection online. This will be indicated on each course page where applicable.
These classes will be delivered through Zoom, so you will need to create a Zoom account if you don't have one. We will send links to these virtual sessions each week.
To participate in an online language course, you will need a microphone and webcam. Most laptops and tablets will have inbuilt microphones and webcams. We recommend a broadband internet connection, with a download and upload speed of 1.5Mbps or higher. It's also important to keep your web browser (Chrome, Safari, Firefox etc.) up to date.
You should have your camera on during the Zoom class wherever possible. This will help the group and the tutor to get to know each other. It's usually best to mute your microphone unless you are speaking.
Get in touch if you have any questions about online learning.
---
You might also be interested in: